Ellen Hollman Tells A Great Matrix Resurrections Behind The Scenes Story About Carrie-Anne Moss - Exclusive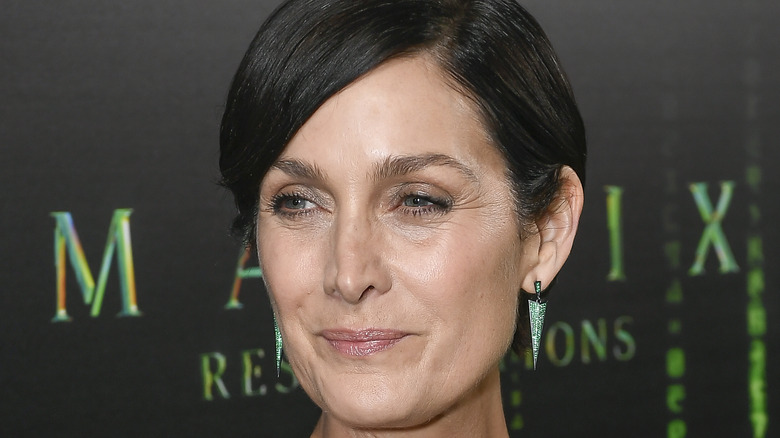 Steve Jennings/Getty Images
Looper spoke with Ellen Hollman, who plays the alternate version of Trinity seen at the start of "The Matrix Resurrections." Even though they never share a scene, we had to ask Hollman if she encountered Carrie-Anne Moss – the original Trinity. The answer was yes, with Hollman noting that director Lana Wachowski makes a point to get everyone together: "It doesn't matter if you share the screen together. You all train together, you all stretch together, you all have meals together, you are part of the family."
The cast and crew spent much of their time in one big production tent. "Keanu, Carrie-Anne, Jon Groff, Yahya, Jess, Eréndira, all of us would congregate, we would do our morning routines together, stretches, training. And Carrie-Anne is such an essential part of this, as is Keanu," she explained.
Hollman in particular brought up a story about Moss from their time in the hair and makeup trailer: "This is such a surreal moment, it's one of those other moments where I'm like, 'I'm going to remember this the rest of my life. How is this happening right now? This is incredible!'" It was one of their first interactions, and it was clearly the one with the strongest impact.
Hair today, gone tomorrow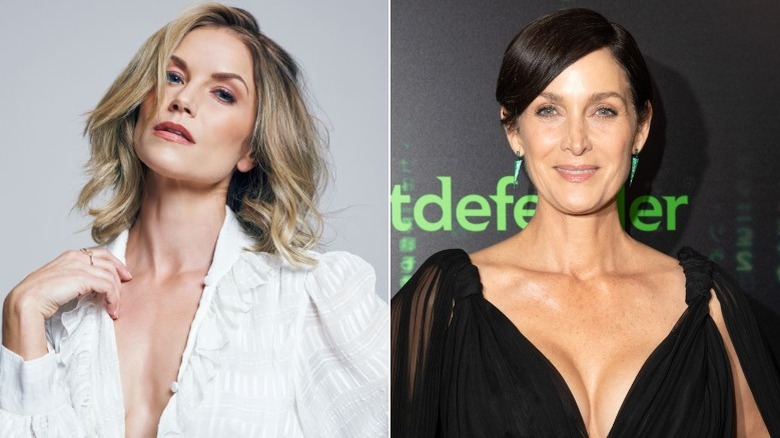 The Riker Bros, Kelly Sullivan/Getty
The story begins with Hollman sitting between the two stars of the movie. "I was sitting in the hair and makeup trailer," she said to set up the story. "To my left is Keanu with Alexandra, his girlfriend, who is awesome. He's listening to his hardcore rock music and getting his hair done, I'm sitting in the chair, and then beside me is Carrie-Anne, getting her hair done." Hollman has naturally long, blonde, curly hair, which needed to be cut off for the role and dyed "black hole" dark. "I felt like I was about to go into the guillotine," Hollman said with a laugh, "because as a woman, your hair is like an extension of you, it is part of your identity, and that is something that I was willing to sacrifice."
The hairstylist put Hollman's long hair in a ponytail and chopped it off, and Hollman had a brief moment of panic –- one subsided by the original Trinity: "It was like this gasp, and I had a hard time breathing. Then, all of a sudden I feel this hand holding me, and I look over and Carrie-Anne's like, 'It's going to be okay. I was where you once were, and it's going to be okay.' I'm like, 'Thank you Carrie-Anne Moss, thank you, Trinity!'"
Hollman promptly thought about this "surreal moment," saying that Moss "had such an incredible soothing presence. She is a deity among mere mortals ... she's like a lioness, and she just really calms me."
"The Matrix Resurrections" is now playing in theaters and streaming on HBO Max.