NCIS: Hawaii's Tori Anderson On Working With Vanessa Lachey And Why The Series Is Fun To Watch - Exclusive Interview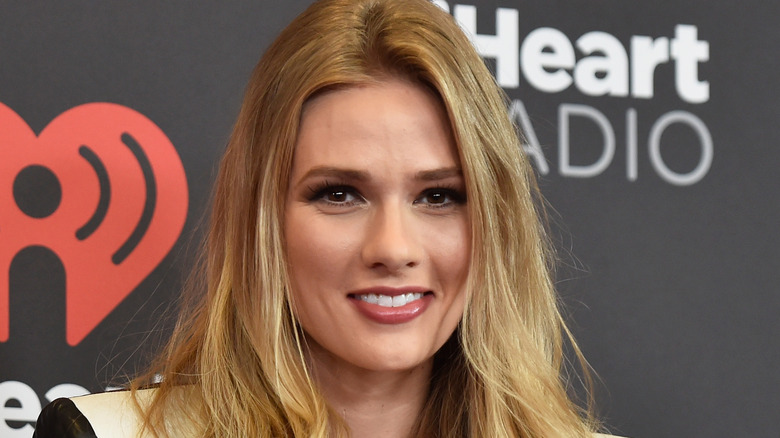 David Becker/Getty Images
There's no arguing that the "NCIS" franchise is a force to be reckoned with, as the original series is now in its 19th season and has spawned three successful spin-offs. The latest extension of the series, "NCIS: Hawaii," airs Monday nights on CBS.
Led by Vanessa Lachey, who plays Special Agent Jane Tennant, "NCIS: Hawaii" features a crack team of investigators who work out of the Pearl Harbor Field Office in Oahu solving crimes related to the military and national security. One of those auxiliary team members is Special Agent Kate Whistler from the Defense Intelligence Agency, played by Tori Anderson. As Whistler, Anderson both butts heads and locks lips with junior field agent Lucy Tara (Yasmine Al-Bustami) in a gripping "will they or won't they" on-screen relationship.
Anderson, who has previously appeared on The CW's "No Tomorrow" and Nickelodeon's "The Other Kingdom," exclusively opened up to Looper about working on "NCIS: Hawaii," including what it's like acting alongside Lachey and where she hopes her character's storyline goes.
Tori Anderson expects a 'bumpy journey' for Kate and Lucy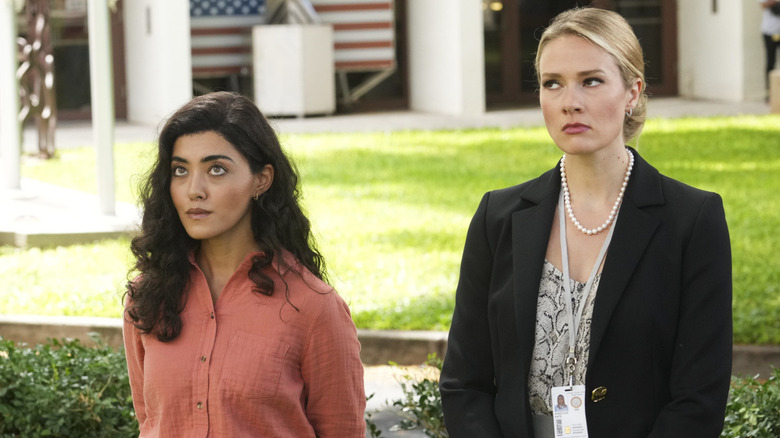 Karen Neal/CBS
What makes your role on "NCIS: Hawaii" fun to play, and what's the biggest challenge?
I think the biggest challenge for me is playing someone who comes off a little bit cold. Naturally, I feel like I'm quite an empathetic person, but Kate is very career-driven, and really sees the world in black and white, right and wrong, and just knows exactly what she's supposed to do.
The fun thing to play with her is her trying to develop relationships that aren't just work-based, to sort of find the gray areas with people. I don't know, but I think she spent her life quite lonely, and I think she's really inspired by the team that Jane Tennant has built. So, that's been a really fun aspect to play, — trying to figure out where she fits in with everyone in her team, in Jane's team.
Now, were you an "NCIS" fan before taking the role? And if so, is there a character that you drew inspiration from for Whistler?
I actually haven't watched any of the "NCIS" franchise. So, this was sort of my first introduction to it — getting kind of thrust into the world. Since then, I've started watching it since being cast, and I think what's so amazing about this franchise is the fanbase. It's a show that's been going on for 19 seasons now. It's so established. And I think, with that, I'm almost glad I hadn't watched the show before because having that kind of insurmountable pressure of trying to live up to something ... I'm glad I kind of avoided that a little bit.
Things are kind of heating up for Kate and Lucy. Can you give us any insight into where their relationship might be headed?
They have quite a tumultuous relationship, and that's what I love about the writing of these two people. They both come from such different backgrounds, and how they approach a relationship is so different, but I do think they are willing to learn from each other. Their communication could use a little bit of work at times, but they're learning. They're trying to sort of figure each other out.
Obviously, Kate is struggling with having a relationship in the work environment, whereas Lucy is much more open to that. But there's a bit of softening to Kate. Lucy brings out this beautiful side of Kate that she's starting to embrace. It's a bit of a bumpy journey, and there's going to be ups and downs. I'll just say that.
She's 'blown away' by how hilarious Vanessa Lachey is on set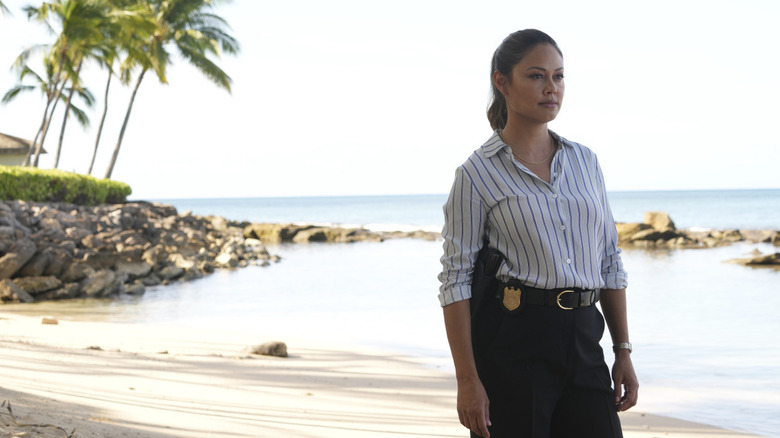 Karen Neal/CBS
You touched on it earlier in our conversation, but what do you think makes a franchise like "NCIS" so appealing to viewers? The original series is in its 19th season now and has spawned three successful spinoffs so far.
I think what makes "NCIS" so successful is a lot of it comes down to the moral code of the show. It's really well written characters who want to leave the world a better place. It's a team environment, and that's such an amazing thing to bring in, especially on the islands of Hawaii, is this feeling of "ohana" [family], and that's so important to the culture here. But it's also a vital part of "NCIS" too. It's kind of an amalgamation of the two, the "NCIS" franchise and Hawaii and the people here. It's sort of a really nice marriage. It's a very exciting high-paced show, but with good three-dimensional characters.
Obviously, things have been different with COVID over the last couple of years, including while you guys have been filming this, but have you met Mark Harmon or Chris O'Donnell or any of the other "NCIS" stars and traded notes with them on what makes the show work?
No, I haven't, but I know that crossovers can always happen. And I think maybe down the line ... I wonder if there's an issue with COVID and the protocols and everything, but I think eventually down the line ... absolutely. I have yet to [meet them], but fingers crossed.
Vanessa Lachey is the first female lead of the franchise. What's it like working with her?
Honestly, I'm utterly blown away by Vanessa. First off, she's a mother of three kids, she's an author, but beyond that she is probably the most generous, professional, kind Number One I've ever worked with in my life. Working with her has been the highlight of my career. I'm constantly learning that you can come to work and be professional and kind — she leads with kindness and grace, and she's also just f***ing hilarious. She's so fun, and when you come on a show like this, the lead sets the tone of the show, and she's just done such a remarkable job. I cannot speak more highly of anyone. I genuinely am very, very impressed with her.
Any funny stories or memorable moments with her on set?
She just makes everything memorable. The way that she brings the crew together, her laugh — she just has this hysterical laugh. We crack up during scenes all the time. She just makes it a really fun experience. I don't know if there's anything specific. I just think every day is a new thing, but it's always fun. You always know that you're going to have fun.
I love the scenes where we're all together because there's no ego on this cast at all. So, when we all get in a room together, sometimes it's hard to focus on the work because we all have so much fun together. I just think there's always the quips that Jason Antoon [as Ernie] says that throw you all over the map, and Yas [al-Bustami] laughing at something. It's just a really fun cast and crew.
Anderson would really like to see Whistler 'loosen up'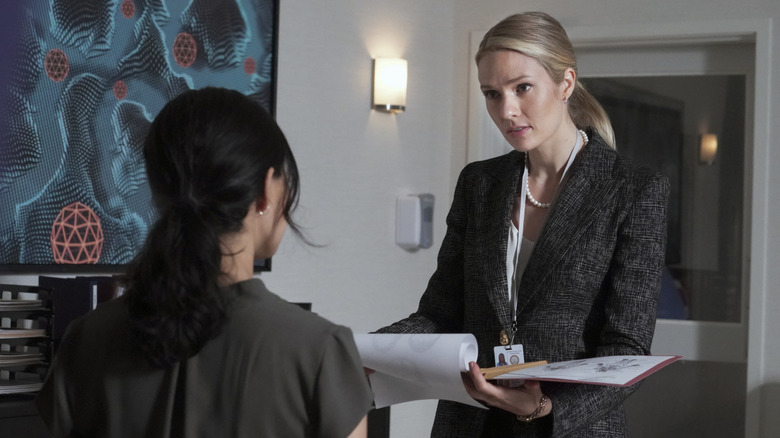 Karen Neal/CBS
Pretty much all of your work has been in TV. If you could cross over into film, what would be your dream role?
My dream role is something dark, and I've come close to those roles. I've done some stuff in theater, that's more of what I would love to edge into — the dark, twisted stuff is what I loved in theater school even though I'm naturally quite a happy person, but I think exploring that other side entices me a lot.
What would be your dream scenario at "NCIS?" Where do you hope to see your character go in terms of storyline?
I hope to see Kate start working together with the team more and developing more relationships and feeling as though she has a sense of family and she has a sense of comradery with people. Because I do think that she is almost like an entity that's sort of circulating them, she's like a voyeur in a sense, she's on the outside looking in and wondering what could be. So, I would like to see her start developing more relationships, start loosening up a bit, letting people see other facets of her.
I think you will, which is what I love about the creators and the show, you always get to see more about each character. You get to kind of dive in, there's always episodes that are more about certain characters and you get to see more of their backstory. So that's what I would like to see with her. And I would like to see her continue her relationship with Lucy and see where that goes and put her trust in it and know that it's going to be okay and be open.
What is your favorite movie or TV series of all time?
I love "One Flew Over the Cuckoo's Nest," and I'll leave it with that. My favorite TV series is "The Office." I didn't really watch comedy. I didn't have cable or anything growing up, so I didn't really watch a lot of TV. But I think I did my first comedy in 2016, and I started watching comedy for the first time in my life. And I freaked out watching "The Office," "30 Rock," "Seinfeld," and all those kinds of shows. Especially right now during COVID, I think there's a reason why "The Office" is all of a sudden trending everywhere because that sort of levity is so needed right now.
Name one actor or director you've never worked with that you'd love to work with most.
I'd love to work with Wes Anderson, and Phoebe Waller-Bridge and Olivia Colman.
"NCIS: Hawaii" airs Monday nights on CBS.