The Morning Show Fans Agree This Character Is The Best Part Of The Show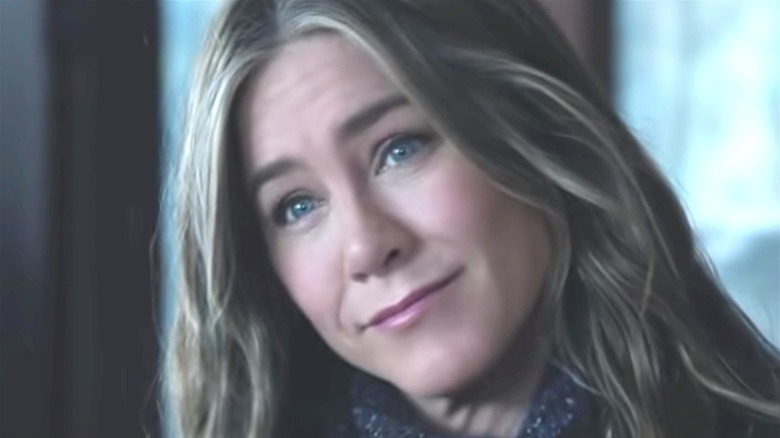 Apple TV+
The Apple TV+ drama "The Morning Show" wrapped up its second season in November 2021. The series is about the fictitious UBA (United Broadcast Association) news network and its crown jewel, The Morning Show (TMS). Season 1 follows the personal and professional upheaval of the TMS cast and crew in the wake of allegations of sexual misconduct brought against co-anchor Mitch Kessler (Steve Carell). The series also stars Jennifer Aniston as Alex Levy, Mitch's longtime co-host and friend, Reese Witherspoon as Mitch's outspoken replacement Bradley Jackson, Billy Crudup as Cory Ellison, the cutthroat CEO of UBA, and Mark Duplass as TMS executive producer Charlie "Chip" Black.
Season 2 follows the central characters as they navigate their toxic workplace, in which everyone has personal drama to deal with amidst the lingering scandal that engulfs UBA in Season 1. The show's sophomore season also chronicles the rise of COVID-19, destined to become a global killer, throwing the world into chaos and dividing the U.S. The show's ensemble cast turn in stellar performances, as evidenced by the series' eight Emmy nominations in 2020, with the acting nominations going to Aniston, Crudup, Carell, Duplass, and Martin Short. Crudup is the only one of the cast to win (so far). 
Recently, fans took to Reddit to reveal the character who they think is the best part of the show, which is a tough call to make given the A-list cast. However, one series regular stands out among viewers as the show's best.
Fans love UBA executive Cory Ellison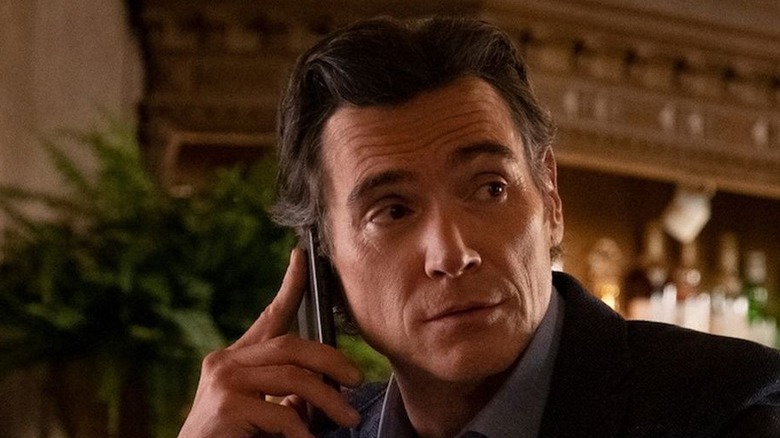 Apple TV+
For viewers of "The Morning Show," Billy Crudup's Cory Ellison stands head and shoulders above the other characters. Cory manages to turn every PR nightmare into an opportunity, and his ambition is unparalleled. Redditor u/lockwood444 wrote, "I just rewatched season 1, and I found myself wanting to watch his scenes over and over. He is so captivating. Bravo to BC." Cory remains unflappable as those around him are falling to pieces, and he's a master manipulator who knows how to cater to the egos of UBA's volatile on-screen talent. "I def give Cory a pass sometimes when I probably wouldn't with other characters. Just love Cory abs Billy C a lot!" u/Longjumping_Morning8 stated. 
Fans' eagerness to forgive or even forget Cory's duplicity is likely because Cory's Machiavellian schemes are what viewers would expect from a network executive who pulls the strings behind the scenes. The show's focus on complicity, accountability, and cancel culture falls squarely on its on-air personalities whose public personas must align with their private lives. There's also a sense of the unknown with Cory who is always a few steps ahead, challenging viewers to try and figure out what he's going to do next. 
Cory looks out for himself and doesn't hesitate to throw anyone under the bus if it serves his interests, which always align with what's best for the flailing UBA."I'm sure if anyone else had outed Bradley there would be a lot more ire. We are likely going to get more outrage from Bradley than the viewers over it. Tbf to the writers they did their job in setting up the reasons for his actions prior to it," stated u/FutureImminent.
One fan called Cory Ellison a "charming sociopath"
Ron Adar/Shutterstock
In Season 2 of "The Morning Show," Cory Ellison exposes Reese Witherspoon's character Bradley's romantic relationship with Laura Peterson (Julianna Margulies) to boost ratings. His actions are even more egregious because he's acting out of jealousy. Cory professes his love for Bradley in "The Morning Show" Season 2 finale. "That love declaration in the finale. The way he kept saying he loved her but it was so different every time and the dawning realisation of the extent of his feelings and exhilaration of just finally telling her and not caring about the consequences," wrote u/Longjumping_Morning8. If "The Morning Show" is renewed for Season 3, any chance at romance between the twosome will be DOA when Bradley finds out the truth.
Cory's appeal is so universal that there are multiple Reddit threads devoted to his antics on "The Morning Show." Another Reddit discussion was fueled by the comment, "Cory Ellison is devastatingly charming and utterly terrifying," posted by u/Sam_Buck, who continued by saying that he is "a charming sociopath who could have not have been better cast." It's not unusual for a show's antagonist to become a fan favorite, as their motives are so much more interesting than what drives other seemingly more likable characters. Whether they love him or love to hate him, Crudup's Cory keeps fans coming back for more.