Why Kate Veatch From Dodgeball Looks So Familiar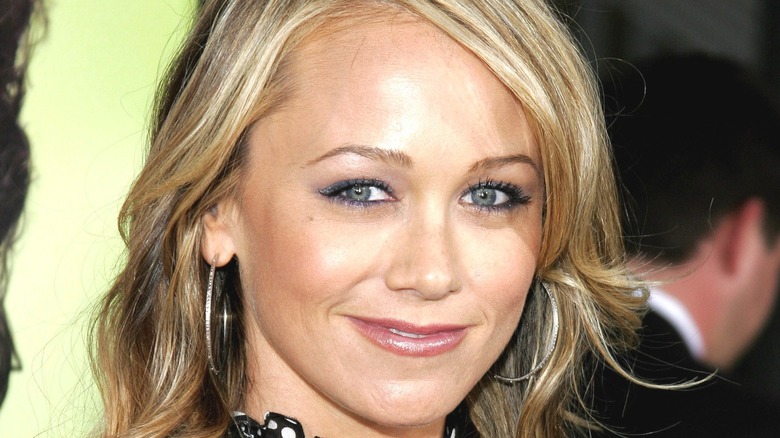 Tinseltown/Shutterstock
If moviegoers learned anything in 2005, it was probably the Five Ds of Dodgeball — dodge, duck, dip, dive, and dodge — courtesy of Patches O'Houlihan (Hank Azaria) in the semi-satirical "Dodgeball: A True Underdog Story," one of the best sports comedy movies of all time. True to its name, "Dodgeball" told the story of the triumph of the rag-tag Average Joe's Gymnasium team — led by Peter LaFleur (Vince Vaughn) — over the buff, alpha athletes assembled by Globo Gym's White Goodman (Ben Stiller) in an attempt to win enough money to keep their dilapidated facility from being bought and bulldozed into a parking lot.
Joining White in his attempt to prevent the Average Joe's team from winning is his loyal adjutant Me'Shell (Jamal Duff) and ringers like Blade (Rusty Joiner), Lazer (Kevin Porter), and Blazer (Brandon Molale) — not to mention Romanovian sensation Fran Stalinovskovichdaviddivichski (Missi Pyle), the most deadly woman in the world with a dodgeball. But fear not, Peter has a solid core of his own, including employees Owen Dittman (Joel David Moore) and Dwight Baumgarten (Chris Williams). There's also teenager and wannabe male cheerleader Justin Redman (Justin Long). He's even got obscure sport-obsessed goofball Gordon Pibb (Stephen Root) and Steve the Pirate (Alan Tudyk), who walks around in full swashbuckler regalia and talks to match the part.
Worry not, because Peter has a ringer of his own, the bank lawyer who White got fired after she rebuffed his advances. Kate Veatch is an eight-year softball veteran and she's got a cannon for an arm, according to ESPN 8: The Ocho color commentator Pepper Brooks (Jason Bateman). Christine Taylor, the actor behind the character, has an impressive resume full of popular projects from which she should be easily recognizable, aside from being a member of the cast of "Dodgeball." Here's why Kate Veatch from "Dodgeball" looks so familiar.
Taylor played Marcia Brady in The Brady Bunch Movie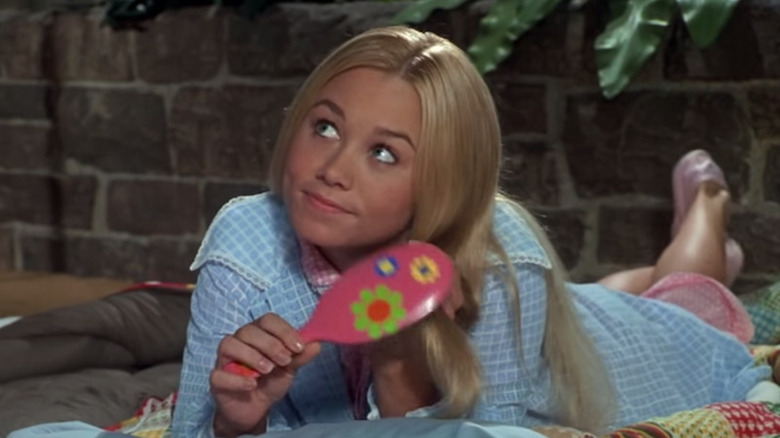 Paramount Pictures
In 1995, the folks at Paramount Pictures decided to transform a staple of 1970s family television into a feature film and "The Brady Bunch Movie" was the seeming result. Set in modern times, the movie follows the titular family — a lovely lady and her three very lovely girls plus a man named Brady with three boys of his own — as they attempt to come up with some quick cash with their '70s sensibilities. In this reimagining, Christine Taylor plays Marcia Brady, the beautiful and popular eldest daughter who's the subject of major envy from younger sister Jan (Jennifer Elise Cox). When sleazy neighbor and real estate developer Larry Dittmeyer (Michael McKean) wants to turn the Bradys' neighborhood into a shopping mall, he gets all but one of the homes in the neighborhood secured; he just needs to convince the Bradys. Of course, it helps that he's in possession of a mis-delivered tax bill that shows the family $20,000 in debt. The Brady bunch is forced to think up several schemes to come up with the cash, including entering the "Search for the Stars" contest, which has a prize of exactly $20,000 — Good thing it's being judged by Davy Jones, Micky Dolenz, and Peter Tork, all members of the famous '60s pop band The Monkees!
Taylor returned to the role of Marcia Brady in 1996 for "A Very Brady Sequel." When a mysterious stranger named Roy Martin (Tim Matheson) shows up claiming to be Carol Brady's long-lost first husband, things get kinda weird and crazy. Like, Marcia sharing a room with Greg (Christopher Daniel Barnes) and the two somehow realizing that they're in love with each other crazy. 
She played Laura Lizzie in The Craft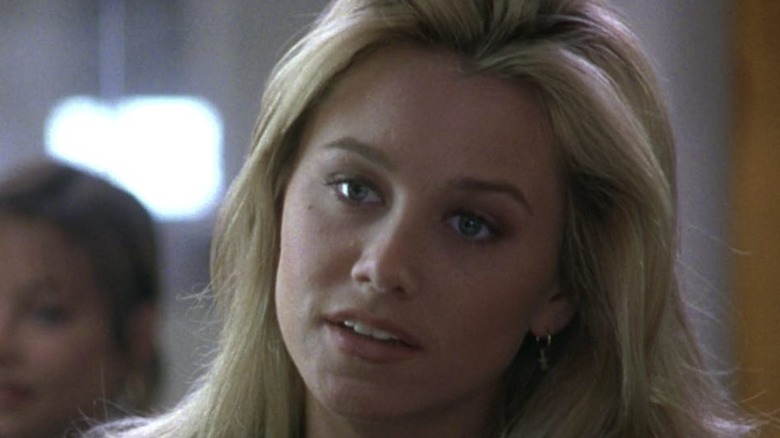 Columbia Pictures
Switching gears to a less saccharine-sweet role, Christine Taylor joined the cast of "The Craft" in 1996. When naturally talented witch Sarah Bailey (Robin Tunney) transfers to their Los Angeles private school, a small coven is complete. Sarah joins ringleader and goth fashion devotee Nancy Downs (Fairuza Balk), shy burn victim Bonnie Harper (Neve Campbell), and the athletically inclined Rochelle Zimmerman (Rachel True) and it's pretty much game on. The coming-of-age supernatural horror flick follows the girls' exploits as their powers continue to grow. Sarah falls for popular guy and all-around jerk Chris Hooker (Skeet Ulrich) to the point that she puts a love spell on him that works entirely too well. Nancy, who's got history with Chris, finds it pathetic and is only interested in more power, to the point that she wants to invoke the spirit. Bonnie just wants to look and feel normal, hoping the gene therapy she's undergoing can help remove her scars and give her some self-confidence.
Rochelle, on the other hand, has a true and proper nemesis who needs to be handled. As the only member of the coven involved in extracurriculars at school, she's on the diving team. Fellow student athlete Laura Lizzie (Taylor) bullies Rochelle by making fun of her hair and expressing hatred for people of color with a particularly nasty racial slur — in addition to yelling "Shark!" in the middle of one of her dives as a distraction. So Rochelle's revenge involves a spell that causes Laura to lose her own hair. At first it's just a little at a time, but eventually Laura has lost clumps, seemingly causing Rochelle to feel bad for casting the spell and to rethink her revenge.
Christine Taylor played Holly in The Wedding Singer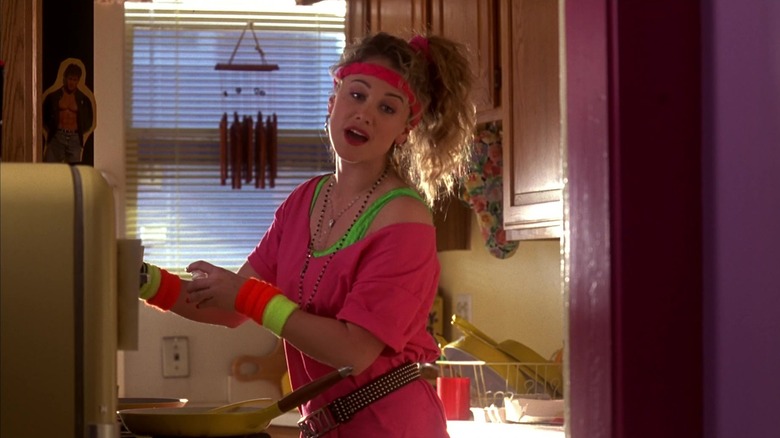 New Line Cinema
Having mastered the 1970s with the "Brady Bunch" movies, Christine Taylor moved forward a decade for 1998's Adam Sandler comedy "The Wedding Singer." In what was clearly the least-crude of the earlier Happy Madison films, Sandler played the title character, Robbie Hart, a wedding singer whose life is thrown into a downward spiral when his fiancee Linda (Angela Featherstone) leaves him at the altar. Robbie doesn't exactly have an easy time returning to work; after all, how can you focus on a good performance at someone else's wedding reception when the very idea of love feels like a lie? Plainly put, Robbie can't, so he swears off performing at weddings, including the upcoming marriage of his friend Julia (Drew Barrymore) to her fiance Glenn (Matthew Glave). He does, however, offer to assist her in any way possible, including finding a replacement band to perform. 
Julia tries to set Robbie up with her cousin and fellow reception hall server Holly (Taylor), who's very much into the '80s fashion of big hair and Madonna's lace gloves. Glenn thinks it's a great idea, since Holly is considered by pretty much everyone to be promiscuous and that's exactly what he thinks Robbie needs. In the resulting double date, Glenn intimates to Robbie that he regularly cheats on Julia. It turns out that having sex with Holly isn't what Robbie needs after all; as he slowly comes to realize, he's falling in love with Julia and Holly is the first to pick up on it. She takes it in stride and even encourages the idea, though Robbie isn't quite bold enough to interfere in Glenn and Julia's relationship at first. But when they elope to Las Vegas, Robbie realizes it's now or never. Fortunately, he's got Bill Idol as backup.
She played Matilda Jeffries in Zoolander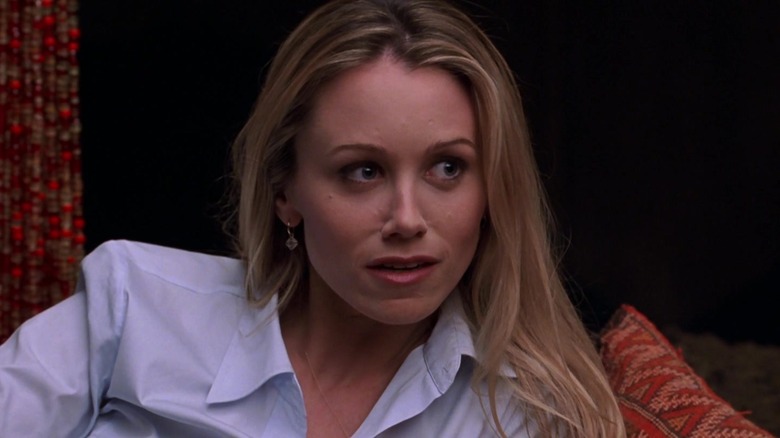 Paramount Pictures
In 2001, audiences were introduced to one man and five syllables that dominated the world of male modeling: Derek Zoolander. For the satirical comedy "Zoolander," Ben Stiller took on the title role, a ridiculously good looking male model with chiseled abs and stunning features. Christine Taylor — who by then was married to Stiller in real life — played TIME Magazine reporter Matilda Jeffries, who's been assigned to profile the beautiful simpleton for the cover story of an upcoming issue. Between losing the award for Male Model of the Year to up-and-coming rival Hansel (Owen Wilson) at the VH1 Fashion Awards and the TIME story flat-out calling him an idiot — well, he is — Derek is in a bit of a funk. Fortunately, super hot designer Jacobin Mugatu (Will Ferrell) offers to let him be the centerpiece of his upcoming homelessness-themed Derelicte line. Unfortunately, it's because Derek is deemed so stupid that he can be brainwashed, the goal of which is to get him to assassinate the prime minister of Malaysia, who's depriving the movers and shakers in the fashion industry of cheap child labor to make garments at a low cost.
Given Mugatu's mysterious past, Matilda smells a rat and her fears are confirmed when she and Derek meet hand model J.B. Prewett (David Duchovny), who explains the plot in which Derek has become embroiled. Determined to help Derek and bring down Mugatu, Matilda forces him to make nice with Hansel so they have a place to lie low and hide from Katinka Ingabogovina (Milla Jovovich), Mugatu's top thug. The problem is, Derek's never bailed on a gig and he's not about to start now, brainwashing notwithstanding.
Taylor reprised the role for 2016's sequel, "Zoolander 2," though her screen time is limited. Matilda is killed when the Derek Zoolander Center For Kids Who Can't Read Good collapses, also injuring Hansel.
Taylor played Sally Sitwell on Arrested Development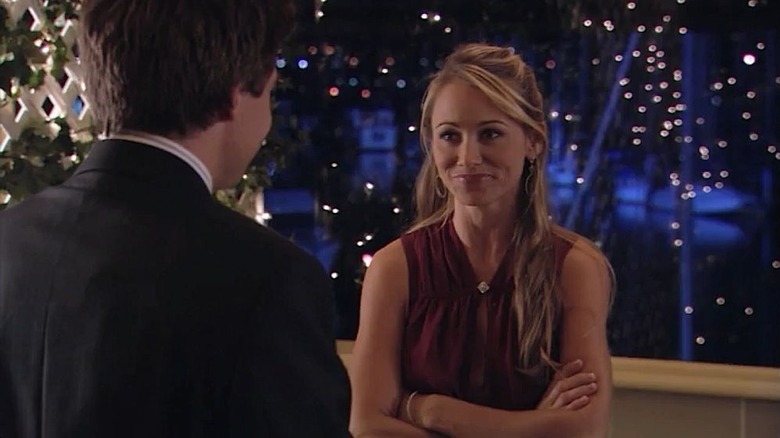 Fox
In addition to her roles on the big screen, Christine Taylor has had plenty of success with various roles on television. She made her first appearance as Sally Sitwell in "Arrested Development" Season 2, Episode 9, which was entitled "Burning Love." Sally is Michael Bluth's (Jason Bateman) love interest and daughter of Stan Sitwell (Ed Begley, Jr.) who runs Sitwell Enterprises, a rival to Bluth Company. Having known each other since they were children, she and Michael dated briefly as adults before he left her upon finding out his on-again, off-again girlfriend Maggie Lizer (Julia Louis-Dreyfuss) is pregnant and assumed he was the father — it turns out he was not the father because she was not pregnant. Sally showed back up in Season 4 as the manager of Lucille Austero's (Liza Minnelli) 2012 campaign for Congress. Of course, she also embezzled $100,000 from the campaign to help her boyfriend, Tony Wonder (Ben Stiller), overtake George Oscar Bluth Jr.'s (Will Arnett) career as a magician.
Taylor also landed a recurring role on the dark comedy cable series "Search Party." The series focuses on the lives of four New York City residents who are on the hunt for a missing friend, Chantal Witherbottom (Claire McNulty), the roommate of Dory Sief (Alia Shawkat). Taylor play's Dory's saintlike boss Gail, who's got plenty of money and seemingly even more patience.