The Embarrassing Reason Emilia Clarke Cried On Her First Day Of Game Of Thrones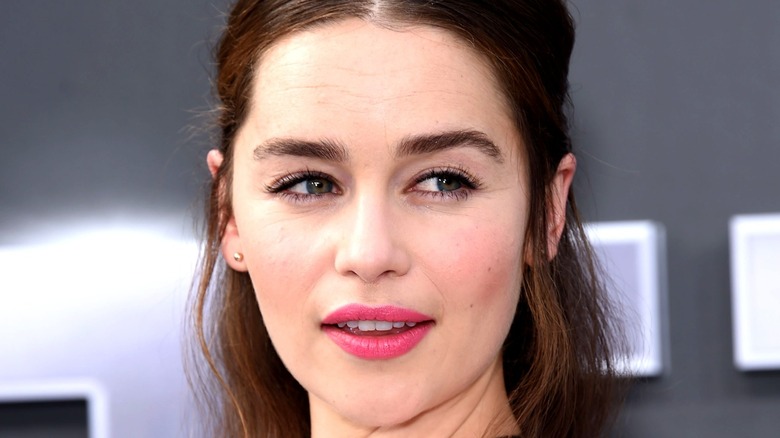 DFree/Shutterstock
Based on the now-famous "A Song of Ice and Fire" book series by George R.R. Martin, "Game of Thrones" debuted on HBO in 2011, and when it did, it permanently changed the television landscape. Despite being a program about dragons, ice zombies, and giants, David Benioff and D.B. Weiss' series took a far more grounded approach to the fantasy genre. These whimsical elements were still present, but the stories they wound up in focused more on warfare and politics, with the people pulling the strings taking center stage throughout. Of the many influential humans in the "GoT" canon, few were more important than Daenerys Targaryen.
As one of the last vestiges of the infamous House Targaryen, Daenerys had significant pressure put upon her to restore her family to glory. Whether it was under the guidance of her brother, Viserys (Harry Lloyd), or the always-scheming Tyrion Lannister (Peter Dinklage), she constantly found herself swayed in one direction or another by those around her. Nevertheless, Daenerys always maintained her own wants and inevitably broke free of outside influence to become the feared Mother of Dragons. Ultimately, the job of portraying one of Westeros' most important names went to then-upstart actress Emilia Clarke.
In hindsight, landing the role of Daenerys Targaryen was the career move of a lifetime for Emilia Clarke, but it didn't exactly start off in the most encouraging of ways. On her very first day working on "Game of Thrones," she cried on set, and here's why.
An embarrassing moment led Clarke to tear up on set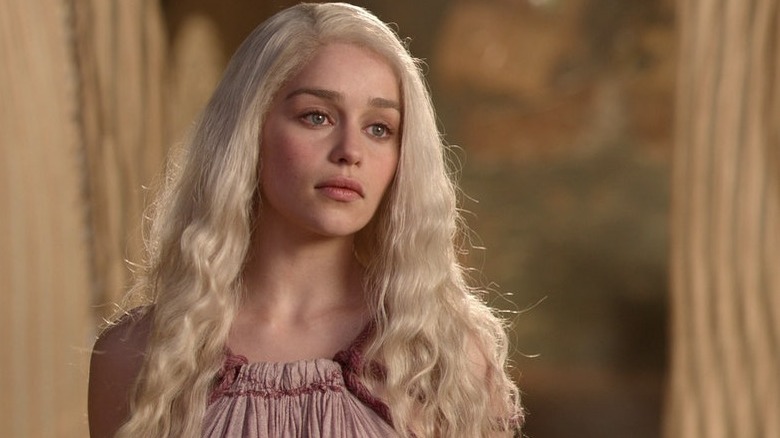 HBO
When Emilia Clarke joined the "Game of Thrones" cast, her Hollywood experience was limited at best. Her biggest acting credits were a single episode of "Doctors" from 2009 and a short titled "Drop the Dog" from that same year. Thankfully, "GoT" gave her a chance to show off all of the skills she'd developed and put to use at Drama Centre London on a global stage. However, she most likely didn't anticipate her first day on the job involving a horse ride gone wrong, followed by a rush of embarrassment that drove her to tears.
"I fell off a f****** horse," Clarke revealed in a 2019 interview for the "Game of Thrones" YouTube channel, recalling the stress of her first day on the job in vivid detail. "This is my first job, this is like the first thing I ever did, and they stuck me on a horse. In a bamboo field in Belfast, and it's raining." She remembers falling off of the horse and trying to keep the scene alive, but she failed miserably and begged the crew to stop filming. Sadly that wasn't even the worst of it. "Turn around, and I'm like, 'Oh my God, there's like the whole crew,' and I just cried. That was my first day on 'Game of Thrones.'"
Say what you will about "Game of Thrones" and its final season, but it wouldn't be fair not to credit Emilia Clarke for putting her best foot forward each and every episode. Somehow this traumatic experience didn't prompt her to leave the show, and both the final product and her career overall were better for it.