The Deleted Harry Potter Scene That Left Tom Felton In Tears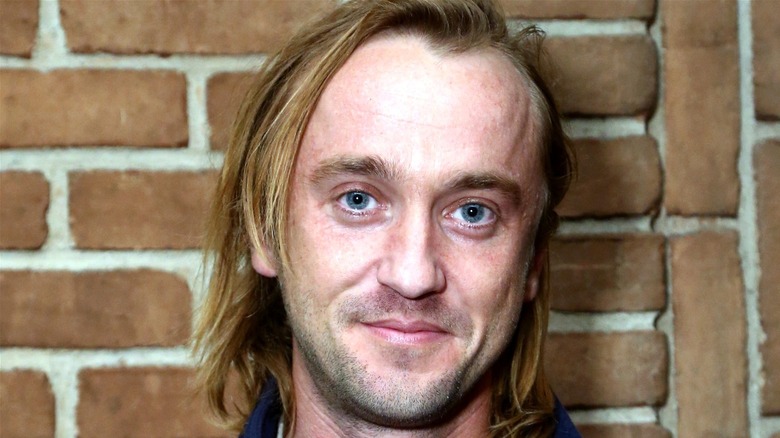 Tommaso Boddi/Getty
Draco Malfoy might be one of the most important villains in all of "Harry Potter," but one little-seen moment from the film series left his actor in tears.
To celebrate the 20th anniversary of the "Harry Potter" film franchise — the first movie, "Harry Potter and the Sorcerer's Stone," hit theaters on November 16, 2001 — HBO Max gave fans the best post-holiday present ever: a reunion special that spans nearly two hours and features almost the entire original cast. Stars Daniel Radcliffe, Emma Watson, and Rupert Grint, who played the trio of Harry, Ron, and Hermione, lead the proceedings, meeting up with their fellow actors to share fond memories of their time growing up on set.
Radcliffe, Watson, and Grint are joined by pretty much every other young member of the cast, who all have their own unique experiences to share considering that they grew up on film as the movies continued for a decade. Though most of the stories were funny or heartwarming, Tom Felton revealed that, during one deleted scene with his on-screen father, he almost broke down crying. Here's the real story behind the cut "Harry Potter" scene that nearly made Tom Felton sob.
A rap on the hand actually hurt Tom Felton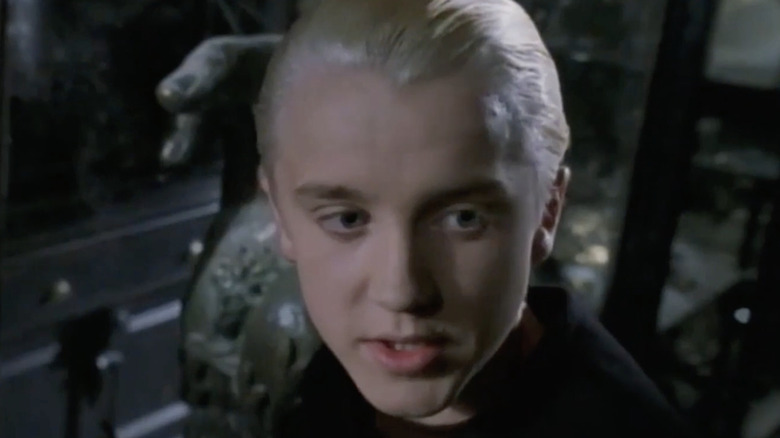 HBO Max/Warner Bros.
Played on screen by Jason Isaacs, Lucius Malfoy, the patriarch of the wealthy pureblood Malfoy clan, can be quite terrifying — and according to Felton, sometimes Isaacs' commitment to the role scared or upset the young actor in a real way.
"If your dad is a psychopath wielding a cobra cane about, you're probably not going to be the friendliest," Felton said, chuckling, as he tried to explain the motivations behind Draco, one of the series' more despicable characters. Though Isaacs said he "loved Tom" as soon as the two started working together in "Harry Potter and the Chamber of Secrets," one moment pushed Felton a little too far.
Felton first describes working with Isaacs as "a treat," but seems to reconsider, saying that wasn't always the case, as the actor could "immediately [turn] into the most unfriendly horrible person." Apparently, in one of those moments, which was one of the first moments Isaacs shot for the series, the older actor used his cobra cane to rap Felton as he tried to touch something in a store. "I didn't know how sharp the teeth were... and they went right into little Tom's hand," Isaacs admitted. "And he looked up at me and his eyes welled with tears." Felton obviously accepted Isaacs' immediate apology, but it's easy to see why the moment drove the young actor to tears.
The "Harry Potter" reunion special and all eight films, including every despicable moment between Draco and Lucius, is available to stream on HBO Max now.