The Harry Potter Characters Both Sides Hated In The Wizarding War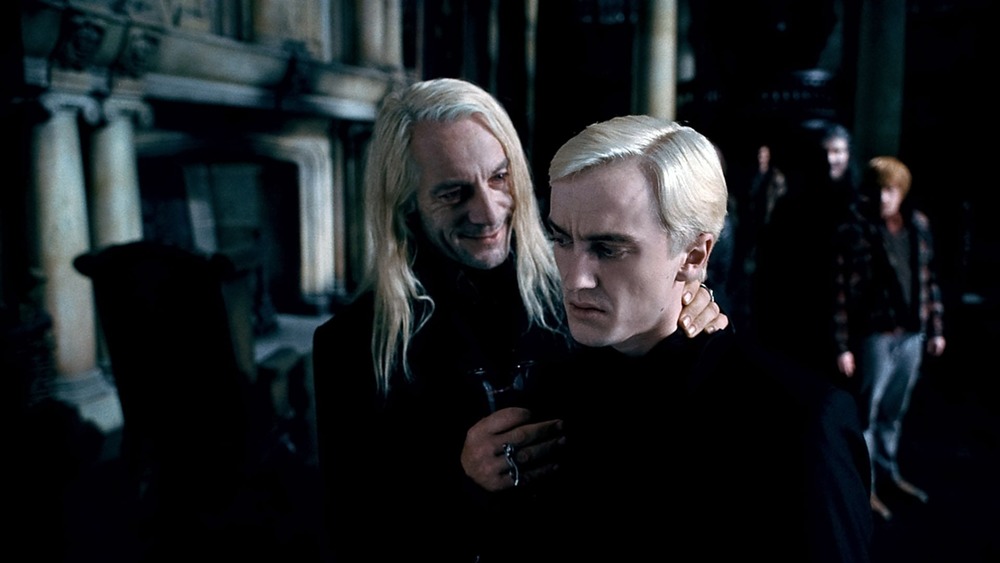 Warner Bros.
Throughout the Harry Potter books and films, The Dark Lord, Voldemort (played onscreen by Ralph Fiennes) is held up as the most fearsome, evil villain in the world, but truthfully, the wizarding world is full of bad guys big and small. From the cruel yet sickly sweet Professor Umbridge (Imelda Staunton) to the hapless but harmful Minister of Magic, Cornelius Fudge (the late Robert Hardy), there are plenty of bad guys in Harry Potter... and the pureblood Malfoy family are all about as awful as they come.
As soon as Harry (Daniel Radcliffe) meets the stuck up, wealthy, and bigoted Draco Malfoy (Tom Felton), the two are nemeses, and the two constantly butt heads throughout their time at Hogwarts. By the sixth installment, Harry Potter and the Half-Blood Prince, Draco is one of Voldemort's Death Eaters, and is even tasked with murdering beloved Hogwarts headmaster Albus Dumbledore (Michael Gambon), though he ultimately can't go through with it.
Harry doesn't return to Hogwarts for what would have been his seventh year, as he's away finding Voldemort's Horcruxes to destroy the Dark Lord once and for all, but whenever he does run into Draco, he finds the shifty Slytherin, along with his parents Lucius (Jason Isaacs) and Narcissa (Helen McCrory), appealing to both sides whenever it's convenient. According to Isaacs himself, here's why Lucius, Narcissa, and Draco Malfoy were the characters that both sides hated during Harry Potter's wizarding war.
Jason Isaacs thinks the Malfoy family is pretty despicable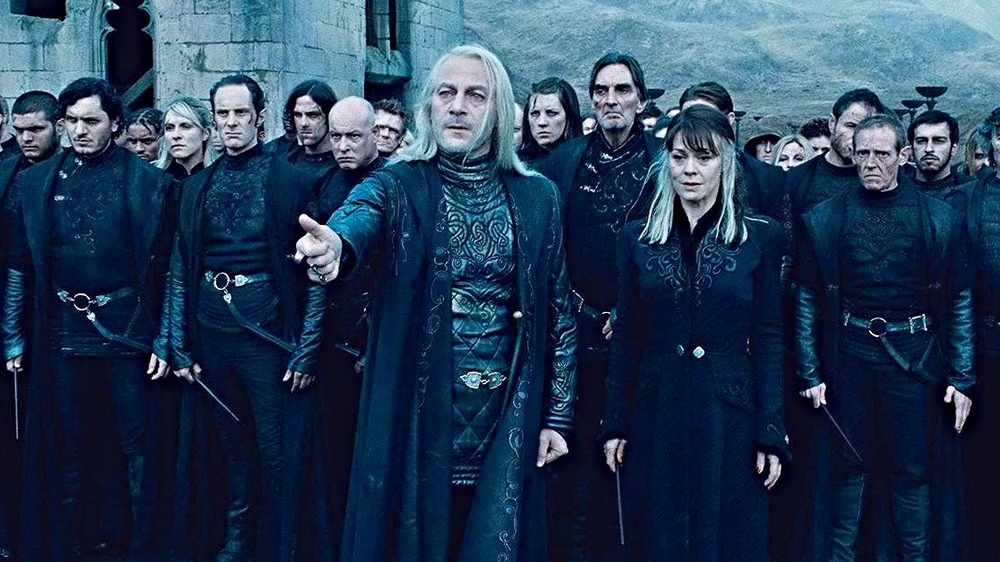 Warner Bros.
In an interview with SyFy in April of 2020, where Isaacs was promoting his involvement with Audible's production of Tales of Beedle the Bard (another Potter spin-off by original author J.K. Rowling), Isaacs was asked what he thought happened to Lucius after the series... and his answer was pretty revealing. After being sent to the wizarding prison, Azkaban, Lucius falls out of favor with Voldemort, and ends up a humiliated drunk throughout the final books and films.
"Onscreen, you can see he's always slightly stubbly and red-eyed and drinking whenever he can," Isaacs told SyFy. "I always thought he drank too much. And then, in the final battle at Hogwarts, it became clear to him, particularly when Narcissa and Draco ran off, that there was no place for him in either future. Voldemort was not gonna have him by his side. He'd already [taken] my wand at the table in Malfoy Manor, which is public humiliation, almost castration."
"Were the Death Eaters to triumph, there's nothing good waiting for him. And, of course, if the Death Eaters lose, there's nothing good waiting for him," Isaacs continued. "That's why that last shot of him is him just stuck in the doorway there with his wife and son disappearing in the distance and Voldemort disappearing into Hogwarts. [Lucius is] thinking, 'What the hell do I do?'" Clearly, there's no happy future for Lucius, which is probably exactly what this conniving, cruel character deserves.
All of the Potter films, including the most despicable Malfoy scenes, are available to rent or buy on most major platforms.