Why Emma Watson Thought She'd Lose Hermione At Her Audition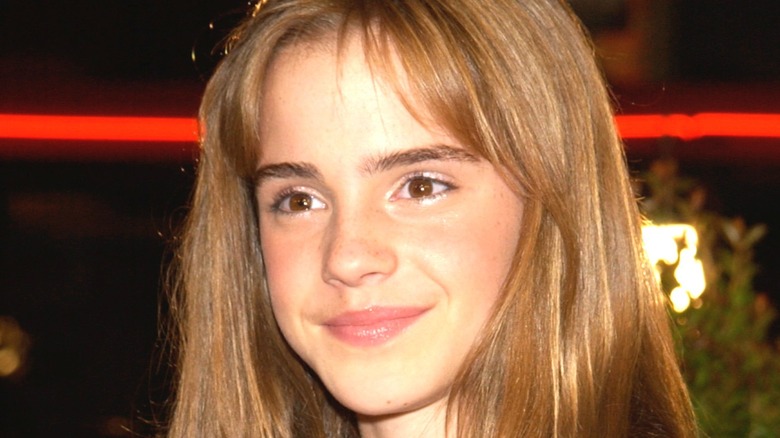 Featureflash Photo Agency/Shutterstock
After "Harry Potter and the Sorcerer's Stone" released in theaters 20 years ago, Daniel Radcliffe, Rupert Grint, and Emma Watson became synonymous with their on-screen characters — Harry, Ron, and Hermione. The casting of the "all-British" movies was so well-loved, nobody could imagine anyone else playing the parts of the trio, according to fans on sites like Buzzfeed. But that was just the beginning of the then-child-actors' careers. 
Watson, who played Hermione to perfection, went on not only to become a versatile actor and model, but also a feminist icon for young women. Looking back, Hermione likely would have followed a similar path in the wizarding world.
As a young student at Hogwarts, Hermione's knowledge is surprising; her curiosity, inspiring; and her friendship is spellbinding. One of the smartest witches of her time, one can see Watson's reflection in Hermione's intelligence, loyalty, and courage. With all the similarities between the two brilliant women, it seems almost serendipitous that Watson was cast for the role. But Watson wasn't confident about her chances while auditioning for Hermione.
Watson had unexpected competition from another actor
While it is hard to believe that there was anyone else who came close to bagging the role of Hermione in "Harry Potter" other than Emma Watson, it did happen. Or at least Watson thought it did.
In an interview with HuffPost, the "Harry Potter" casting director Janet Hirshenson revealed that there was another actor who was being considered for the role of Hermione. "There was another little girl that we tested who had just done I think 'Madeline,'" she explained. "She had done a big movie, and she was quite Hermione-ish, so I think Emma saw her at the auditions and went, 'Oh, well, I got no chance. There's her.'"
Of course, when Watson auditioned for the role, she charmed everyone. Recalling when Watson came in to audition for Hermione, Hirshenson said, "We just gasped. It was like, 'Oh my God.' Like, 'Whoaaa!' She took up the screen."
In addition to an impressive audition, a minor character detail ensured that Watson got the part. The character of Hermione, initially, was supposed to have "an annoying side at times." The creatives thought the other actor would become too annoying after a while, whereas the audience would learn to love Watson. 
And the rest, as they say, is history. Watson immaculately embodied Hermione on screen. It will be a nostalgic watch as Watson returns to visit her fellow castmates during HBO Max's "Harry Potter 20th Anniversary: Return to Hogwarts."