Who Plays Doctor Song Ji-An In Netflix's The Silent Sea?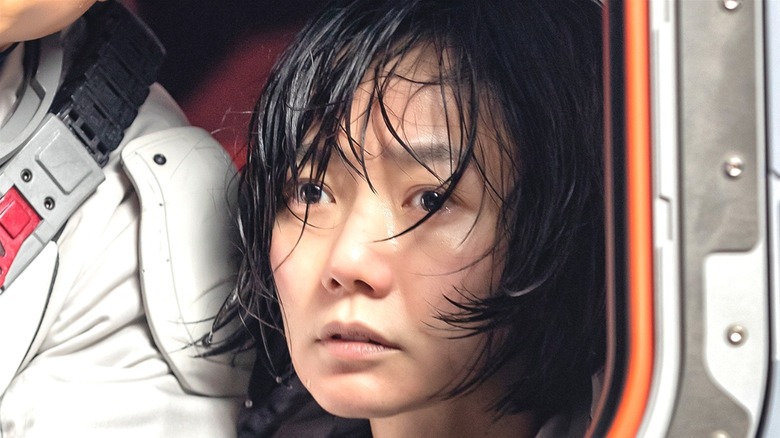 Han Sejun/Netflix
The South Korean mystery sci-fi thriller "The Silent Sea" was released to Netflix on December 24. The series is set in a dystopian future in which the earth is facing environmental destruction. In an effort to save the planet, a team travels to the abandoned Balhae Lunar Research Station located on the moon. There, they are meant to look for a research sample that may hold the key to humanity's survival. Further complicating things, the same mission has already been attempted — and resulted in the death of 117 crew members. The team includes dedicated leader Han Yoon-jae (Gong Yoo), head engineer Lieutenant Ryoo Tae-seok (Lee Joon), and astrobiologist Doctor Song Ji-an. Song Ji-an also has a personal tie to the mission, as her sister died in the previous attempt at the mission.
So, who is the actor who takes on the role of Doctor Song Ji-an in "The Silent Sea"? Here's where else you've likely seen Bae Doona.
Viewers may know Bae Doona from her collaborations with the Wachowskis
Featureflash Photo Agency/Shutterstock
South Korean actor Bae Doona has been working since 1999, when she appeared in her first role in "The Ring Virus," a South Korean remake of the Japanese horror film "Ring" (via IMDb). The following year, Doona began working with future "Parasite" director Bong Joon-ho on his film "Barking Dogs Never Bite." The two worked together again on the director's 2006 film "The Host."
In 2012, Boona appeared in her first English-language film, The Wachowski Sisters' "Cloud Atlas," which she co-starred in alongside Tom Hanks and Halle Berry. In 2015, she worked with the Wachowskis once again for "Jupiter Ascending." Soon after, she took on what is arguably her most notable English-speaking role as Sun Baek in the Netflix series, "Sense8," which was also created by the Wachowskis. Following "Sense8" — and prior to "The Silent Sea" — Doona had significant roles in three South Korean shows: 2017's "Stranger," 2018's "The Greatest Divorce," and 2019's "Kingdom."
In an interview for "The Silent Sea," The Philippine Star asked Doona what she factors in when deciding to take a role. The actor responded, "For me, as an actor, it's always the script. But personally, I think the director comes before the script. I am very, heavily influenced by who the director is. What kind of a person are they? What kind of story do they want to tell?" She went on to add, "Another element that I am most recently very much focused on is, can I make myself useful in this particular production? ... So, I always try to think to myself: Is there something that only I can bring to the table?"