Foundation's David S. Goyer Teases What To Expect For Season 2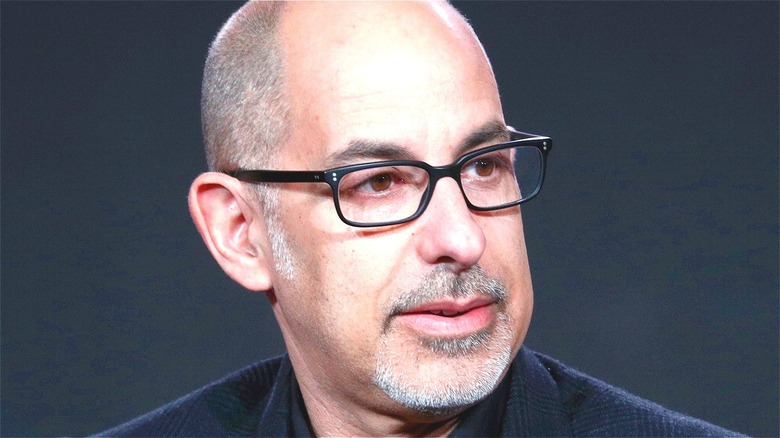 Frederick M. Brown/Getty Images
"Foundation" became a hit among sci-fi fans during its first season. The series' popularity even led to it becoming one of 2021's most pirated titles (via The Wrap). Set in a world created by legendary author Isaac Asimov, this adaptation focuses on a select few trying to change the balance of power and those who will hold on to it at all costs.
The series premiere drew positive reviews with many citing the project's epic storytelling and "visually stunning" cinematography (via BBC). Character development proved to be another selling point for critics. Asimov's original stories feature a variety of characters, each one steeped in their own lore. The cast, led by actor Lee Pace, features industry veterans alongside relative newcomers for a mix that itself is winning praise (via Inverse).
It all came together for a finale featuring major cliffhangers as well as a few surprises. Apple's reveal of a second season may have taken the guesswork out of when those loose ends might be resolved, but there's still a lot to unravel about the path forward. Now, showrunner and executive producer David S. Goyer is stepping up to offer a few hints at what's to come.
The clones will face that major season one surprise
In an interview with Newsweek, Goyer, the creative force behind this epic sci-fi series, revealed some details about the 2nd season of "Foundation." First and foremost were the issues surrounding the clones. The topic itself, as well as Asimov's approach to then non-existent technology, became a fascinating subject for Goyer (via Variety).
Season 1 ends with the clones facing a reveal that changes their whole outlook. With Brother Dawn (Cassian Bilton) dead, the ramifications of what it means for those who remain are left to be explored. "Part of the fun of the show moving forward, we'll be seeing how different the various Cleons are," Goyer said.
The showrunner kept Bilton, along with Pace and Terrence Mann, aware of where he was going with their characters. It was a decision that helped the trio craft "subtle" differences that would come in handy during the finale. Of course, having them back for Season 2 will also require changes. "Some of the characters are going to be very, very different," he added.
FIrst Foundation isn't the only colony to be featured
Another aspect that intrigued fans of Asimov's books is the brief references to the Second Foundation. While it might have seemed like a passing thought, there's much more to be seen from the Hari Seldon (Jared Harris) creation. For David S. Goyer, the book proved to be a valuable guide as to what is seen (and unseen) about its development.
"And one of the other things about the Second Foundation in the books is that the Second Foundation also largely develops off-screen, at least in the original trilogy. It appears almost as a Deus-Ex-Machina," Goyer said. "And I thought, for viewers of the show, that wouldn't be playing fair, that we had to see the Second Foundation develop."
In Isaac Asimov's books, the Trantor colony proves to be a haven for those with special gifts such as telepathy. Only the strongest of the community are deemed to be a part of its governing council, with those in powerful positions known as Speakers. Keeping it out of the First Foundation's consciousness is all part of the plan to protect it from outside intrusion.