Why Mok Shaiz's Majordomo From The Book Of Boba Fett Looks So Familiar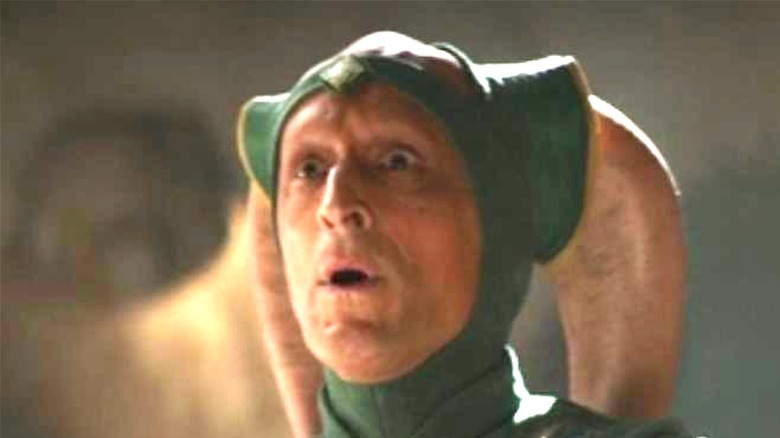 Lucasfilm/Disney+
After making his debut nearly 40 years ago, everyone's favorite bounty hunter is returning to the screen for Disney+'s new series "The Book of Boba Fett." 
Following the events of "The Mandalorian," "The Book of Boba Fett" sees its titular character (Temuera Morrison) take his place as the new leader of Jabba the Hutt's Palace (as well as his lucrative crime ring) with the assassin Fennec Shand (Ming-Na Wen) by his side. In Chapter 1, we finally learn how Boba managed to escape the infamous Sarlacc Pit and we also see Boba slip into the crime lord role seemingly well.
As crime lord, Boba is tasked with collecting tribute from his underlings. One of these underlings was supposed to be the mayor of Mos Espa on Tatooine, but instead, his majordomo (David Pasquesi) shows up in his stead and insists that Boba owes the mayor money, not the other way around. Boba leaves the majordomo unharmed as the mayor's "gift," and on the way out, the majordomo warns another delegation will be on the way. If you happen to be wondering why the messenger looks so familiar, we've got you covered.
David Pasquesi is a Vatican City police officer in Angels & Demons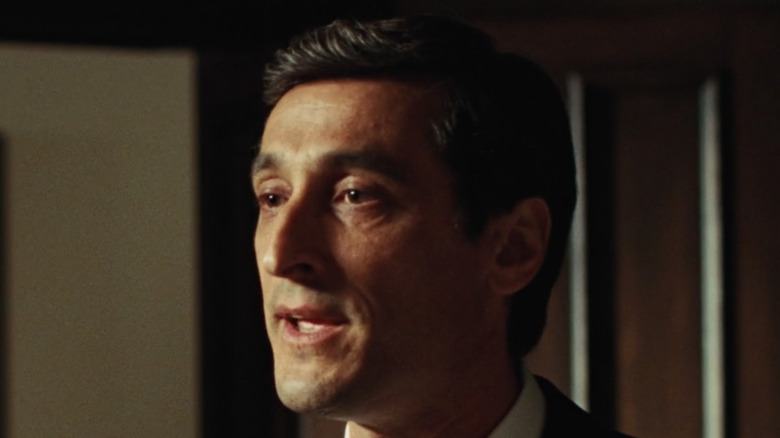 Columbia Pictures
The man behind the pink-tinged skin and large head appendages happens to be actor David Pasquesi. Pasquesi has been around in Hollywood for quite some time, but despite the almost 90 credits under his belt, he has remained a bit of an unsung talent. However, you may recognize him from the few big titles he has appeared in. 
One such big title is the 2009 thriller "Angels & Demons." Pasquesi stars alongside Tom Hanks in the sequel film to "The Da Vinci Code," based on the best-selling books of the same name by Dan Brown. Pasquesi plays the Vatican City police officer Claudio Vincenzi who fetches symbologist Robert Langdon (Hanks) to help solve a murder within the Vatican church. Throughout his investigation, Claudio accompanies Robert on his chase for clues all over Rome. Eventually, Robert uncovers more of the criminal plot, comes head to head with the Illuminati, and discovers who the real mastermind is.
David Pasquesi is a shady ex-husband on Veep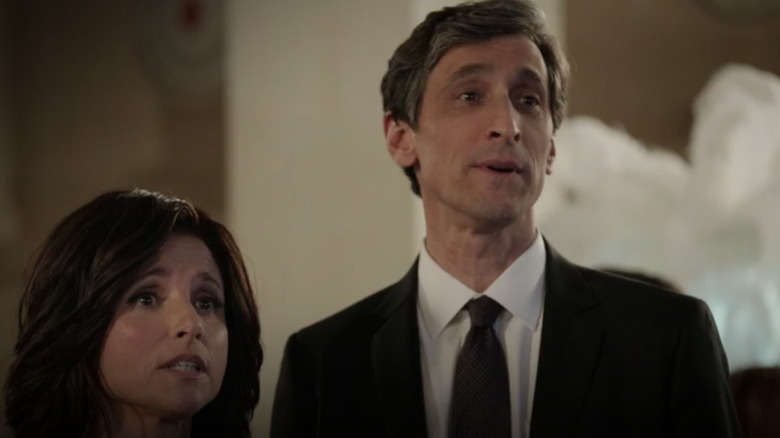 HBO
After helping to solve the murder mystery at the Vatican, David Pasquesi would then go on to land a part on the comedy satire series "Veep," which may arguably be his most recognizable role to date. Pasquesi makes recurring appearances as Andrew Meyer, the businessman ex-husband of Vice President Selina Meyer (Julia Louis-Dreyfus). Throughout the series' seven seasons, Andrew and Selina have quite the tumultuous relationship. Andrew constantly cheats on Selina, but she somehow always manages to use his affairs to her political advantage.
When Selina becomes president, the two hardly speak, but eventually, they resume their on-again, off-again relationship, only for Selina to fully end things when she learns that Andrew slept with her portraitist. Andrew later reveals that he may have embezzled funds using her signature and is now the subject of an investigation. Despite their rough relationship, Selina helps Andrew to leave the country where he decides to fake his own death.
David Pasquesi is a holistic medicine man on Lodge 49
Like a majority of his career, David Pasquesi would stick to the small screen with his next big role. In 2018, he starred in the AMC comedy series "Lodge 49" as Blaise St. John. Blaise is a member of an old fraternity group, Lodge 49, which is seemingly just a place where men of all ages can get drunk off cheap beer. However, under the surface, the group teaches its members alchemic philosophies.
Blaise is the more eccentric, philosopher-type of the group and actually owns an apothecary. He befriends Dud (Wyatt Russell), a slacker-surfer type who stumbles upon the doors of Lodge 49, and comedic — sometimes even mystical — shenanigans ensues. The show received rave reviews from critics, but it was ultimately canceled by AMC after just two seasons (via Variety).
With just a few popular roles, Pasquesi may not be the most recognizable new face on "The Book of Boba Fett," but his long acting career proves he has the chops.