The Beloved Supernatural Series That Also Featured AHS's Murder House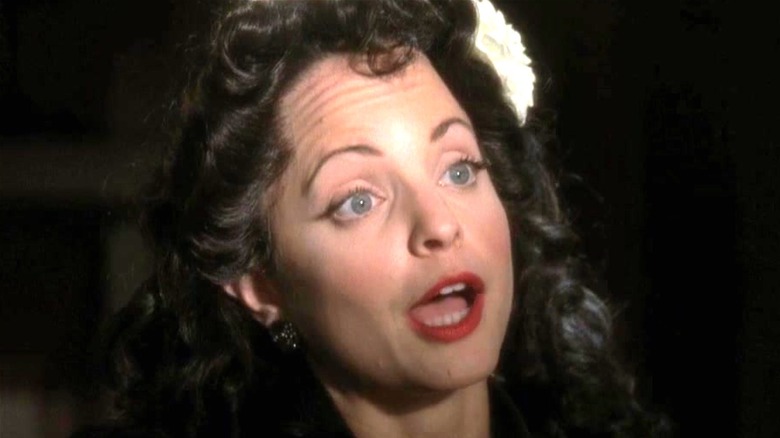 FX/Hulu
Ryan Murphy and Brad Falchuk's smash hit FX television series "American Horror Story" truly set the stage for frightening, yet profound and thoughtful explorations with Season 1's "Murder House," which aired in 2011. The season follows the Harmon family, which is comprised of Dr. Ben Harmon (Dylan McDermott), wife Vivien (Connie Britton), and daughter Violet (Taissa Farmiga), who move into the titular house located in Los Angeles. We quickly learn that the ominous-looking domicile has had quite a grisly history that includes numerous ghastly crimes and murders, including the infamous murder of Elizabeth Short (Mena Suvari), aka the Black Dahlia. Wisely, Murphy and Falchuk make the sinister dwelling a character and quickly establish rules, such as ensuring anyone who dies in or on the property will be doomed to remain there in spectral form. The Antichrist himself, Michael Langdon (Cody Fern), is conceived within its walls.
In a 2014 interview with Entertainment Weekly, Murphy had confirmed that all of the seasons of "AHS" are indeed linked together. "We're just beginning to tell you how they're connected," he teased further. Beyond that, however, eagle-eyed viewers might have noticed a connection with an older, far more lighthearted series when it comes to the Murder House itself.
The Murder House was also used as a frat house on Buffy The Vampire Slayer
"Buffy the Vampire Slayer," created by Joss Whedon, ran for seven seasons and 144 episodes and became one of the best examples of genre television of the 1990s. Though there is no canonical connection between "Buffy" and "AHS," some fans of both shows may have experienced some serious déjà vu. In the Season 4 Halloween episode of "Buffy," titled "Fear, Itself," the sprawling six-bedroom mansion exterior is used as the Alpha Delta fraternity house. The episode centers around Buffy (Sarah Michelle Gellar), who is still recovering from some relationship issues with Parker (Adam Kaufman). In order to get her mind off things, they take her to a Halloween party held at the Alpha Delta frat house. However, everything is not hassle-free (this is a "Buffy" episode after all), as a demon called Gachnar is accidentally summoned. 
While it made an impression on "Buffy," loyal "AHS" fans, however, will always associate it with the fan-favorite first season "Murder House." Built in 1902 by Alfred Rosenheim (via Atlas Obscura), the mansion used on "AHS" and "Buffy" is located in Los Angeles in what is known as Billionaires Row. An addition was built onto the structure to further help the production crew as they worked on "Murder House." 
The house has been used in other productions such as "Bones," "Law & Order: Special VIctims Unit," and "Alfred Hitchcock Presents." If you want to own the iconic mansion, you will have to dig deep into your pockets, as it was recently put on the market for $7.8 million, according to Realty Today.