The Parks And Recreation Reunion You Missed In Sing 2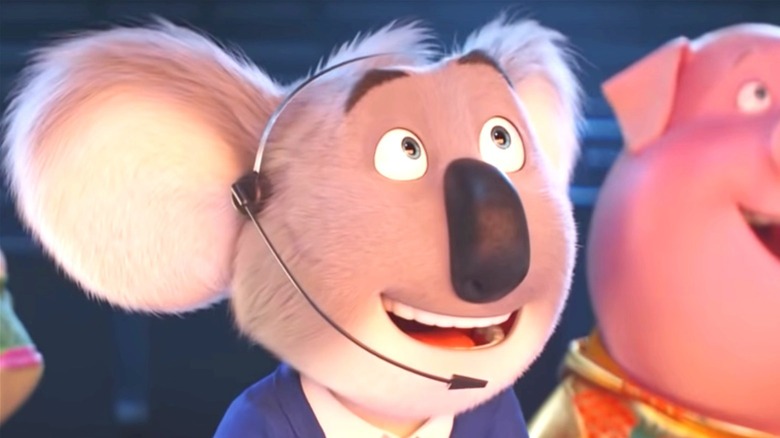 Universal Pictures/YouTube
In a marketplace dominated by DreamWorks and Pixar, it can be difficult for upstart animation studios to break through to the mainstream. However, for Illumination Entertainment, standing toe-to-toe with such titans of the medium has proven no difficult task. Founded in 2007, Illumination has managed to put out some of the most recognizable franchises in the field of children's animation, ranging from "Despicable Me" to "The Secret Life of Pets," and has even adapted such classic Dr. Seuss tales as "How the Grinch Stole Christmas" and "The Lorax." Its latest effort comes in the form of a sequel, "Sing 2."
The first "Sing" movie arrived on the big screen in 2016 from director Garth Jennings and took the media landscape by storm in short order. By the time it left theaters, it had grossed over $634 million at the worldwide box office and left audiences and critics largely impressed. As a result, it didn't take long for a second chapter in the series to come to fruition — one that would follow in the footsteps of the original with vibrant animation, strong musical numbers, and a remarkable cast list. Icons like Matthew McConaughey, Scarlett Johansson, and Halsey all lent their voice acting talents to the project, but they're just the tip of the iceberg.
If you're a fan of "Parks and Recreation," you'll want to give "Sing 2" a watch for a small reunion of actors from the beloved NBC sitcom.
Sing 2 features three Parks and Rec favorites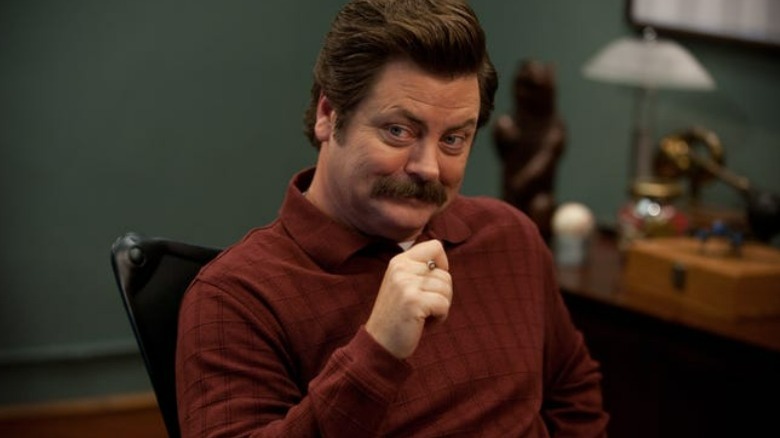 NBC
"Parks and Recreation" ran from 2009 to 2015, and in that time, it became a small screen hit. The misadventures of those working for the Pawnee, Indiana Parks and Recreation Department provided no shortage of laughs, tears, and complex emotions that go beyond conventional labels. This is due to a stellar cast spearheaded by Amy Poehler, who joined the likes of Rashida Jones, Rob Lowe, and Chris Pratt, among numerous others. Nick Offerman, Nick Kroll, and Chelsea Peretti also popped up on the program in varying capacities, and in a fun coincidence, they're all involved with "Sing 2."
Of the trio, Nick Offerman spent the most time on "Parks and Recreation" as the stern outdoorsman Ron Swanson, though "Sing 2" has given him a new acting challenge. He plays a pig named Norman who's married to Reese Witherspoon's Rosita and is a dedicated father to their many piglets. As for Nick Kroll, he took on the part of obnoxious radio host Howard Tuttleman on "Parks and Rec," and for "Sing 2" he's a pig named Gunter who accompanies Rosita as her dance partner. Finally, there's Chelsea Peretti, who only appeared as a character named Zelda on "Parks and Rec" for one episode, but she was a frequent presence in the writer's room. She plays talent scout Suki in "Sing 2."
"Sing 2" is certainly an unlikely place to find a "Parks and Recreation" reunion, but it's still great to see that the show's alumni are doing well for themselves all these years later.