The Netflix Crossover Criminal Minds Fans Are Dying To See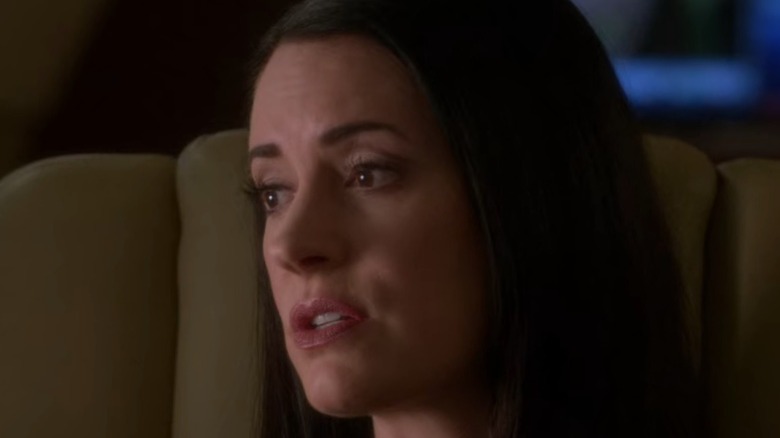 CBS
For the entirety of its 15 season, 323-episode primetime run, CBS' serial killer procedural "Criminal Minds" ranked among the best-loved crime dramas on the air. It was arguably among the most unsettling as well, with the FBI's crack Behavioral Analysis Unit team hunting down and either capturing or killing some of the vilest characters to ever grace the airwaves. 
"Criminal Minds," however, didn't exactly corner the small screen market in terms of evil beings out to commit despicable deeds. Some might even argue the series helped set the stage for even more murderous creations to enter the world of serial narrative. As you might expect, new sordid tales of killers on the prowl have been making their way to the streaming realm in recent years. That includes Netflix, of course, who scored an unexpected hit when they resurrected a former Lifetime series on their platform in 2019. That show recently released its third head-spinning season of murderous mayhem, and a few "Criminal Minds" diehards are now desperate to see the BAU team hunt down the man in the middle of the action via a crossover event. 
Criminal Minds fans want to see the BAU take on Joe from Netflix's You
Although the crossover is unlikely considering "Criminal Minds" went off the air in 2020, some fans are indeed dreaming of a day when the BAU crew is tasked with bringing down Joe Goldberg (Penn Badgley), the obsessive, and possessive killer at the heart of Netflix's "You." 
That seemingly impossible crossover event was recently teased in a Reddit thread titled "I'd would LOVE to see an episode where the BAU tries to catch Joe Goldberg from You." Seems the originator is not the only fan who's pondered how the BAU team would handle Joe. User u/vanishingsapphic posed, "i was thinking abt this the other day oml. wondering how they'd cross over his internal monologue against the baus that would be." Meanwhile, user u/Melissa0522975 quickly chimed in with hopes that in lieu of a proper crossover, that story might still be told the old-fashioned way, stating, "OMG. This is genius. I don't normally read fanfic, but somebody needs to write this, at least."
As for how that showdown might go, another user hilariously commented that Joe would likely complicate matters in vintage Joe fashion, writing, "literally LMAO knowing Joe, he'd probably end up falling for one of the BAU members." Likewise, u/Capgras_DL's post covers the consensus that Joe would not last long against the BAU team, offering, "Seriously though, they would have him figured out in seconds. It would be delicious to see Joe realize that he's not actually as smart as he thinks he is." 
And it's safe to assume most "You" fans would agree with u/Cabgras_DL on both points.