The Best Line In Don't Look Up Wasn't Even In The Script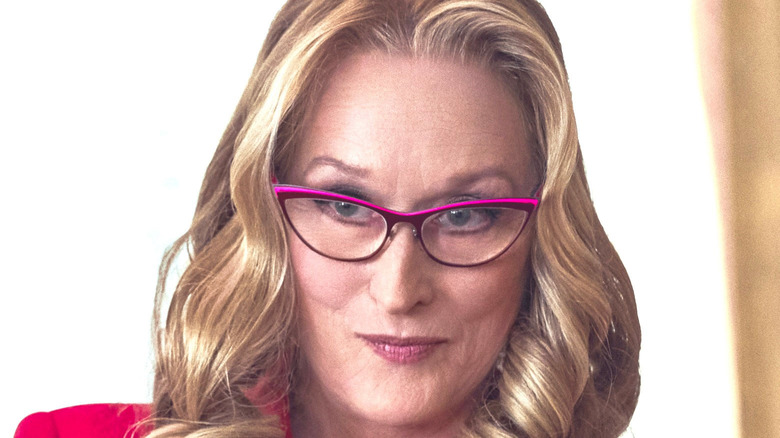 NIKO TAVERNISE/NETFLIX
Spoilers ahead for "Don't Look Up."
It's rounded off the year as one of the most divisive films over the festive period (with a 55% critic rating and 77% audience rating on Rotten Tomatoes), as Netflix subscribers are either loving or loathing the latest satirical stab from "The Big Short" and "Vice" director Adam McKay. That being said, you can't deny the message that's attempted to be sent out to the masses in the latest hot rock of a film, "Don't Look Up." 
Littered with a stunning cast and an at times scary insight into a world not unlike our own, "Don't Look Up" chronicles the story of two scientists trying to warn the world of an imminent global threat headed to Earth. The movie has some great moments, most notably being its final scene: As the world accepts its approaching doom from an incoming space rock, Leonardo DiCaprio attends his last supper with family and friends while the world is hit by the threat he warned of months before. It's a poignant and perfect moment of facing doom as best they can, as those around the table try to ignore the rattling window panes and explosions from outside, by talking about trivial matters. 
Seconds before they're vaporized, Dr. Mindy has the last few seconds saying, "We really did have everything, didn't we? I mean, if you think about it." 
It's a perfect note to end things on, and what's even more impressive is that, according to McKay, it came straight from the man himself.
DiCaprio's last line was one he thought up himself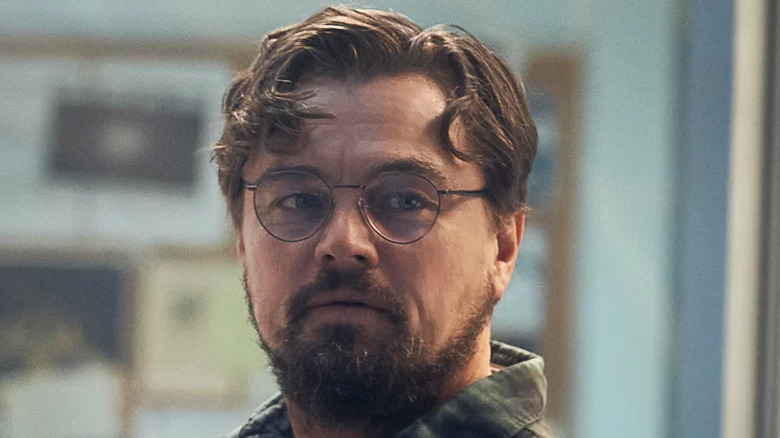 Netflix
Speaking to Variety, Adam McKay revealed that Leonardo DiCaprio came up with Mindy's observation in between filming, tugging on the heartstrings of those who heard it. 
The Oscar-winning actor spoke to the script supervisor, Cate Hartmann, about what he had in mind during takes. "He said, 'You know, I feel like I should say something,'" McKay recalled. "And he said the line — he didn't even read it in character. And immediately Cate, who's this tough Texan, and I both immediately teared up, and my voice cracked a little bit." Knowing that he was set on making the necessary impact that even an asteroid wouldn't compete with, McKay made the only choice he could. "I just went, 'Yup, I think you should try that!'" 
The decision ended up being a great one and really does leave a lasting effect ... even before you see Meryl Streep get a nasty alien encounter, and Jonah Hill taking to a very lacking social media when all the planet is left in ruin. In fact, the devastating impact of the line is the reason that it came very close to being edited out of the film, according to McKay — and the reason that, in the end, they knew it had to be included. "And it was just the gut punch of all gut punches," he said, echoing the feelings of the audience.
If you haven't yet experienced the end of the world, you can see how things all pan out by giving "Don't Look Up" a peek on Netflix now.