New The Batman Trailer Provides The Action-Packed Look We've All Been Waiting For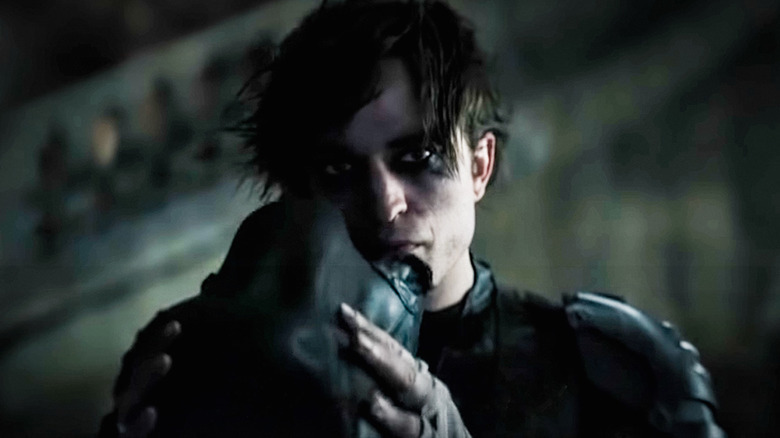 Warner Bros.
While comic book films are all the rage these days, perhaps no comic book character has the lasting impact on the big screen that Batman does. Many popular directors and actors have been behind and in front of the camera when it comes to the character, but perhaps no iteration has been as popular as Christopher Nolan's "Dark Knight" trilogy, which kicked off with 2005's "Batman Begins" and ended with 2012's "The Dark Knight Rises." Still, the upcoming film from Matt Reeves, which is entitled simply "The Batman," has generated plenty of hype since its first trailer dropped.
Starring Robert Pattinson in the role of Batman, the film will focus on the vigilante's second year as the caped crusader and his battle with the Riddler (Paul Dano). The first trailer for "The Batman" introduced a dark and edgy take on the character, and some fans have continued to speculate that the film could potentially be R-rated. It certainly would not be a first for a DC film. Other than that first trailer, however, things have been quiet on the Gotham front.
Well, at least until now, with the official release of the second trailer for Matt Reeves' "The Batman," which provides our best look yet at Zoë Kravitz's Catwoman.
The cast of The Batman
Joining Pattinson and Dano in "The Batman" will be Zoë Kravitz as Selina Kyle aka Catwoman, Jeffrey Wright as James Gordon, John Turturro as Carmine Falcone, Andy Serkis as Alfred Pennyworth, and Colin Farrell as Oswald Cobblepot aka Penguin. Director Matt Reeves has described Dano's Riddler as a version of the character that "no one has seen before" (per Collider) and the first trailer for "The Batman" definitely hints at this. In fact, some have even compared him to the real life Zodiac Killer (via Den of Geek). It's clear that, while the character will draw from the comics, Reeves is giving fans an entirely different version of the character than the one that appears there.
Meanwhile, it's unclear how the rest of the characters will interact with this younger Batman, or how the film will set them up for potential future installments as he battles against Riddler. Either way, this second trailer has definitely given fans even more of an idea of what to expect from the upcoming movie.