The Yellowstone Character You Didn't Know Was Actually A Crew Member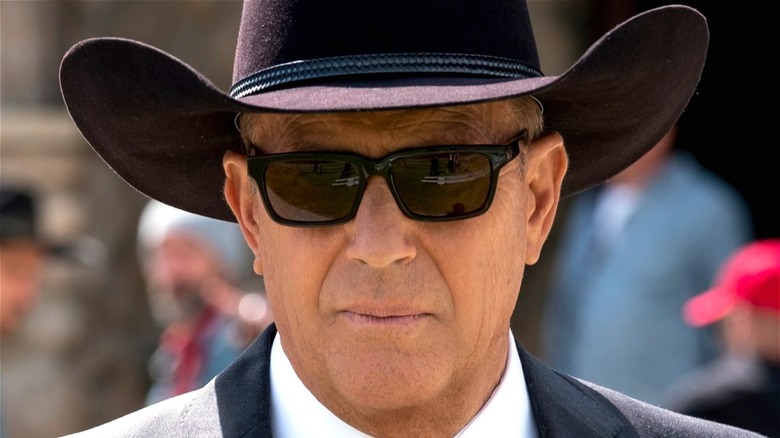 Paramount Network
Over its four seasons on-air, Paramount's hit drama series "Yellowstone" has introduced a wide variety of notable characters, each one of them connecting in some way to the long, brutal history of the Dutton family and their battle to maintain the land and legacy they hold so dear. The entire series is focused on the titular Yellowstone ranch — the largest of its kind in Montana and the pride of the Duttons. This property is owned and operated by patriarch John Dutton (Kevin Costner).
Whether it be old enemies returned from John's past or fresh faces from outside of town, Yellowstone Ranch always has foes encroaching on it from all sides, each one hoping to rip some of that land away from the Duttons and use it as their own. That's not to say all of the characters the show introduces are out for blood. In fact, there's actually one character who manages to be an essential partner to the Dutton family as well as a major contributor to the series behind the scenes.
The Duttons' personal chef is in charge of craft services
Owning the largest ranch in Montana (and indeed, being a part of the veritable dynasty that is the Dutton family) allows John Dutton and the rest of his family to enjoy a few personal comforts that some of his competitors may not have, one being his personal chef, Gator. As the Dutton family's cook, Gator has appeared in all four seasons of "Yellowstone," but what you may not know is that Gator is a chef in real life. Not only is he a chef, but he's also in charge of craft services on the set of the show.
His real name is Gabriel "Gator" Guilbeau, and by his own admission, he's "feeding cowboys on the camera and off the camera" (via YouTube). As the leader of craft services, Gator is in charge of supplying food, drinks, and snacks to cast and crew whenever they need it. When he's on camera, he's often acting opposite the legendary Kevin Costner: an experience Gator says is like a "baptism by fire." It's fascinating and hilarious to think that the showrunners decided to cast their own craft services leader in the series, and considering Gator's importance to the family and the crew behind "Yellowstone," it doesn't seem like he'll be going anywhere anytime soon.