It's Time To Talk About That Science Lab Scene In Spider-Man: No Way Home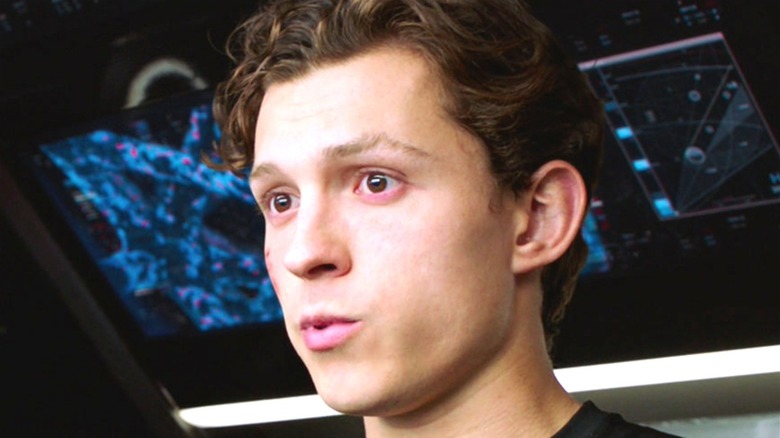 Sony Pictures/Marvel Studios
Contains major spoilers for "Spider-Man: No Way Home."
When 2019's "Spider-Man: Far From Home" concluded, it became incredibly apparent that the Marvel Cinematic Universe was about to take a drastic turn. The Daily Bugle's J. Jonah Jameson (JK Simmons) leaked the titular hero's (Tom Holland) secret identity to the world and framed him for the death of Mysterio (Jake Gyllenhaal) — a hero in the eyes of the public. With that to go off of, "Spider-Man: No Way Home" had the potential to become one of the most memorable MCU installments to date, and suffice to say, it lived up to that lofty status and then some.
Aside from covering Peter Parker's personal spiral in the wake of Jameson's reveal and how it affected his friends and family, "No Way Home" ripped the Marvel multiverse wide-open. A spell gone wrong courtesy of Doctor Strange (Benedict Cumberbatch) allowed a plethora of classic Spider-Man foes from previous cinematic franchises to enter the MCU, but that's not all. Both Tobey Maguire and Andrew Garfield's respective versions of Spidey slipped through the multiversal cracks too, and aided Holland's web-head against his myriad of villains.
Before the big third-act fight, the three different Spider-Men spent some time devising a plan to stop the likes of Green Goblin (Willem Dafoe) and Electro (Jamie Foxx). That meant they had to pool their knowledge in the science lab to create cures for the bad guys' various ailments, which gave us one of the most unforgettable sequences in comic book movie history.
The lab scene is packed with Easter eggs, references, and more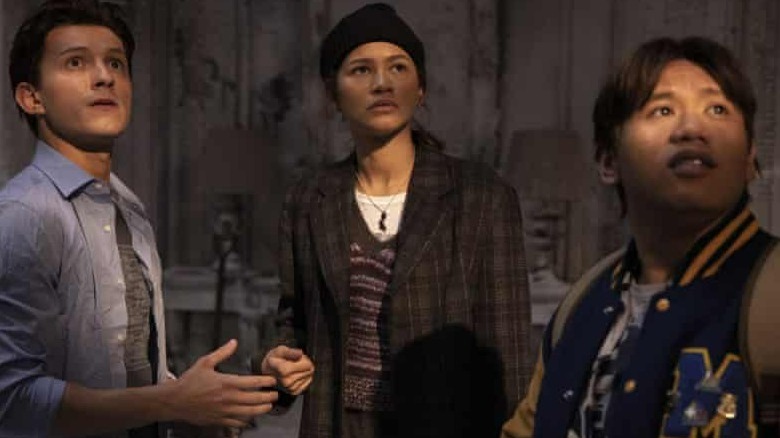 Sony Pictures/Marvel Studios
Though not very long, the lab scene from "Spider-Man: No Way Home" gave fans of all three Spidey franchises something to enjoy. 
For fans of Sam Raimi's "Spider-Man" trilogy, they got a few references as well as some exploration into what has happened in the years since the events of "Spider-Man 3." Tobey Maguire's Peter Parker recalls to potential Hobgoblin, Ned Leeds (Jacob Batalon), how his best friend, Harry Osborn (James Franco), died in his arms after trying to kill him, as seen in the 2007 threequel. He also reveals to Andrew Garfield's Peter that he and Mary-Jane Watson (Kirsten Dunst) are still doing their best to make their complicated relationship work.
As for "Amazing Spider-Man" fans, they had a lot to appreciate from this sequence as well. Garfield's Peter humblebrags that he once cured Dr. Curt Connors, aka the Lizard (Rhys Ifans) before — a moment from the end of the first "Amazing Spider-Man" movie — to little fanfare. He later admits to Maguire's Peter (the one he jokes dressed more like a youth pastor rather than a superhero) that he hasn't found love since the death of Gwen Stacy (Emma Stone) due to his many responsibilities as Spider-Man.
To top it all off, "No Way Home" used this scene as an opportunity to recreate an iconic internet meme. When Ned asks for Peter Parker, all three of them respond before awkwardly looking around and pointing at one another. This is a hilarious live-action nod to the now-famous image from the 1960s "Spider-Man" cartoon where two people are wearing identical Spider-Man costumes and pointing at each other in confusion. 
"Spider-Man: No Way Home" is jam-packed with soon-to-be-legendary moments, but the lab scene may take the cake as the single greatest of them all.