Why The Song At The End Of The Matrix Resurrections Means More Than You Think
This article contains spoilers for "The Matrix Resurrections."
To round out the new year, "The Matrix Resurrections" has finally been unveiled, leading us to take another dose of the red pill and remind ourselves why Keanu Reeves ruled the '90s in a trenchcoat and duffel bag full of guns. Reuniting with Carrie-Anne Moss and director Lana Wachowski, the new chapter in the war against the machines gains new troops in Yahya Abdul-Mateen II, Jessica Henwick, and Jonathan Groff.
However, even with the new additions to this iconic universe, there are still some traces of old code from "The Matrix" that make their way into "Resurrections." Most notably, in its final moments. Warning: There are musical spoilers ahead.
Among the replicated shots of classic moments, iconic lines being repeated, and a commendable effort of Yahya Abdul-Mateen II making his best Morpheus impression, "The Matrix Resurrections" takes care in looking to the past for this all-new familiar future. Of course, with a new (and potentially closing chapter) to the epic story, the film needs to end on a high note, and Lana Wachowski picked just the right one to go with.
A new way to Wake Up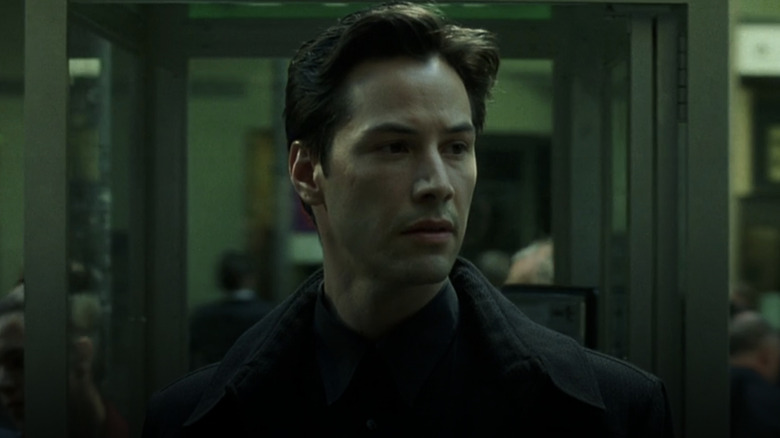 Warner Bros.
After the dust is settled and Neo once again breaks free from the cyber prison, only this time with Trinity flying alongside him, we're greeted by a similar series of cuts that the original film ended on. After pulling back from a city landscape, again and again, a familiar beat kicks in that may well increase chills for any devoted fan of the franchise. For those unfamiliar, it might just be time to recognize the nod to a classic song synonymous with the sci-fi franchise.
Like the 1999 film that spawned the billion-dollar franchise and immortalized minimalist eyewear, "The Matrix Resurrections" ends with the closing song, "Wake Up." Originally performed by Rage Against the Machine in the first movie's closing credits, the latest installment follows suit, instead with a cover of the chest-thumping song performed by Brass Against (per YouTube). It may not get as strong a reaction compared to the original and its application, but the choice is a nice bit of fan service acknowledging the bullet-dodging gem that started it all.