Nina Dobrev's Funniest Moments In Love Hard And More
This content was paid for by Netflix and created by Looper.
Nina Dobrev fans can say a yuletide-themed "yippee ki yay" this holiday season thanks to the actress' hilarious and heartwarming work in "Love Hard." The romantic comedy features her as Natalie Bauer, a California-based columnist who specializes in writing about her disastrous dates, but she thinks her luck is about to finally turn around. Thanks to an app, she connects with a handsome beau from Lake Placid, New York, who seems like he might actually be Mr. Right, so with the blessings of her best friend and boss, she travels across the country to surprise him with a Christmas visit.
Unfortunately, this turns out to be her biggest romantic misadventure yet because the guy she's been spending so many swoony nights on the phone with is actually Josh (Jimmy O. Yang), who used images of his longtime friend, Tag (Darren Barnet), for his dating profile. That shocking development is just the start of the holiday hijinks ahead for poor Natalie, as she becomes determined to find true love with the real Tag, all while making a deal with Josh to help him save face. As Natalie, Dobrev brings some real heart to her role as a woman who's been through so many emotional yo-yos for the sake of keeping her readers entertained. At the same time, she's also quite hilarious when dealing with the many pratfalls and awkward scenarios that await her throughout the story.
Here's a look at Nina Dobrev's funniest moments in "Love Hard" and more.
Keep it clean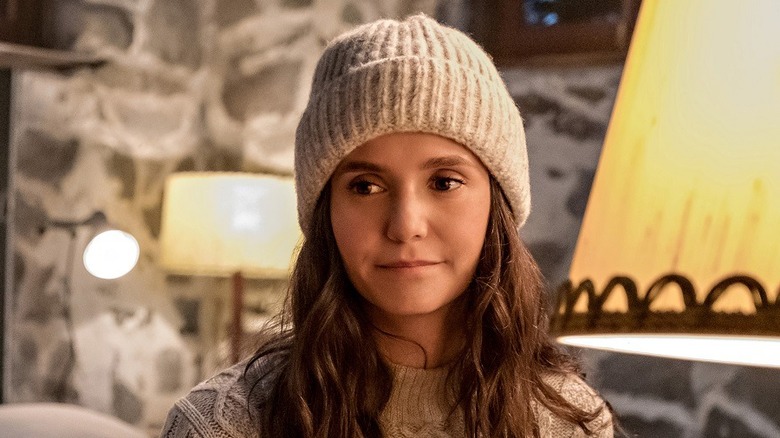 Bettina Strauss/Netflix
"Love Hard" is brimming with great jokes from start to finish, and although it's also quite emotionally resonant, the laugh lines start to come through pretty early on in the story. When Natalie and Josh first start to get close in their long-distance relationship, for example, they reveal that they both have a very cheeky sense of humor by turning a rather risqué little trend into something hilarious — sending each other photos of famous men named "Dick," rather than the naughtier types of images that sometimes find their way into such text exchanges.
Dobrev has certainly shown fans how well she can play very adult humor like this before. Consider how on-point her comedic timing was throughout her CBS sitcom "Fam," especially in situations like when her character, Shannon, badly botches an effort to explain a positive pregnancy test that her husband finds in their place. But here, she not only gets to be in on the joke, but she gets to be the one who makes the joke stick in the first place.
Take the wheel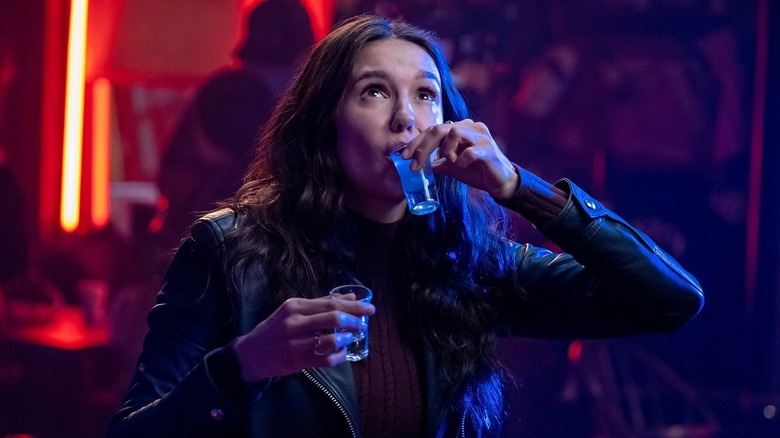 Bettina Strauss/Netflix
Unfortunately, once Natalie does decide to travel east, her trip seems doomed right from the start. She immediately faces some major hiccups, including losing her luggage and having to accept a rideshare from the very weird guy who works at the airport. It's all just a preview of the letdowns ahead, as Natalie is absolutely walloped when she gets to meet the real Josh and discovers that her little love connection is based on a big lie. Her response is nothing short of hysterical, as she steals the light-up baby Jesus from Josh's family and storms off to a nearby bar in hopes of washing away her sorrows. When Natalie gets a glimpse of the real Tag lurking about the place though, she decides to try courting him the old-fashioned way — with a sexy karaoke performance.
What Natalie doesn't know is that her face has swollen to three times its normal size because she's accidentally ingested kiwi, which she's highly allergic to. It's only after she's halfway through strutting her stuff on the stage in front of Tag and everyone else that she finally gets a look at herself, and ... well ... let's just say it's a total showstopper. Dobrev's vocals and stage skills have certainly been on display in some of her previous performances, including one of her earliest roles as budding teen musician Ally in the 2008 rom-com "The American Mall" and with her spirited performance on "Lip Sync Battle." However, her commitment to the physical comedy of this moment makes this scene an instant classic.
Scaling that wall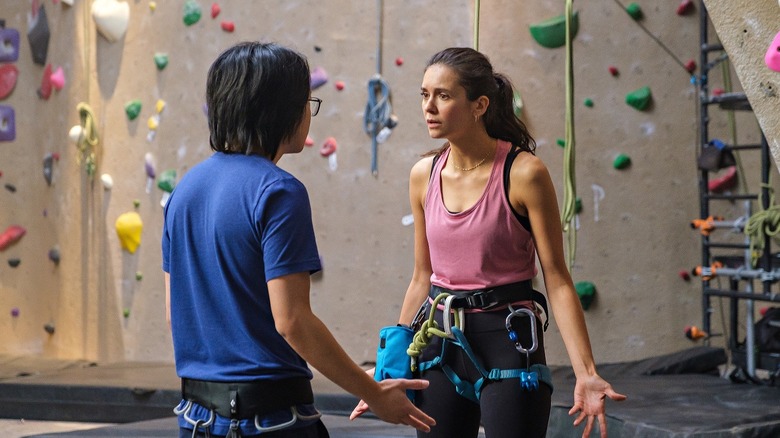 Bettina Strauss/Netflix
As miffed as Natalie is over being duped by Josh, after he gets her some much-needed medical attention, the two come to an agreement: Natalie will pretend to be Josh's girlfriend to keep his family off his case while Josh helps her get to know the real Tag. And the first order of business in Josh's Tag-enticement tutorial is to try and make Natalie convincing as a fellow climbing enthusiast. Not only does this entail Natalie suiting up in rugged outerwear and pretending to love Henry David Thoreau's "Walden," which she not-so-secretly hates, but she also needs to get over her fear of heights to scale a rock-climbing wall.
What results is an escalating series of events where Natalie needs to conquer her fears and keep up her own little ruse at the same time. Dobrev plays that delicate balance of deception with incredible poise. Of course, Dobrev is certainly no novice at bringing belly laughs to some awkward action sequences — even in her star-making role in TV's very dramatic supernatural sensation "The Vampire Diaries," she got to have a little fun bobbling through some strange physical activities. And her guest stint on "Workaholics" showed how well she can keep a straight face in the most ludicrous of romantic circumstances. Here, she nimbly blends physical comedy, a tough act, and a bit of self-discovery as she actually manages to accomplish something impressive, even if she has to pretend to be totally unimpressed with her own feats.
A new tune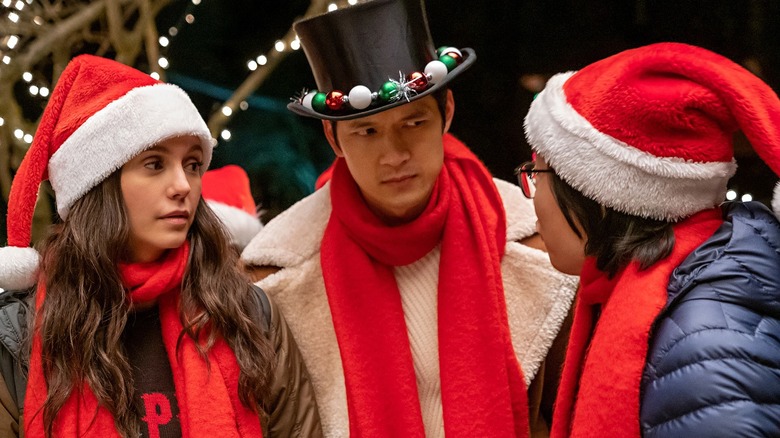 Bettina Strauss/Netflix
Though Natalie does have to do some pretending whenever she's around Tag and pretty much everyone Josh is related to, the one person she can be herself with is Josh, who knows and likes her for who she is, despite his own unfortunate mistruths. And with him, Natalie makes no secret about what she loves and hates. As passionate as she is about her opinion that "Die Hard" is the greatest Christmas movie ever, she's even more committed to condemning the controversial holiday classic song "Baby, It's Cold Outside." So, when Josh forces her to help him fulfill a request for the number during his family's caroling adventures, she's understandably perturbed and hilariously grunts her way to the front. Her scorn turns around pretty quickly when she realizes that Josh has a hidden talent for lyrical ad-libbing, and he reworks the lines of the song to become something much less cringeworthy.
Here, Dobrev is clearly having a ball helping to give this song a funny new twist. And the actress also gives the character a visible sense of revelation and relief while also maintaining the guise of already being infatuated with Josh for the sake of his family. Her ability to lean into the cuteness and complications of her situation is impressive, and while she's been known to portray characters who experience real emotions while also playing a cheeky part — consider her work in the meta comedy-horror "The Final Girls," for example — she manages to tell us all a whole lot about her state of mind in this moment with just a smile.
Welcome to the party, pal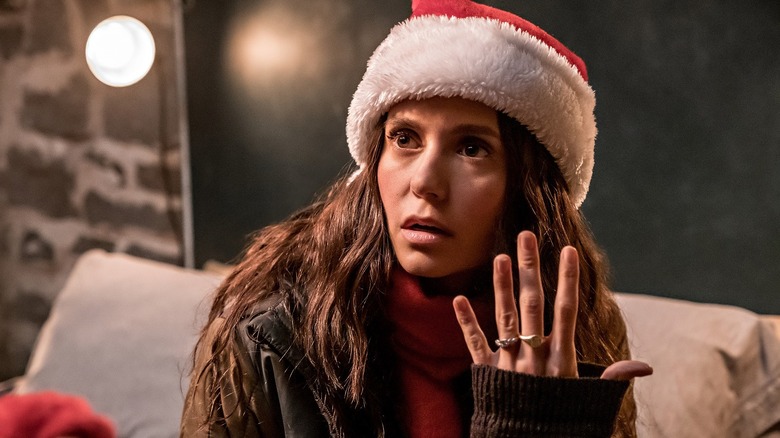 Bettina Strauss/Netflix
Just when Natalie and Josh seem to have found a rhythm in dealing with this chaotic little show of theirs, Josh gets a bit carried away and fake-proposes to Natalie, just to take the family's attention back from his spotlight-hogging brother, Owen (Harry Shum Jr.). Though Natalie begrudgingly bites her lip and continues to play along, it's clear she knows this is an unnecessary complication and is none too pleased about it, and Dobrev nails the delivery of Natalie's thinly veiled discomfort. Matters are made even worse when Josh's mom publishes an engagement picture in the local newspaper, which leaves Natalie and Josh on an uproarious mad dash through the snow to steal all of the issues while ducking the local delivery kid.
Things finally go completely off the rails when Josh's parents surprise them with an engagement party hosted by none other than the restaurant owned by Tag's family, which leaves Natalie literally spinning around the room to put out all the little fires that have just been lit — including the arrival of her testy boss, who's checking in on her assignment. As Natalie bounces around the room in a desperate effort to clean up this giant mess, Dobrev's performance becomes delightfully dizzying, and audiences can't help but sympathize with her when she finally decides to throw in the towel and fess up to the truth. 
Perhaps the funniest moment of the entire scene comes after Tag confronts her about all of the lies that she's told him and leaves with the ultimate sting, loudly declaring that "Die Hard" is not a Christmas movie. As dramatic and busy as this whole scene is, Dobrev's wordless expression of intense offense to Tag's parting message is absolutely hilarious and so very true to her unique character.