Did Spider-Man: No Way Home Hide A Big Pixar Easter Egg?
Columbia Pictures/Sony Pictures Releasing
The following article contains spoilers for "Spider-Man: No Way Home." 
One thing becomes abundantly clear when watching "Spider-Man: No Way Home." This is a film made for the fans. "Spider-Man" live-action films have gone strong for nearly 20 years, and they have no signs of slowing down any time soon. "No Way Home" rewards those who have been with the series since the beginning, bringing back fan-favorite villains like Green Goblin (Willem Dafoe), Doctor Octopus (Alfred Molina), and Electro (Jamie Foxx). But a few familiar faces were just the tip of the iceberg. 
There were plenty of inside jokes and references only the most die-hard Spider-Man fans would catch, like when Green Goblin repeats his infamous line, "You know, I'm something of a scientist myself." There was also Electro's pondering whether there was a dimension out there with a Black Spider-Man (in reference to Miles Morales). However, not every Easter egg had to deal with another variant out in the multiverse.
Some of them appear to exist just for fun, such as one reference we're assuming is an Easter egg as M.J. (Zendaya) scrolls through TikTok.
Is that an Onward reference in Spider-Man: No Way Home?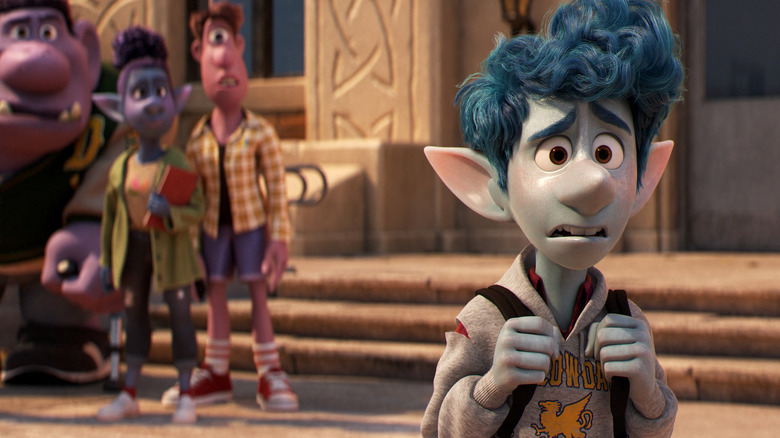 Pixar Animation Studios/Walt Disney Studios Motion Pictures
It may not be explicit, but it's hard not to see the moment as being a reference to Spider-Man actor Tom Holland's role in the world of Pixar. You may remember Holland voicing Ian Lightfoot in the 2020 flick "Onward." As M.J. scrolls through TikTok to try to find clues about where the other multiversal villains could be, she comes across one video of a kid in some pretty convincing elf cosplay. The caption even reads, "I Am The Green Elf," and Holland's character was, indeed, an elf. 
However, the consensus is out whether this is, indeed, an "Onward" Easter egg or something else entirely. In the New Rockstars breakdown of "No Way Home," they mention how it's a reference to Frost Giants in the Marvel Cinematic Universe. However, if that was the case, why wouldn't the caption read, "I Am A Frost Giant?" The "Onward" reference seems more likely, especially since it's arguably Tom Holland's most significant role so far outside of the MCU.
Who knows? Perhaps a future "Spider-Man" movie will include a scene of Peter Parker playing "Uncharted" to have another Holland movie reference.