Here's Where You Can Stream Every Grinch Movie This Holiday Season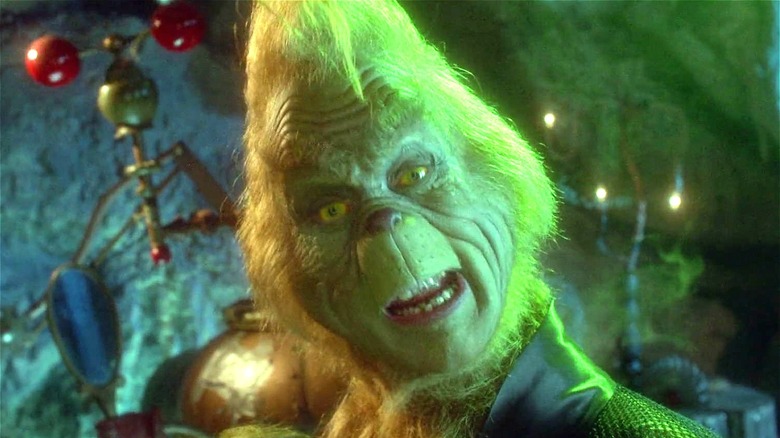 Universal Pictures
They call him cuddly as a cactus, as charming as an eel. They say he's just a bad banana, with a greasy black peel. We, however, know that he is nothing more than the Grinch. He might seem like a bad guy in the beginning, bothered by the sound of Whos banging on tong-tinglers and bouncing on boing-bounders, but in reality, he's a big softie with a heart full of holiday spirit. That same spirit — imbued by the original words of Dr. Seuss himself — is what makes "How the Grinch Stole Christmas" and its remakes holiday classics.
As we all dive headfirst into the holidays, many of us will feel the need to revisit our old friend, the Grinch. Thus, that begs the question, "Where can you stream every Grinch movie?" Well, whether that be the original 1966 CBS special "How the Grinch Stole Christmas," narrated by Boris Karloff, the ludicrous live-action version starring Jim Carrey, or the most recent animated interpretation starring Benedict Cumberbatch titled "Dr. Seuss' The Grinch," we have the answers you need this holiday season.
You can find all of the Grinch movies on Hulu with Live TV
If you're looking to watch any Grinch-starring films this year, then you're in luck ... sort of. You can find all three movies on Hulu, but all three of them also require a subscription to Live TV, so they cannot be watched with a standard Hulu account. The price to add Live TV service to one's Hulu account is $64.99 per month, so for many, it may not be worth it. The upside is there is a seven-day free trial when you sign up.
Potential Grinch watchers can also catch the live-action "Dr. Suess' How The Grinch Stole Christmas," as well as the 1966 original, on Peacock. Both of these require a subscription to Peacock premium, which will set you back either $4.99 or $9.99, depending on which subscription you choose. 
Alternatively, viewers can resort to renting or purchasing the individual Grinch films from Amazon Prime Video or other services. In this case, each movie costs $3.99 to rent or $9.99 to purchase. This is especially useful if you only care about one of the Grinch movies, and aren't inclined to watch all three of them.