Is Kaylee Bryant Leaving Legacies As Josie Saltzman?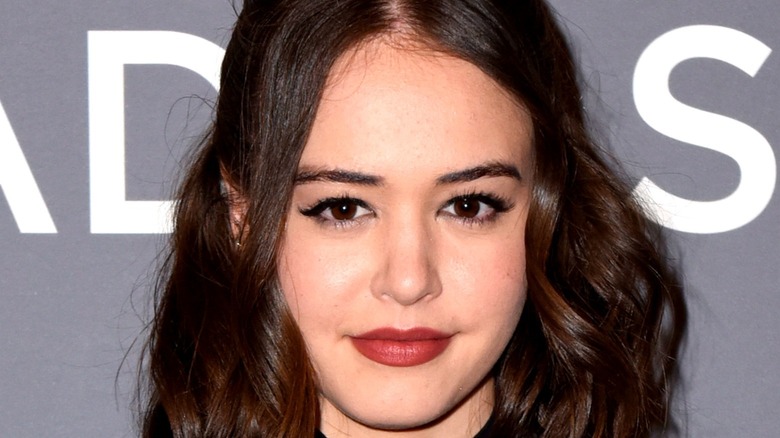 Vivien Killilea/Getty
For four seasons, Kaylee Bryant has played Gemini twin Josie Saltzman on "The Vampire Diaries'" spinoff "Legacies." Josie and her sister Lizzie (Jenny Boyd) are the magical offspring of Alaric Saltzman (Matthew Davis), and Caroline Forbes (Candice King), who the Gemini Coven implant with the girls' embryos after Kai Parker (Chris Wood) brutally kills their biological mother, Jo Laughlin (Jodi Lyn O'Keefe), on her and Alaric's wedding day.
Caroline and Alaric's determination to keep their girls safe while teaching them how to control their magic is what inspires them to start the Salvatore School for the Young and Gifted in "The Vampire Diaries" series finale. This haven for the next generation of witches, werewolves, and vampires is the focus of "Legacies." Unfortunately, it proves to be anything but a safe space for Josie, who struggles to control her darker impulses and deal with a co-dependent sister. There's also the impending Gemini merge, which means one less Saltzman twin in the near future without one heck of a Hail Mary. As a result, Josie distances herself from the Salvatore School, choosing to attend Mystic Falls High School for a short time, until she's forced to return as the dark creature known as Malivore continues to wreak havoc on the student body of her parents' school.
Despite all of her troubles until now, fans might be surprised when Josie's journey to find happiness outside familial obligations takes a drastic turn in Season 4, Episode 9, "I Can't Be the One to Stop You," with the character buying herself a one-way bus ticket out of Mystic Falls. So, is Bryant's exit permanent? Here's everything we know so far.
Kaylee Bryant has officially exited Legacies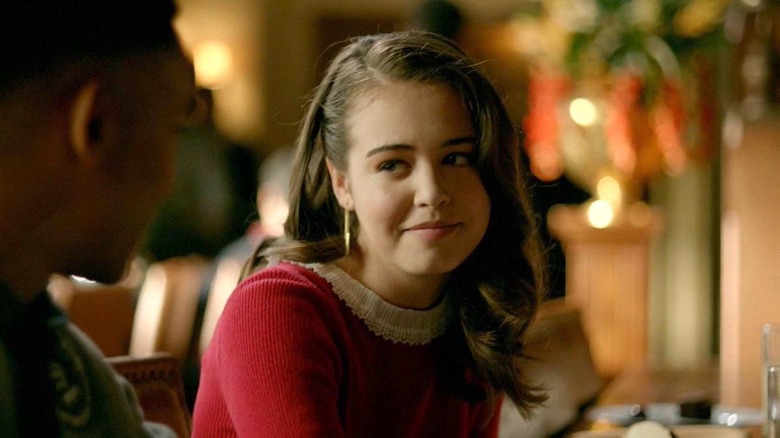 The CW
According to TVLine, Kaylee Bryant has officially exited The CW's "Legacies." Executive producers Julie Plec and Brett Matthews confirmed to the publication that it's "heartbreaking" to say goodbye to Bryant. While they look forward to seeing the young actress' career "grow in the future," the door is open for Bryant to return. Like mother, like daughter. Despite "Legacies" being set in the school Caroline Forbes-Salvatore helps create, Candice King has yet to appear in a single episode, which doesn't track with her previous hands-on parenting. Also lacking are cameos from fan-favorite characters from "The Vampire Diaries" and "The Originals," though there have been a couple of familiar guest stars.
Bryant hasn't yet offered any insight into what prompted her departure, but she issued an official statement. "I am so grateful to the fans and will love them always and forever for welcoming and accepting me into this world. Josie has helped so many beautiful humans feel comfortable in their sexuality, and I hope her legacy lives on so that one day everyone feels free to love whoever they want regardless of gender" (via TVLine). The actress also thanked The CW for allowing her to be part of the "The Vampire Diaries" universe. Bryant's departure is bad news for "Legacies" since the show has yet to achieve the cult status of its beloved predecessors. Fans can hope for Bryant to return, but for right now, they have to seek solace in the fact that Josie is finally putting herself first.