The Character Fans Want To See More Of In The Morning Show Season 3
One reality of show business is that producing even the most cheerful and carefree TV shows and films still involves a lot of hard work and ongoing conflict. In fact, there's a whole subgenre of TV show that chronicles the difficulty of making television, including "30 Rock," "The Newsroom," and now "The Morning Show." Streaming on Apple TV+, the show chronicles the drama behind the scenes of a fictional breakfast news program.
The series follows the hosts of the titular fictional morning show. Things begin with veteran host Mitch Kessler (Steve Carrell) being fired for sexual misconduct, which leaves his co-host Alex Levy (Jennifer Aniston) stuck dealing with public backlash and private turmoil. As the series goes on, the makers of "The Morning Show" must weather everything from ambitious new talent, including Reese Witherspoon's Bradley Jackson, to the emergence of the COVID-19 pandemic.
Season 2 of the scandalous series added several new characters to the mix, including news anchor Laura Peterson (Julianna Marguiles), and co-host Eric Nomani (Hasan Minhaj). However, there's one particular addition to "The Morning Show" that fans really want to see return for a potential third season.
The Morning Show fans agree that Cybil should return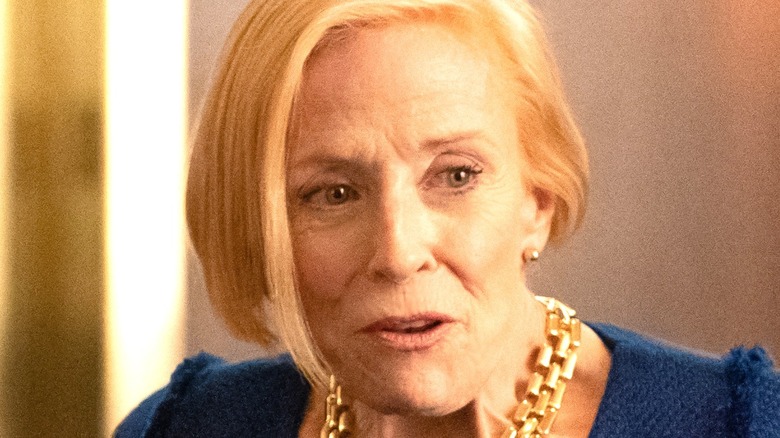 Apple TV+
Commenters on "The Morning Show" subreddit all agree that Cybil Richards (Holland Taylor), the formidable chairwoman of the United Broadcast Association's board, should be given more screen time if the series is renewed. The headline for u/laura_susan's post reads "If we get a series three, more Cybil please!"
User u/MsGroves praised how the businesswoman is "ruthless and doesn't give a d***. Love her," while u/bzzcrackle chimed in by simply writing "Holland Taylor" with a few handclap emojis for emphasis. It's clear that Cybil's "take no prisoners" attitude has struck a chord with viewers based on this thread alone. User u/Turtledean even called Cybil "one of the best characters" in the series, and u/nbnbnb09 wrote, "She is welcome to yell at me anytime".
And as other posters pointed out, Taylor's withering presence was used brilliantly before in "Legally Blonde," which also starred Reese Witherspoon, as well as in other shows like "Two and a Half Men." Considering how often Taylor exudes confidence on the screen, it's no wonder u/Miserable-Dream7047 called Taylor's performance as Cybil "iconic."
You can stream all episodes of "The Morning Show" on Apple TV+.