Why The Bartender In The Spider-Man: No Way Home Mid-Credits Scene Looks So Familiar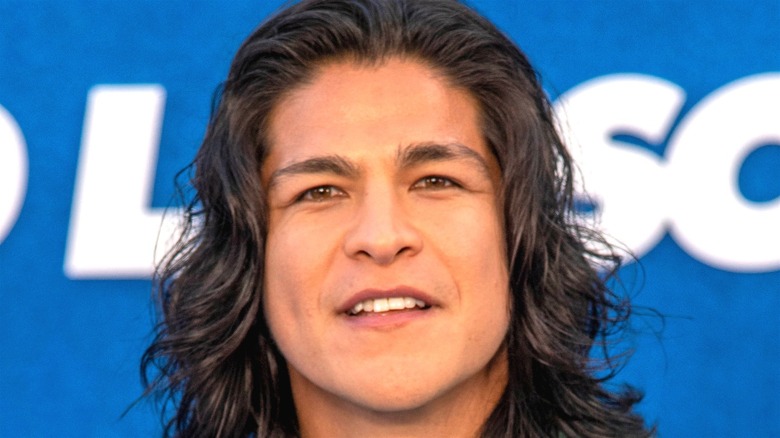 Eugene Powers/Shutterstock
The number one rule of watching a Marvel movie? Don't leave the theater until after every single credit has rolled.
The MCU's mid-credit and post-credit scenes are essential viewings for anyone who wants to know all the details of its intricate universe. The entire plot of "Spider-Man: No Way Home," in fact, hinges on what audiences saw in the mid-credit scene of "Spider-Man: Far From Home." However, another film's post-credits scene led fans to speculate heavily on the plot of "No Way Home." "Venom: Let There Be Carnage" is not part of the MCU; instead, it exists within Sony's Spider-Man Universe. Despite this, audiences were delighted when that film's post-credits scene showed Eddie Brock (Tom Hardy) watching TV and finding out with the rest of the world that Peter Parker is Spider-Man. Many thought this would lead to a Venom appearing in "No Way Home," and he did — but only in the mid-credits scene.
Hilariously, we see Eddie Brock in Mexico, sitting at a bar while the bartender explains the existence of the Avengers and Thanos. Brock's interest is piqued, but Dr. Strange's (Benedict Cumberbatch) spell sends him back to his own universe before he can set off to New York to find Spider-Man — though not without leaving a bit of the gooey Venom symbiote behind on the bar.
This moment left audiences wondering if we'll see more of the symbiote in the MCU, but it left us with another question, too: Why does that bartender look so familiar?
The bartender is played by Ted Lasso's Cristo Fernandez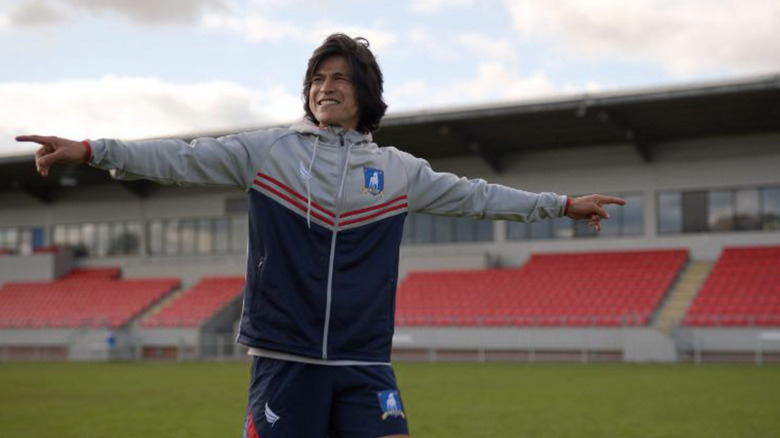 Apple TV+
The bartender in Mexico is played by none other than Cristo Fernández. The actor is best known for his role on the heartwarming Apple+ series "Ted Lasso," where he plays footballer Dani Rojas. Like his "Ted Lasso" character, Fernández is Mexican and dreamed of playing soccer professionally. A knee injury as a teenager thwarted any hopes for a professional future and led Fernández to pursue acting. Before his big break in "Ted Lasso," he appeared in primarily independent shorts that he wrote and directed himself.  After getting his Masters' in Acting in England, he struggled to find work. "[In London] there was no role for a Mexican — the only professional job I booked before 'Ted Lasso' was playing a Mexican wrestler on a TV commercial, so I had to think about script ideas involving a Mexican living in the U.K.," Fernández told NBC News. 
However, joining "Ted Lasso" is a dream come true for the actor. "I'm doing everything I love: fútbol, comedy, acting" (via NBC News). We imagine appearing in the MCU is another exciting opportunity for the actor, and we have no doubt we'll see him doing even more great things in the future.