Why Didn't We See Mysterio In Spider-Man: No Way Home?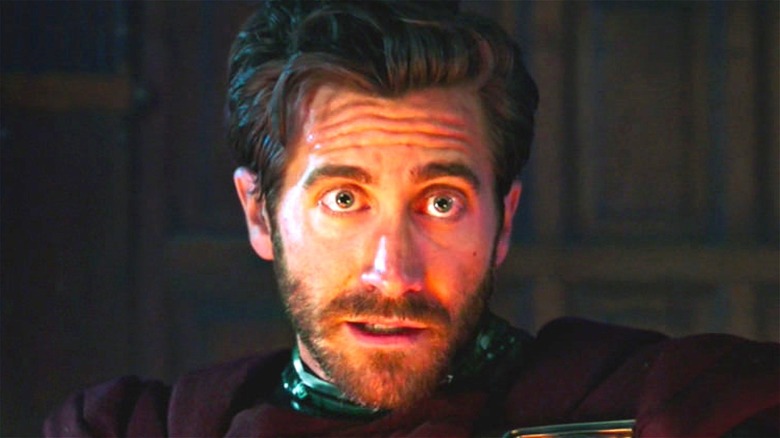 Marvel Studios/Sony Pictures
Contains spoilers for "Spider-Man: No Way Home"
The gaggle of villainous goons in "Spider-Man: No Way Home" is significant in the latest movie focused on the wall-crawling menace. Green Goblin (Willem Dafoe), Dr. Octopus (Alfred Molina), Sandman (Thomas Haden Church), Lizard (Rhys Ifans), and Electro (Jamie Foxx) all cause a spot of bother for Tom Holland's already troubled hero days after his true identity is revealed to the world. Sometimes it really is a struggle being everyone's friendly neighborhood Spider-Man.
The secret being spilled is no fault of his own, of course. As shown in the closing moments of "Spider-Man: Far From Home," Quentin Beck, aka Mysterio (Jake Gyllenhaal), had a pre-recorded, heavily tweaked message sent out to the masses that not only portrayed Spidey as a power-hungry loon but also revealed him as the mild-mannered high-schooler, Peter Parker. A man who thrives on trickery and deceit, how could this foe posed as a friend get away with this scandal, and why isn't he among the villains that are out to get Spider-Man this time around?
It's no mystery regarding Mysterio's absence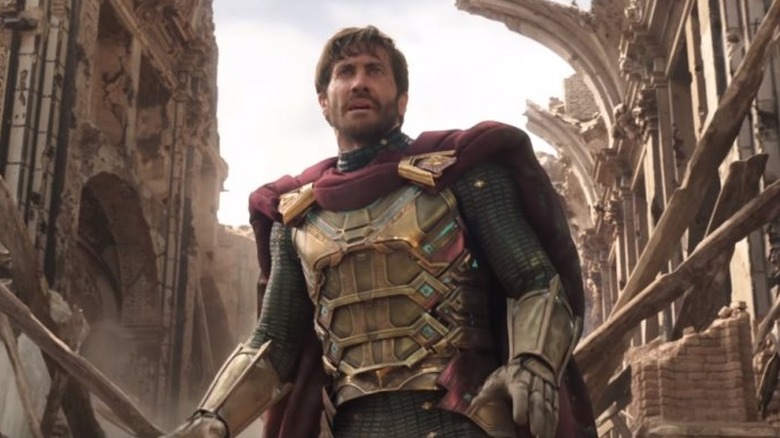 Marvel Studios/Sony Pictures
Given the duplicitous Quentin Beck's mastery of holographic imaging and all-around tech treachery, it's understandable that you may have had your doubts about his outcome in Spider-Man's last London-based adventure. A top-level leader in illusion and deception until his final moments, Beck made one last effort to kill Peter, but it still wasn't enough to outsmart the Web-Slinger.
Of course, this is still Mysterio we're talking about, and a villain that can masquerade as a hero only to be anything but is undoubtedly capable of some gnarly things, perhaps even faking his death. Thankfully though, unlike some formerly deceased villains that wind up going against the wall-crawler this time around, Beck certainly isn't one of them. That being said, even with the very little mention by Spider-Man or his friends, the late, great villain still has some presence in the newest chapter of Spider-Man's big-screen outing, especially at the very start of the story.
A not-so-mysterious voice from beyond the grave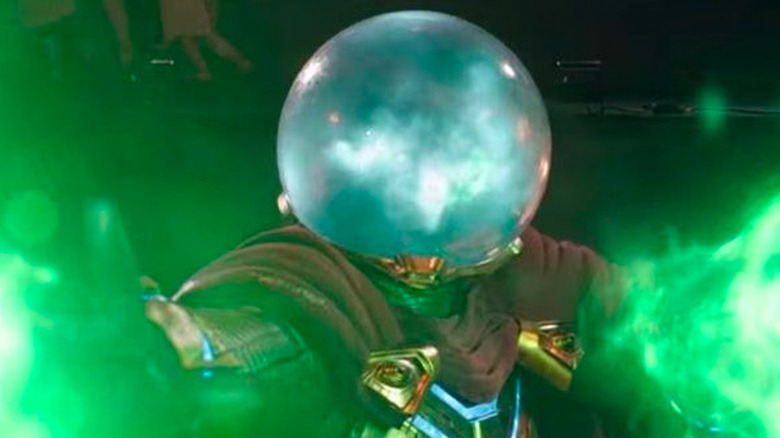 Marvel Studios/Sony Pictures
From the opening moments of "No Way Home," the first voice we actually hear is Quentin Beck. Carrying on from the cliffhanger of "Far From Home." Mysterio's final plays through the iconic Marvel logo again at the start of this one, courtesy of the Daily Bugle's conspiracy nut and Spider-hating head reporter, J. Jonah Jameson. While there's no actual footage of the man himself, his conniving voice is more than enough to kick the story into a genuinely unpredictable motion.
It is a shame that Mysterio is out of action following "Far From Home." Having him join the squad of five villains in the new film to turn the team into a Sinister Six certainly would've been something to get a kick out of. Of course, given that some of this band of baddies that turn up in "No Way Home" were dead last time we saw them, there's always a chance. Watch your back, Spidey. Beck could be back in the future.