Why Wade From 1883 Looks So Familiar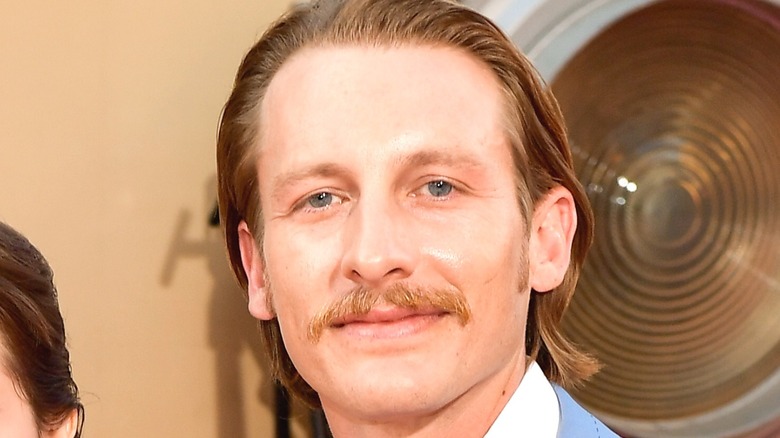 Matt Winkelmeyer/Getty
The "Yellowstone" origin series "1883" debuts on Paramount+ December 19, bringing fans of the Kevin Costner-led series a new cast of characters embroiled in family and romantic drama. Set approximately 100 years before the flagship show, "1883" follows the Dutton family as they travel across America searching for a new home and prosperity. As the series' trailer both declares and shows, "The road west was paved with blood." James and Margaret Dutton (Tim McGraw and Faith Hill) and their two children join a caravan of travelers headed toward Oregon — also known as "no man's land" — led by the rough and rugged cowboy Shea Brennan (Sam Elliott).
The new Paramount+ series is full of familiar actors, including Billy Bob Thornton, but some supporting cast members might feel recognizable, even if you can't quite grasp where you've seen them before. James Landry Hébert portrays Wade, a young cowboy who joins the crew for the caravan of travelers (per Deadline). If Hébert looks familiar, here's why.
He's been in popular shows before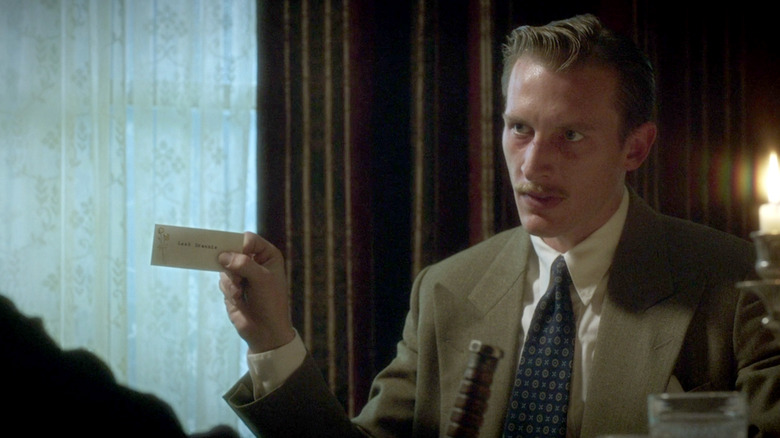 ABC
Fans of television — and genre TV, in particular — might recognize James Landry Hébert from previous appearances in shows such as The CW's "The Tomorrow People," ABC and Marvel's "Agent Carter," and HBO's "Westworld." In the first two episodes of the short-lived "Agent Carter," Hébert played Sasha Demidov, a Soviet assassin whose larynx was damaged by gas and removed before being recruited by the Leviathan. The silent operative communicated with a typewriter and killed Peggy Carter's (Hayley Atwell) roommate, but she eventually killed him by pinning his hand to a truck before it tumbled from a bridge and exploded.
Hébert's role in the Western fantasy series "Westworld" was memorable. He played Slim Miller, a host and wanted outlaw who convinced Logan (Wes Bentley) and William (Ed Harris) to take him to Pariah, where he was killed on a mission. His body was then used to hide the nitroglycerin he'd been sent to steal from Union soldiers.
He played a punk renegade on Stranger Things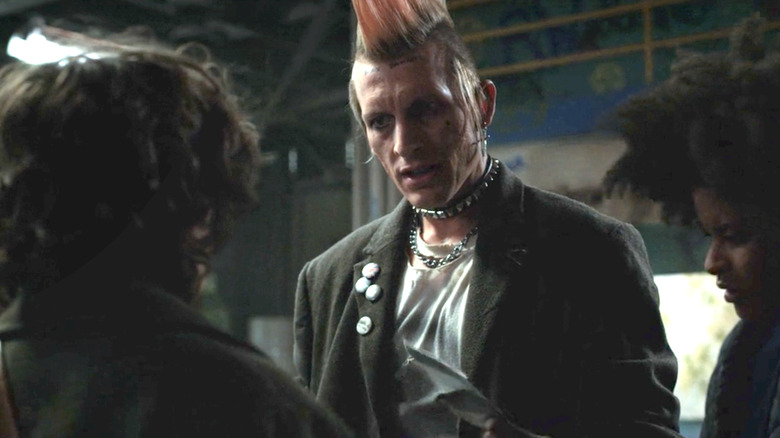 Netflix
On Netflix's "Stranger Things," James Landry Hébert also had a small role in the second season as Axel, a skeptical member of the gang led by Kali (Linnea Berthelsen), also known as Eight — or Eleven's sister. Upon meeting Eleven (Millie Bobby Brown), Axel threatened her with a switchblade, which Eleven later retrieved using telekinesis to prove she had abilities similar to Kali, who was also created in a lab. 
Hébert's appearance was in the episode "The Lost Sister," which coincidentally is the series' worst-rated episode, according to IMDb. Fans of the science fiction-fantasy-horror show likely didn't appreciate the episode because it took them out of Hawkins, Indiana, and transported them to Chicago. It also didn't feature any of the other series regulars aside from Brown. While Axel never appeared on the show again, "The Lost Sister" remains memorable to fans of the series because it felt like a standalone episode that didn't connect to the season's overarching narrative. However, it did give Hebert a chance to don a cool mohawk.
He's also had minor roles in big movies
According to IMDb, James Landry Hebert has appeared in small parts in numerous movies since 2010 as well. Most notably, he played Deputy Tally in the science fiction adventure "Super 8" from director J.J. Abrams and had a small role as Cotton Mather in the horror Western "The Pale Door" in 2020.
Hébert also appears in one of the most memorable scenes in Quentin Tarantino's "Once Upon a Time... In Hollywood," which also features Brad Pitt. Pitt played Cliff Booth, the best friend and stunt double for fading TV star Rick Dalton (Leonardo DiCaprio). Cliff had a reputation for being violent, which Hébert's character soon finds out. After picking up a female hitchhiker and taking her to a ranch, Booth finds his car's tires have been slit after he got out to check on an old friend. Cliff confronts a hippie (Hébert) and demands he change the tires. When the hippie laughs off the request, Booth beats him viciously until he gives in.