Why James Dutton From Yellowstone Prequel 1883 Looks So Familiar
When television audiences tune into the first episode of "1883," they're sure to recognize more than a few faces on the "Yellowstone" prequel. In addition to country music singer Faith Hill and legendary actor Sam Elliott, the series will be led by Tim McGraw, Hill's husband and also a longtime country music star. McGraw and Hill will star in the series as James and Margaret Dutton, the patriarch and matriarch of the modern-day Dutton family in "Yellowstone." 
McGraw and Hill are arguably best known for their musical talents and are each the recipients of multiple Grammy Awards. Hill has taken home a total of five Grammy Awards, out of 17 different nominations (via Recording Academy Grammy Awards), while McGraw has earned three wins from 20 nominations (via Recording Academy Grammy Awards). 
While the two have recorded a lot of music together, "1883" will mark the duo's first on-screen appearances together. Hill has previously appeared in films like 2004's "The Stepford Wives" and 2017's "Dixieland" (via IMDb). Here's a look back at some of the many roles you might recognize McGraw from.
He was in a flashback in Season 4 of Yellowstone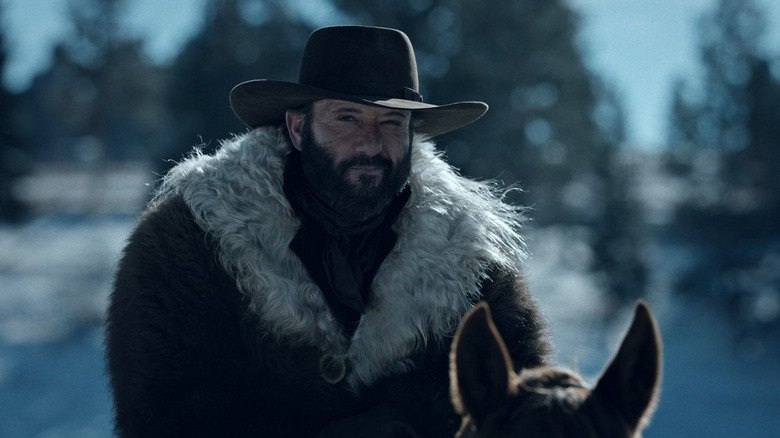 Paramount Network
In his first television role since his one-episode appearance on "The Jeff Foxworthy Show," Tim McGraw gave "Yellowstone" viewers a brief, early look at James Dutton, the character he will portray in "1883." In his only scene so far in the original series, Dutton and his family encounter a group of Native Americans in Season 4, Episode 1 ("Half the Money"). Dutton makes sure that his children are safe and then travels into the Native American camp to converse with an English speaker. 
Dutton and the English-speaking Native American man have a tense exchange over the ownership of land. When the Native American man notes that Dutton's land used to belong to his tribe, Dutton says, "I'm not the one that took it from you." The Native American responds, "Doesn't matter. It still got took," to which Dutton defensively inquires, "You here to try to take it back?" 
Quickly switching topics, the Native American man instead asks Dutton for a favor, telling him that he would like to bury his father on Dutton's land, the same place that his father was born. Dutton quickly agrees to allow the tribe to conduct the burial and also gives them food, noting that it's been a hard winter. While the scene is brief, it gave fans of "Yellowstone" a taste of what they can expect from "1883" when it premieres on Paramount+ on December 19. 
He played Eddie Newton in Tomorrowland
If Rotten Tomatoes is any real indication, there are plenty of critics, audiences, and studio executives alike who would prefer to simply forget about 2015's "Tomorrowland." However, fans of Tim McGraw may be an exception to this rule because their favorite actor and singer played Eddie Newton, the father of Casey Newton (Britt Robertson). In his first appearance in the film, Eddie is seen playing with a variety of electronics at his home and contemplating his future career.
Later, Eddie picks up Casey from jail and assumes that his daughter is on drugs because of the strange way she is acting. During the ride back home, Casey insists that Eddie touch the magic lapel that transports her to the magical location for which the film is named. However, nothing happens when Eddie touches the lapel, causing him to become even more concerned with his daughter's mental health. Eddie quietly takes the lapel from Casey and slips it his pocket. When the two arrive home later, Casey steals the lapel back and nearly earns herself a concussion in the process, fleeing the house just before Eddie can discover her.
At the end of the film, Casey returns home from Tomorrowland and embraces her father.
Tim McGraw portrayed Sean Tuohy in The Blind Side
Warner Bros. Pictures/HBO Max
Many audiences probably first became aware of Tim McGraw's acting abilities when they watched 2009's "The Blind Side." The events of the film are based on the true story of Michael Oher (Quinton Aaron), a young man who rose from poverty to become a Super Bowl champion with the help, support and love of the Tuohy family. The different members of the Tuohy family include Leigh Anne (Sandra Bullock), Sean (Tim McGraw), S.J. (Jae Head), and Collins (Lily Collins). While Sean is initially skeptical of Leigh Anne's insistence that the family help the troubled teenager, the entire family quickly come to view Michael as a member of the family, even adding him to their annual Christmas photo. 
In one memorable scene in the movie, Sean and Leigh Anne consider how Michael is able to function given all of the trauma of his early life. While Leigh Anne thinks it would benefit Michael to talk about the troubling events of his early childhood, Sean insists that Michael's gift is to simply forget the past. Leigh Anne says, "You're right." Sean is shocked to hear his wife say the words and responds, "Excuse me? 'You're right'? How'd those words taste coming out of your mouth?" Leigh Anne simply replies, "Like vinegar." 
For her performance in "The Blind Side," Bullock was awarded the 2010 Academy Award for Best Actress.
Tim McGraw played Charles Billingsley in Friday Night Lights
Plenty of audiences are probably familiar with the 2006 television series "Friday Night Lights" that starred Kyle Chandler as Coach Eric Taylor (via IMDb). However, many may not be as familiar with the 2004 film of the same name which granted Tim McGraw the second film role of his career (via IMDb). In the Peter Berg-directed film, McGraw plays Charles Billingsley, the abusive father of Donny Billingsley (Garrett Hedlund). During one memorable scene, the elder Billingsley walks onto the football field and screams at his son for being unable to hold onto the football correctly. The encounter ends in a physical altercation that includes other members of the team, surely embarrassing Donny immensely. 
Charles is especially hard on his son because he himself previously won a state championship at the same school. After a particularly hard-fought loss, Donny gets in a fight with his heavily intoxicated father which results in Charles throwing his championship ring onto the freeway. Donny lets his dad sleep off the booze and waits until the morning to give him his ring back. The two reconcile and consider what life is like without football at the center of it. At the end of the movie, it is revealed that Donny went on to have a successful, post-football life.
He made his acting debut in The Jeff Foxworthy Show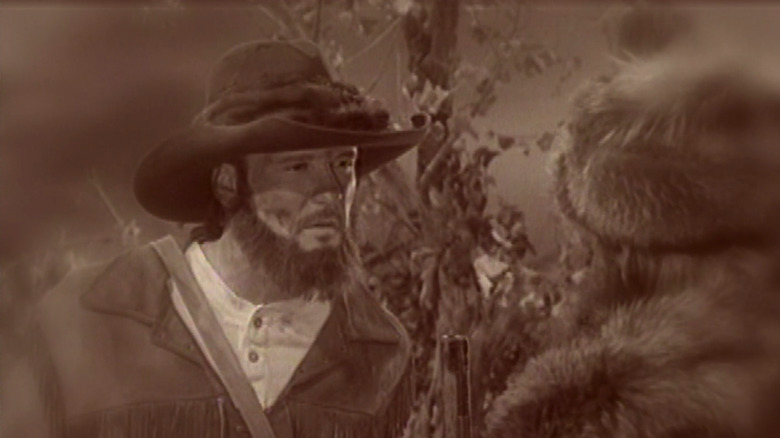 NBC/Peacock
Tim McGraw made his acting debut in Season 2, Episode 11 ("Feud for Thought") of "The Jeff Foxworthy Show" back in 1997 (via IMDb). When Jeff's son, Matt (Haley Joel Osment), comes home and announces his intention to quit Boy Scouts after failing to earn a merit badge, Jeff discovers that the pack leader is none other than his longtime rival, Lyle Rafferty (Tim McGraw). 
According to Jeff, a war between the Rafferty and Foxworthy families goes back many generations. In a short flashback sequence that appears to be set sometime in the 1800s, McGraw portrays Jeremiah Rafferty, while Jeff Foxworthy the actor plays Jasper Foxworthy, the fictional fifth-great grandfather of Jeff Foxworthy the character. Jeremiah accuses Jasper of killing wild varmints on his land, but Jasper calls it a "dang awful lie." In response, Jeremiah punches Jasper in the face, thus beginning a multigenerational hatred between the two families. A second flashback sequence shows a different generation of Foxworthys and Raffertys (portrayed by the same actors) fighting over their opinions of Confederate generals. Foxworthy challenges Rafferty to a duel, but Rafferty simples punches him in the face once more. A third flashback shows Elroy Rafferty (also played by McGraw) punching Cal Foxworthy (also portrayed by Jeff Foxworthy) during World War I and a fourth and final flashback proves that Jeff and Lyle also have a similar history.
In the present, Jeff's wife, Karen (Ann Cusack), orders the latest generation of Foxworthys and Raffertys to make peace. It is an awkward meeting, but the two eventually resolve to end the centuries-long feud by singing a few Tim McGraw songs.