Yellowstone Creator Taylor Sheridan Was Given A Wild Ultimatum To Finish Prequel Series 1883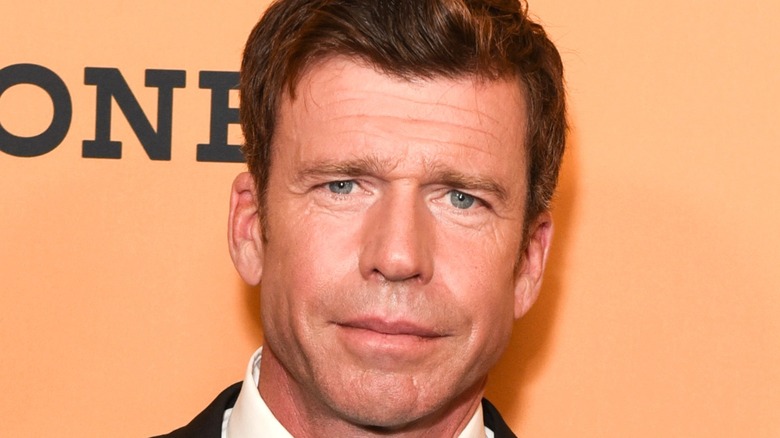 Presley Ann/Getty
When Taylor Sheridan and John Linson created "Yellowstone" and saw it air its first episode in 2018, they probably had no idea how wildly popular the TV show would become. Starring Kevin Costner as patriarch John Dutton, the modern Western follows the Dutton family as they struggle to keep control of their booming Montana ranch. The working ranch borders the famous national park after which it is named, as well as a Native American reservation. The proximity of the Yellowstone Dutton Ranch to both these locations prompts the Indigenous community and the state government to seek ownership, thus adding strain on a family that's already caught up in various family dramas.
Now, the "Yellowstone" empire is starting to expand. Following a successful three seasons and a fourth now in the midst of releasing new episodes weekly, "Yellowstone" is preparing to grow its franchise with the addition of "1883." The prequel series, set in the post-Civil War period as families moved westward to start anew, is also created and written by Sheridan. "1883" stars real-life spouses Tim McGraw as James Dutton, the Dutton patriarch who establishes the family legacy Costner's John Dutton struggles to maintain more than a century later. Faith Hill, Sam Elliott, LaMonica Garrett, Isabel May, and Billy Bob Thornton star in the Paramount+ series in addition to McGraw.
Ahead of the debut of "1883" on Paramount+ on December 19, Deadline released a lengthy interview with Sheridan and other creatives involved with the streaming show the took place in addition to a preview screening of the first two episodes of "1883" at Wynn Las Vegas. Among the many intriguing tidbits of information revealed in the profile, we finally learn what it took to get "1883" from the page to the screen. According to Sheridan, the production process included one heated ultimatum.
1883's Taylor Sheridan has seven months to get the show on its feet
According to "1883" creator Taylor Sheridan's comments during this special preview event, he wasn't always confident the Paramount+ show would air in 2021. Deadline's report included new details about the ultimatum executives gave Sheridan regarding airing the show after he submitted the pilot script, which the studio read on April 12. By early May, Sheridan was preparing to go work on "Mayor of Kingstown" for Paramount+ when he finally heard back about the "Yellowstone" prequel script. ViacomCBS executive Keyes Hill-Edgar told him they wanted to launch the streaming service with "1883," meaning they needed the series written, filmed, and edited within 2021.
"I said 'Keyes, that's not possible, I can start production in February, maybe,'" Sheridan recalled to Deadline. "He said, 'No Taylor, we need it to air this year.'" When the "1883" creator insisted that production timeline wasn't possible, Hill-Edgar colorfully instructed him to figure it out. Sheridan recalled the exec's words while also editing his language to be more audience-friendly: "Look, we are betting the house on this, and we are trucked if you don't do it. We're paying you a lot of trucking money, so you trucking figure it out!"
"It was impossible to have something air in seven months that wasn't cast, with no locations, and no other scripts," Sheridan continued. He went on to demand that, if he was going to be burdened with such a short production window, he needed full access to everything his heart desired to make the show a success. Sheridan told the ViacomCBS exec, "I need the toys, I need the cast, I need the team. [...] And I did not hear the word no, at all."