Kirsten Dunst Talks Working With Fiancé Jesse Plemons On The Power Of The Dog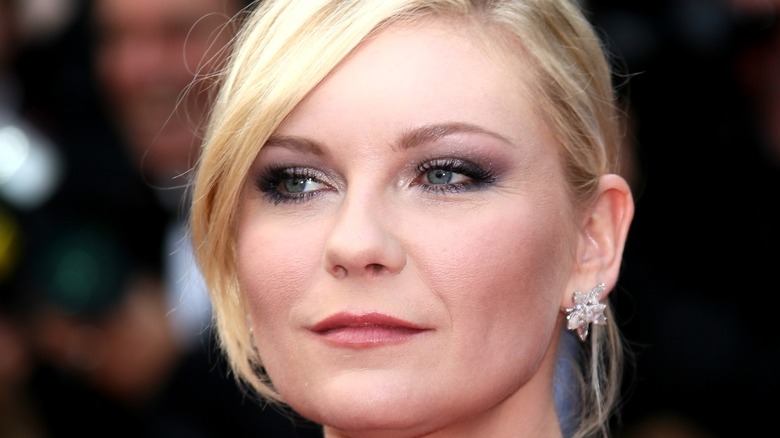 Denis Makarenko/Shutterstock
Kirsten Dunst started acting at a young age, appearing as the tormented Claudia in the 1994 big screen adaptation of the Anne Rice novel "Interview with the Vampire" opposite Brad Pitt and Tom Cruise. Dunst continued to work steadily, building an impressive resume that spans almost three decades, first appearing in more family-friendly fare such as 1994's "Little Women" and 1995's fantasy adventure "Jumanji" (via IMDb).
As Dunst grew older, she began to take on more diverse roles, portraying one of the doomed Lisbon sisters, Lux, in director Sofia Coppola's debut film "The Virgin Suicides," and a beauty pageant hopeful Amber Atkins in the dark comedy "Drop Dead Gorgeous." Her most well-known films include the teen classic "Bring It On," the Sam Raimi "Spider-Man" trilogy, and the historical drama "Marie Antoinette" (which marks her second collaboration with Coppola). In 2015, she moved into television and starred as a midwestern housewife with a dark side in Season 2 of "Fargo." The experience proved to be life-changing for Dunst, as this is how she met her real-life partner Jesse Plemons ("Friday Night Lights"), who plays her onscreen high school sweetheart turned spouse on the FX series.
The couple — who got engaged in 2017 and have two sons (via US Weekly) — reteamed onscreen for director Jane Campion's new western drama "The Power of the Dog," which is available for streaming on Netflix. Recently, Dunst opened up about what it was like working with her fiancé.
The actress thinks the film would have been more difficult without Plemons' support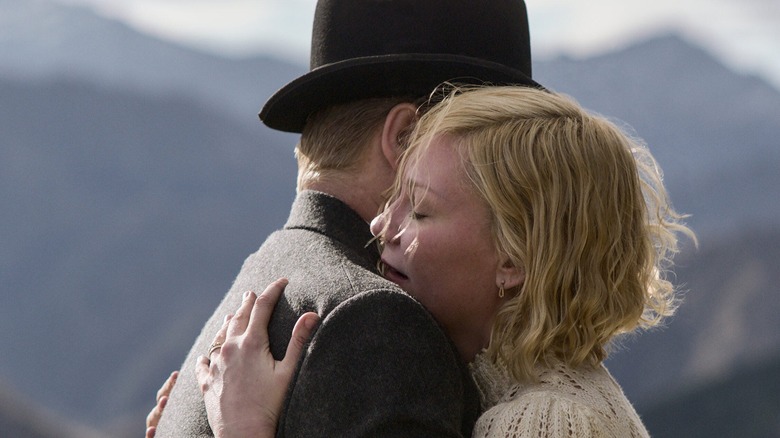 Netflix
In "The Power of the Dog," Kirsten Dunst plays Rose Gordon, a woman who runs a boarding house while maintaining a tight-knit relationship with her teenage son, Peter (Kodi Smit-McPhee). Rose catches the eye of rancher George Burbank (Jesse Plemons), much to his brother Phil's (Benedict Cumberbatch) dismay. Phil makes no secret of his resentment towards Rose, believing her to be a gold digger. Phil turns into a malevolent presence in Rose's life, torturing her at every turn. As Rose begins to drink to cope with Phil and her isolated existence on the desolate Montana ranch, Peter takes desperate action to ensure his mother's happiness.
Initially, Dunst wasn't interested in playing Rose, telling USA Today, "I wanted to play a really strong woman – I'm not at the place in my life where (Rose) is my ideal character," Dunst stated. However, according to the article, the opportunity to reteam with Plemons onscreen proved too good of an opportunity to pass up. The actress is effusive when praising Plemons and his contributions to her heartbreaking performance. "It was a dream project really, to be working with my favorite actor and have his support with a role like this. This would have been a much harder film for me if I didn't have him there," Dunst said.
Dunst wants to work onscreen with Plemons again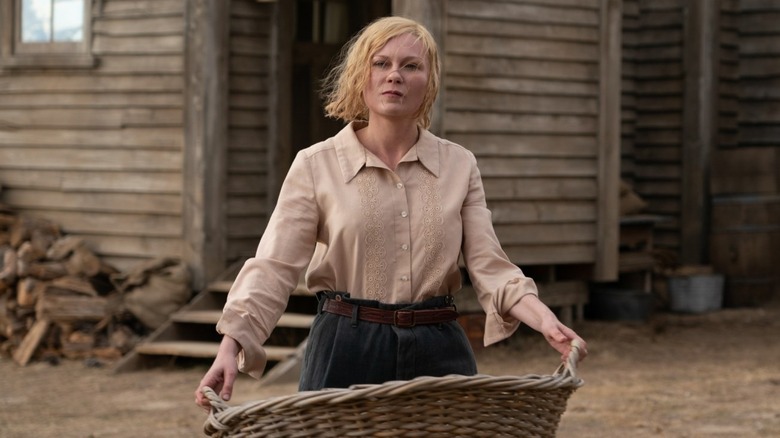 Netflix
Kirsten Dunst told USA Today that while shooting "The Power of the Dog," she and Jesse Plemons would go out for drinks and he would videotape Dunst, providing her with footage so she could better portray Rose's alcoholic behavior. Also, much like George provides unwavering support as Rose struggles to learn to play the piano well enough to impress the ranch's VIP guests, Plemons would listen to Dunst practice for hours on end.
As far as working together again in the future, Dunst is fully onboard. During the AFI Fest premiere of "The Power of the Dog," the actress told The Hollywood Reporter, "We actually talked to ['Power of the Dog' producer] Tanya Seghatchian about what Jesse and I should do next. We have some ideas, and Jesse and I definitely want do another project. He's my favorite actor to work with," Dunst said. The couple has a knack for both comedy and drama, so it seems the sky is the limit when it comes to whatever project they decide to tackle together next.