The Real Reason Chief Garland Won't Be Returning To Law & Order: SVU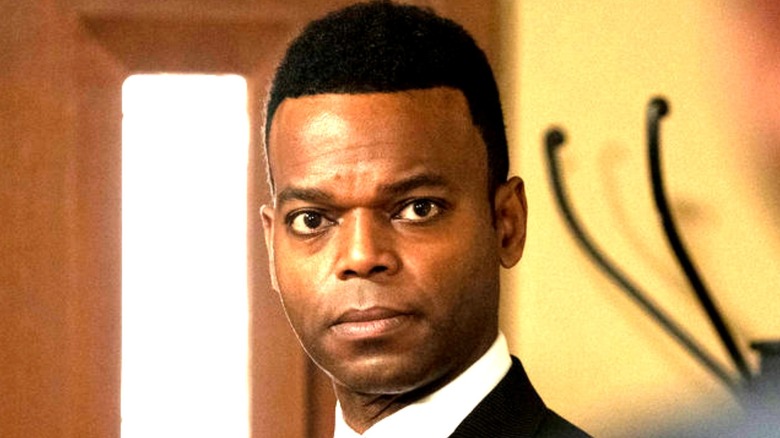 Virginia Sherwood/NBC
With more than 500 episodes under its belt, NBC's "Law & Order: Special Victims Unit" remains a flagship series for the network even as it makes its way through its remarkable 23rd season. Over the years, the series has introduced loyal fans to a long list of unforgettable characters, including both regular, recurring figures and some memorable guest performers whose roles on the show may have lasted just a few weeks.
However, the truth is that, as the longest-running live-action primetime drama in television history (via TVLine), "SVU" has had to say goodbye to even some of its most beloved characters. In some cases, the show's cast departures were foreshadowed for several episodes, giving fans plenty of time to get used to the idea of an "SVU" cast member leaving the series. In other instances, the exit of a fan-favorite character has come with little or no warning and, therefore, caught viewers totally off guard.
When it comes to the recent departure of SVU Deputy Chief Christian Garland (Demore Barnes), the character's exit was both abrupt and, for many loyal fans, inexplicable. As a result, viewers have been left asking: What is the real reason "Law & Order: SVU" chose to say goodbye to Deputy Chief Garland?
The reason for Chief Garland's SVU exit is still unclear
A straightforward, thoughtful, and well-respected leader on the show, Demore Barnes' "Law & Order: SVU" character was often shown trying to modernize the sometimes rough-edged, old-school crime-busting methods of the NYPD. Following his "SVU" debut in 2019, the actor went on to appear as a major player in nearly two dozen episodes of the series (via IMDb), cementing Garland as one of the show's many important recurring figures.
While fans were surprised at Garland's sudden exit, it turns out that Barnes himself was similarly baffled by the news. Prior to his final "SVU" appearance in the show's Season 23 premiere, Barnes addressed fans' disappointment over Garland's exit in an Instagram post, saying, "I also know you're sad and surprised, and I am too. I don't totally know why this has happened." 
Although Barnes seems to be unable to explain his "Law & Order: SVU" departure, it's possible that the reason behind Garland's exit is that the show's writers simply thought the character's narrative arc had reached its logical conclusion. While the twist may have come as a shock to both "SVU" viewers and Barnes himself, there's no denying the fact that sometimes a show has to say farewell to a character in order to take its ongoing story in new directions. 
Unfortunately, it seems like fans will just have to continue wondering whether or not that's what happened with Chief Christian Garland on "Law & Order: SVU."