The Real Reason No Way Home Fans Are Excited About Spidey's New Suit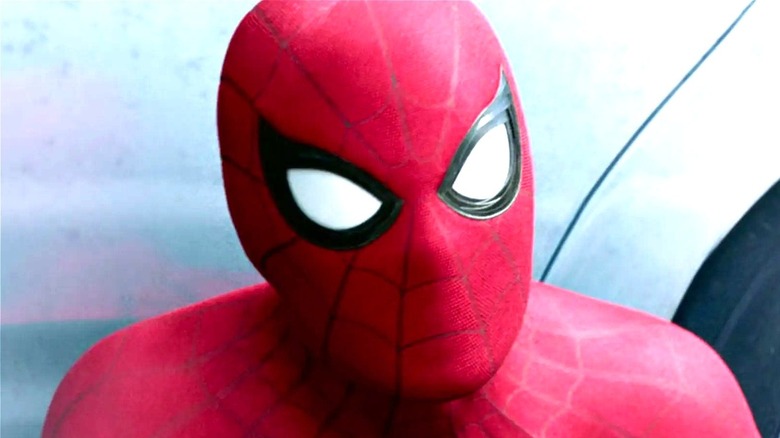 Marvel Studios/Sony Pictures
The following article contains major spoilers for "Spider-Man: No Way Home."
Marvel's resident web-slinger just got a brand new makeover in "Spider-Man: No Way Home" that has fans completely smitten, but not for reasons you might think. 
In previous movies, Tom Holland's Peter Parker was gifted with Stark tech to help become New York's friendly neighborhood wall-crawler. In "Captain America: Civil War," Tony Stark (Robert Downey Jr.) gives Parker his first set of tech-powered threads and asks him to join the movie's ongoing struggle against Cap (Chris Evans). This is the suit we later see in "Spider-Man: Homecoming" and then again in "Spider-Man: Far From Home," which also features another updated outfit with newer Stark tech. For Holland's appearances in "Avengers: Infinity War" and "Endgame" he donned the Iron-Spider suit, also given to him by Stark, and then Marvel brought it back for "No Way Home."
As usual, the studio decided to give Spidey another new suit at the end of the latest film. Only this time, it appears to be more of a retro fit — and fans are absolutely loving it.
Marvel went with a classic Spider-Man look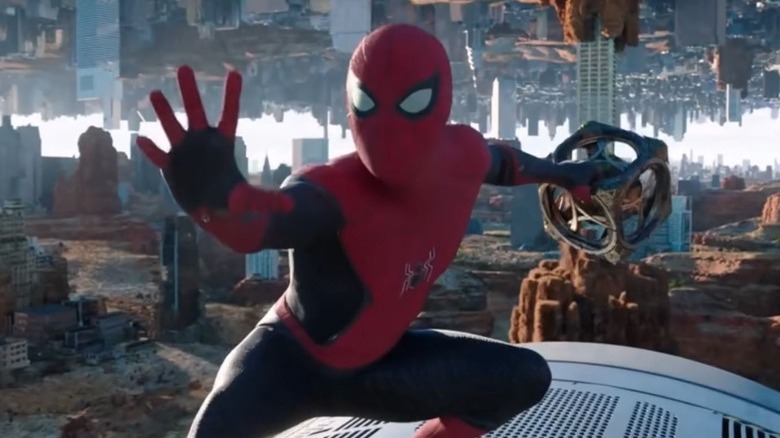 Marvel Studios/Sony Pictures
In addition to reprising Spidey's Stark tech, "No Way Home" also sees Tom Holland's Peter Parker donning some fancy Doctor Strange gadgets at one point. But that's certainly not the case once the movie ends. 
After his run-ins with the returning Spidey villains and eventual team-up with Tobey Maguire and Andrew Garfield's Spider-Men, Holland's Parker is a changed young man. Not only did he lose his Aunt May, but nobody knows who he is on account of Doctor Strange's memory-altering — and world-saving — final spell. Because of this, Parker embarks on a new path and ditches his old suits for a new one of his own making, like Peter Parker does the comics. This move has fans going bonkers.
"Yeah looked like a classic spidey suit! I'm stoked," said Redditor u/BatSniper. "It was actually 1:1 to the comics suit except for the back spider," replied u/princevince1113, garnering hundreds of upvotes. Over on Twitter, user @CBMHype echoing praise for the "classic comic book look," while the eagle-eyed @ShadowF92968210 suggested "the front symbol is based on Tobey's and the back is based on Garfield's." @danielw65350066 loved the new suit so much, they want it to be the only suit for "the next trilogy." Tired of "the whole 'he's a hero without the tech and team' type arcs," the same user suggests, "Just let him be an arachnid powered dude in a red and blue onesie fighting crime."