Marisa Tomei's Hilarious Response To A Possible Aunt May And Happy Hogan Romance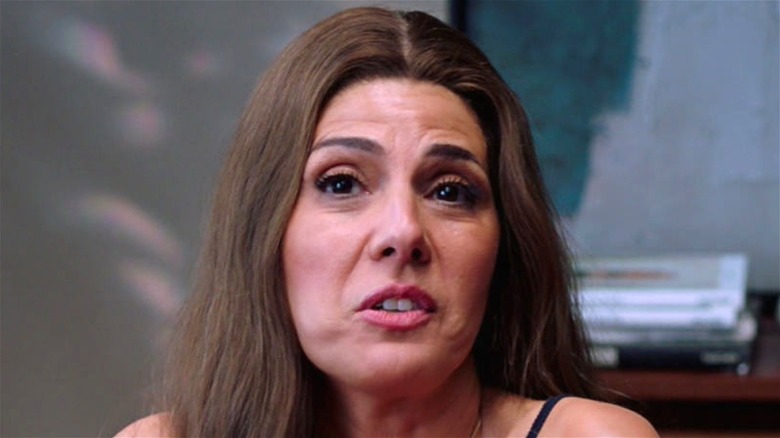 Marvel Studios/Sony Pictures
Warning: This article includes spoilers for "Spider-Man: No Way Home."
The MCU's version of Spider-Man has many differences from previous film adaptations of the classic character. Notably, Uncle Ben is completely missing from Peter Parker's storyline, save for a few small nods to the character. Rather than an older, grieving widow, the MCU Aunt May, played by the ever-talented Marisa Tomei, is more of just a typical single mom — and much younger than the traditional depiction of the character. 
May's appearance certainly plays a role in the MCU Spider-Man films. "Spider-Man: Far From Home," in particular, included a budding romance between May and Tony Stark's best friend and body guard, Happy Hogan (Jon Favreu). Their relationship was a plot point again in "Spider-Man: No Way Home," including Happy (spoilers!) grieving May after her death at the hands of the Green Goblin (Willem Dafoe).
In the run up to "No Way Home's" premiere, however, Tomei was grilled by a reporter about the future of Happy and May's romance, and knowing what we know now, her answer is especially hilarious.
Marisa Tomei is very clear May and Happy will never be together
In an interview with ComingSoon.net, Jonathan Sim asks Marisa Tomei if she thinks May and Happy will ever be "in a long-term relationship." "No," answers Tomei promptly. "Are you sure?" probes Sim, with Tomei giving the deadpan reply, "Why are you asking twice?" After seeing "No Way Home," we, of course, know that a future between Happy and May is impossible. With (more spoilers!) Happy's entire relationship with Peter Parker (Tom Holland) magically erased by Doctor Strange (Benedict Cumberbatch), too, it seems unlikely Happy will be making any further MCU appearances, either.
We've loved Marisa Tomei as Aunt May, and her death was one of the most heartbreaking moments in all the "Spider-Man" films. However, her love and support has been a guiding light for Peter in every appearance of the character. We still don't know what the future holds for Spider-Man, but we're sure Aunt May's impact will live on as Peter tries to do what's right.