Book Of Boba Fett Director Confirms What We Suspected About Temuera Morrison's On-Set Behavior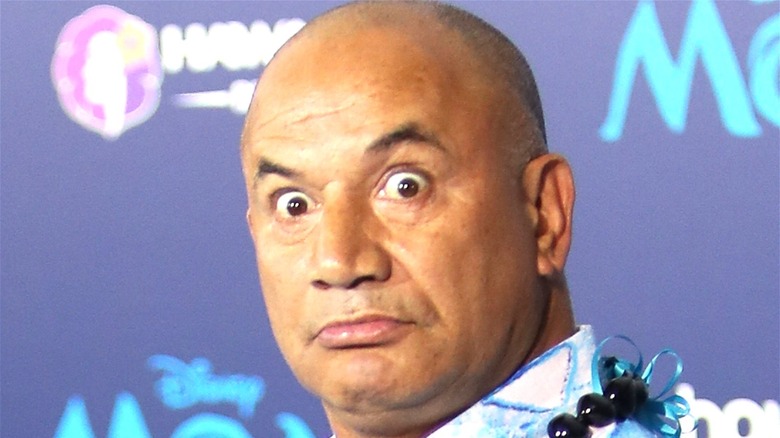 David Livingston/Getty
One of the most exciting storylines to emerge out of "The Mandalorian" Season 2 was that Boba Fett — the badass bounty hunter from the classic "Star Wars" trilogy — was alive and well, living on Tatooine. Perhaps more exciting, though, was the casting of Temuera Morrison, who assumed the role of the beloved antihero after playing the character's father, Jango Fett, in "Star Wars: Episode II – Attack of the Clones."
In the original "Star Wars" trilogy, Boba Fett was never unmasked. While Boba turned up for a brief cameo in the special edition release of "Episode IV – A New Hope" to celebrate the 20th anniversary of the film in 1997, he technically made his big-screen debut in "Episode V – The Empire Strikes Back" in 1980 (via Fandom). Tasked with returning Han Solo (Harrison Ford) to Jabba the Hutt over an unpaid debt, Boba had an early and unceremonious exit in 1983's "Episode VI – Return of the Jedi" when he accidentally fell into a Sarlacc pit on Tatooine during a battle with the Rebellion.
Boba's cult following was naturally disappointed by the fate of the character, which explains why "The Mandalorian" creator Jon Favreau and executive producer Dave Filoni figured out a way to continue the bounty hunter's story. On top of Morrison helping give Boba his just due in the series, Disney+ surprised fans with an after-credits scene in the "The Mandalorian" Season 2 finale, announcing the bounty hunter was getting his own series in 2021 with "The Book of Boba Fett."
Robert Rodriguez says Temuera Morrison 'really is Boba Fett'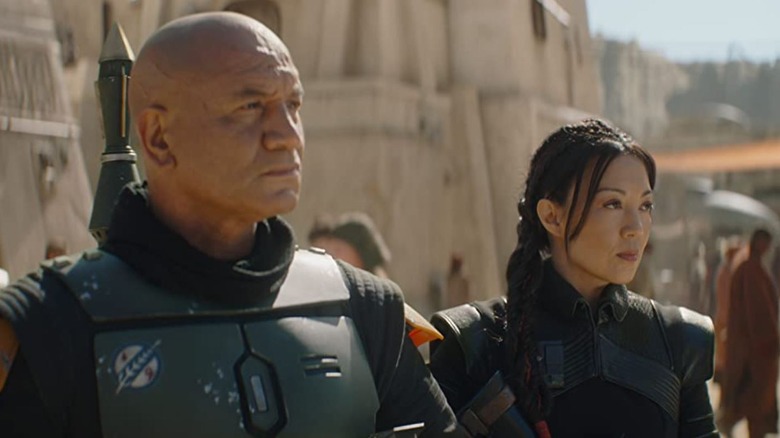 Lucasfilm/Disney+
A major part of Boba Fett's storyline in "The Mandalorian" was his teaming with feared bounty hunter Fennec Shand (Ming-Na Wen), who was left for dead after an encounter with bounty hunter wannabe Toro Calican (Jake Cannavale). A mysterious character found Fennec after she was shot, and as fans came to discover in Season 2, it was Boba Fett. Fennec then pledged her allegiance to Boba, and the two were instrumental in aiding Mando (Pedro Pascal) in his plight to protect Grogu from Moff Gideon (Giancarlo Esposito).
Now that the attention is focused on Boba and Fennec in "The Book of Boba Fett," Morrison and Wen have a lot more responsibilities. Despite the physical demands of the roles, age is not an obstacle for Morrison, 60, or Wen, 58. The series' director Robert Rodriguez told The Hollywood Reporter: "You never feel like they're an older cast; they're so youthful and energized. Tem and I work out together — he really is Boba Fett."
Dave Filoni, who is teaming up Rodriguez and Jon Favreau on "The Book of Boba Fett," told THR that Morrison's experience and physical presence makes Boba that much more appealing. "Tem brings the intensity and sense of weathered experience that a well-traveled bounty hunter needs while maintaining a sense of fun and adventure," Filoni explained. "He had more dialogue than Fett has ever had to deliver, but it's also a very physical role, and Tem was there for it, training and enduring a lot of action."