New Doctor Strange In The Multiverse Of Madness Merch Is Riddled With Spoilers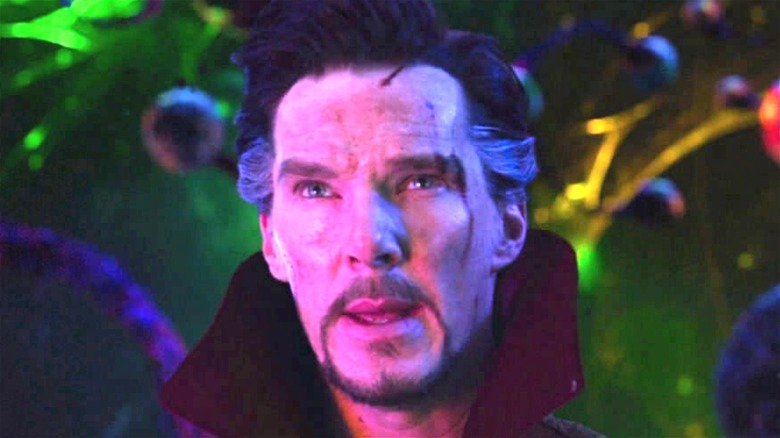 Marvel Studios
The following article contains spoilers for "Dr. Strange in the Multiverse of Madness."
While fan chatter is at an all-time high for "Spider-Man: No Way Home," there's another big Marvel Cinematic Universe movie poised to be released very soon.
The debut of "Dr. Strange in the Multiverse of Madness" lies just around the corner. This Sam Raimi-directed picture will hit theaters on May 6, 2022, and fans have already been treated to some sneak peeks as to what strange new characters will appear in the film. For example, Shuma-Gorath has been revealed as a major villain in the film thanks to — of all things — a pre-order advertisement for a puzzle. 
With the film's release date coming ever closer, fans were treated to even more major spoilers thanks to a pre-order announcement for the first wave of six-inch action figures to be released for the film. So, who can we expect to see as either friend or foe of Doctor Strange (Benedict Cumberbatch) in the new film? These toys give us a solid clue. 
Master Mordo and D'Spayre will appear in the film
Entertainment Earth is currently taking orders for the first wave of figures from the film, and there are some surprising faces in the lot. Recognizable in the promotional picture of the figures (above) are, naturally, Doctor Strange (who's also available in his Astral Form) and Xochitl Gomez's America Chavez. Unsurprisingly Wong, Dr. Strange's mentor in sorcery (Benedict Wong) is also included in the set. Chiwetel Ejiofor's Karl Mordo aka Master Mordo will return after his initial appearance in "Doctor Strange." But new faces abound. 
Sleepwalker appears among the figures available. In the Marvel Comics world, Sleepwalker once roamed the Mindscape, protecting this vulnerable psychic intersection where many creatures and beings dwell. Sleepwalker was once tricked into entering the mind of Rick Sheridan, a college student, by his moral enemy Cobweb, and now he is trapped in Rick's corporal form in the "real world." Sleepwalker eventually becomes a hero in the Marvel Universe and serves on multiple teams, including S.H.I.E.L.D.
D'Spayre also shows up in the set. The character is a Fear Lord in the comics world and uses hallucinations to invoke despair and fear in his victims. He's one of Strange's legendary comic world enemies. The character previously appeared in the MCU in Marvel's "Cloak and Dagger." 
By collecting all six figures offered, fans may build a figure of Rintrah. The character, who resembles a green-furred minotaur, is an apprentice of Enitharmon the Weaver and becomes one of Strange's staunchest allies in the comics world. Per MovieWeb, the character will be portrayed by Adam Hugill. 
Fans will have to keep their eyes peeled to find out who else will join Strange in his adventure to the unknown reaches of the mind.