Live-Action Avatar: The Last Airbender Finally Casts Three Fan-Favorite Female Leads
The phrases "Avatar: The Last Airbender" and "live-action" may send shivers down fans' spines. After all, the fan-favorite Nickelodeon series already received a live-action reboot in the form of the 2010 film "The Last Airbender," directed by M. Night Shyamalan. It didn't exactly resonate with fans or critics, currently standing at an abysmal 5% critics' rating on Rotten Tomatoes. However, there are plenty of reasons to get excited for the upcoming adaptation coming to Netflix.
For starters, the adaptation will be a series instead of a movie, so there should be enough time for proper character development. The plot shouldn't feel as rushed, and Netflix has already assembled an incredible cast to lead the series. Fans believe Uncle Iroh has received the perfect casting imaginable with "Kim's Convenience" star Paul Sun-Hyung Lee preparing to sip tea and dispense wisdom. Now, a trio of popular characters have received casting, as well, and it's bound to set fans' minds at ease further 
Elizabeth Yu will portray Azula on Netflix's 'Avatar: The Last Airbender'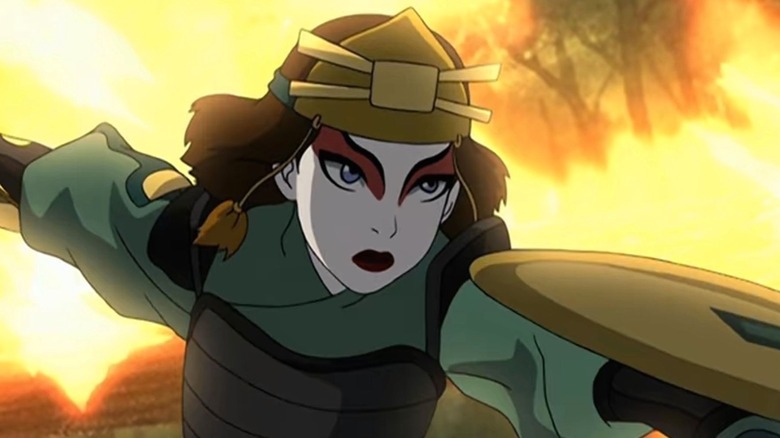 Nickelodeon
A new report from Variety clarifies who will portray several of the fan-favorite women on "Avatar: The Last Airbender." First and foremost, it should come as a delight to fans to know that fire princess Azula will be played by Elizabeth Yu. She doesn't have many credits to her name so far, but her star will undoubtedly rise once the world sees her as the villainous Azula. 
The rest of the cast is filling out nicely, with a slew of female parts now having actresses attached. This includes Gran Gran, the matriarch of the Water Tribe, who's also Sokka and Katara's grandmother, being portrayed by Casey Camp-Horinek ("Rutherford Falls," "Reservation Dogs"). The rest of the casting we have at this point relates to the Kyoshi Warriors, primarily with Maria Zhang ("WorkInProgress: A Comedy Web-Series") taking on the part of Suki. Rounding out the new additions are Tamlyn Tomita ("Star Trek: Picard," "Cobra Kai") as Suki's mother, Yukari, and Yvonne Chapman ("Family Law," "Kung Fu") stepping into the role of Avatar Kyoshi.
The Variety article goes on to mention how the show is currently filming, so hopefully, the show drops on the streaming platform at some point within 2022.