Why Avatar Fans Think Netflix's Live-Action Uncle Iroh Casting Is Absolutely Perfect
Nickelodeon was the vehicle for the cultural phenomenon "Avatar: The Last Airbender" when it first premiered in 2005. The show depicts a fantastical world where people have the abilities to control the elements, otherwise known as "benders." Then of course, "everything changed when the Fire Nation attacked," as the iconic show intro reads. The animated show is basically "a love letter to anime" and ran for three almost perfect seasons (via Syfy Wire). 
Fans are understandingly protective of this world that shows the power of redemption and creating a family of your own, which is what made the first live-action attempt so devastating. M. Night Shyamalan's tragic adaptation crashed and burned, doing horribly with both critics and fans, which is among the many reasons his "The Last Airbender" film didn't get a sequel. After that, it seemed as though fans would never get a live-action version that honored the original show. 
Then in 2018, Netflix announced that it had plans in the works to resurrect "Avatar: The Last Airbender" as a live-action series (via Deadline). The show already has a main cast, and Daniel Dae Kim has been cast as series-long antagonist Firelord Ozai (via Deadline). But with the new announcement of fan-favorite character Uncle Iroh's casting, fans are elated.
Everyone wants to drink tea with Paul Sun-Hyung Lee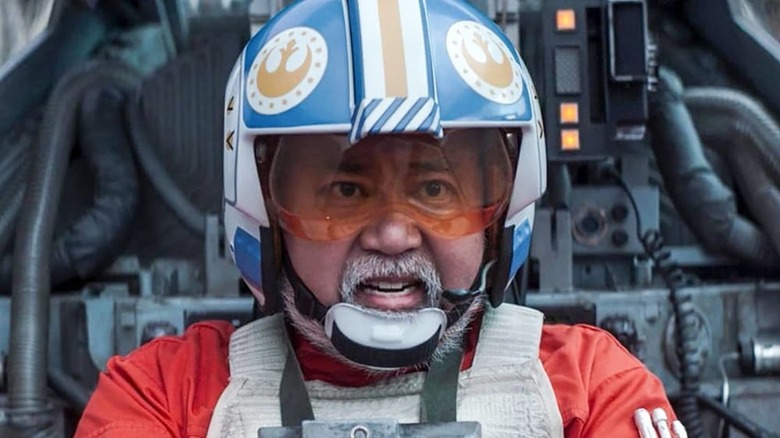 Disney
The most current casting news for Netflix's "Avatar: The Last Airbender" show is Paul Sun-Hyung Lee as Uncle Iroh, the mentor of Prince Zuko (Dallas Liu), and fans are ecstatic (via Collider). Twitter user @UncleIroh3420 states, "This has brought me so much joy. I am so happy about this casting," and judging by their Twitter handle, they seem to be particularly passionate about the news. Even Marvel actor Simu Liu jumped in to celebrate, tweeting "From Appa to Uncle. I'm so happy for you," in reference to Lee's past role in "Kim's Convenience." The outpouring of appreciation for this casting is overwhelming. 
There have been some concerns about the adaptation since surprising news dropped about Netflix's live-action version, with original series creators Bryan Konietzko and Michael Dante DiMartino leaving the Netflix project after spending two years developing it. The writers were integral to the tone of "Avatar: The Last Airbender," and while their absence could be a bad sign for some fans, many find this casting news comforting.
Paul Sun-Hyung Lee is a prolific actor who has appeared in many popular properties. He is most recognizable from "Kim's Convenience," but he also appeared in two episodes of "The Mandalorian" as Captain Carson Teva. Twitter user @AshWHurst put it best when they posted, "My new life goal is to drink tea with Paul Sun-Hyung Lee, the man playing Uncle Iroh."