Adam Driver Confirms What We All Suspected About Daisy Ridley's On-Set Behavior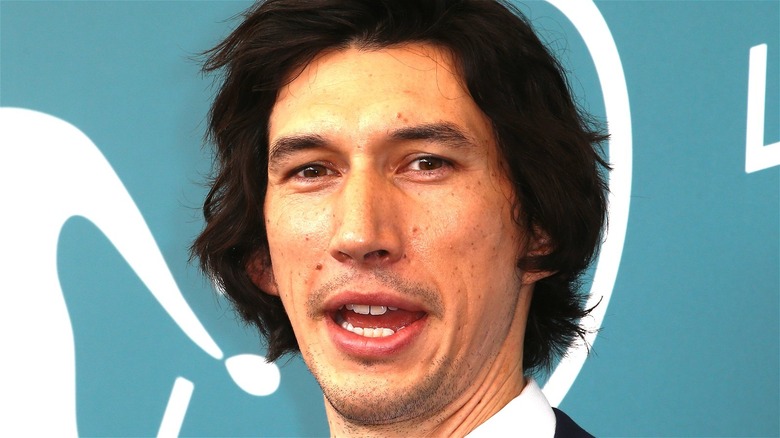 Matteo Chinellato/Shutterstock
Currently, years after Disney's acquisition of Lucasfilm, the release of new "Star Wars" movies and TV series has become something of a regular occurrence. In the early days of Disney "Star Wars," however, the franchise's new owners handled the property at a comparatively slower pace. So, while today, fans of the modern incarnation of "Star Wars" can, for example, turn to the anime anthology "Star Wars: Visions" for one of a few unique takes on the series' classic mythology, at the time of the release of "Star Wars: The Last Jedi" in 2017, the current, expansive version of the filmic "Star Wars" universe was still in its infancy.
The first two entries in Disney's "Star Wars" trilogy, then, were all the more important at the time of their release, given that they provided fans with some of their first insights into the franchise's current era. Among the key contributions of those early films was the introduction of Rey, portrayed by newcomer Daisy Ridley, her casting evoking Mark Hamill's relative lack of film experience before he landed the role of Luke Skywalker decades earlier. Adam Driver also stars opposite Ridley as the villainous Kylo Ren, a dark side jedi as well as the son of Han Solo (Harrison Ford) and Princess Leia (Carrie Fisher). In a video posted on YouTube by the Disney fan account Oh My Disney, Driver discussed what it was like working with Ridley on Disney's first two, foundational Skywalker saga films, sharing some rare insight into the real-life human being behind one of the early pillars of modern "Star Wars."
Adam Driver had a great time working with Daisy Ridley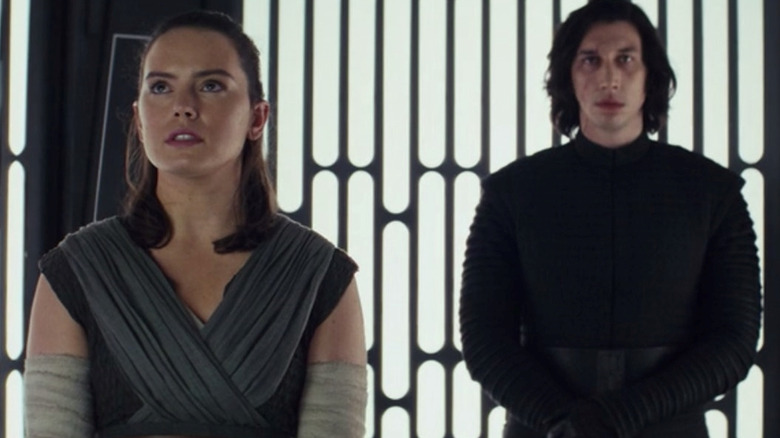 Lucasfilm/Disney
Amidst a larger behind-the-scenes discussion about their time spent making "Star Wars: The Force Awakens" and "The Last Jedi," Oh My Disney interviewer Michelle Lema asked Daisy Ridley and Adam Driver each what their experience was like working with the other performer. According to Driver, Ridley was a wholly positive presence on set, both in their personal interactions and in her acting work.
"Working with Daisy is great. She is such an emotionally available person." Driver said, offering nothing but kind words about his co-star. "It's easy to be in scenes with her because I could listen to her all day. She has great instincts."
For what it's worth, Ridley spoke of acting opposite Driver in similarly glowing terms. "He is so amazing in this film. Seriously. I can't speak highly enough about him," she said, matching his energy. "In the very basic sense of it all, he is the most amazing scene partner." If nothing else, the two actors' mutual praise for each speaks even further to Ridley's comportment, presuming that the level of support for her co-star she demonstrates in this interview is indicative of her offering the same during filming. By all indications, then, Ridley appears to be someone alongside whom Driver had a great time working on-set, and continued to share a fruitful working relationship with even after filming.
The two stars became close friends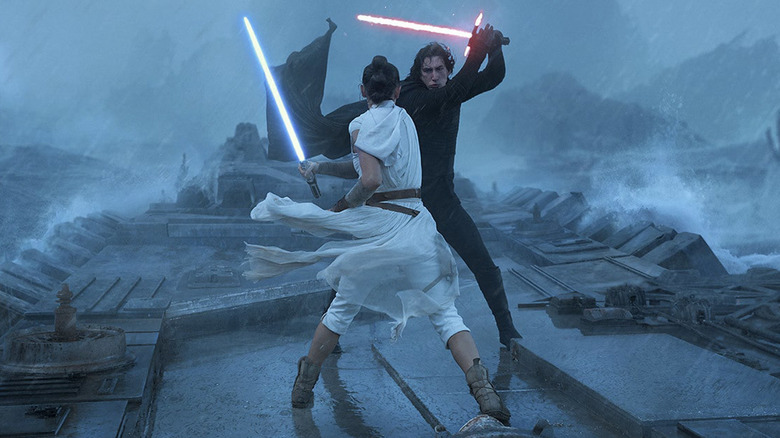 Lucasfilm/Disney
As it turns out, Adam Driver's time spent working with Daisy Ridley ended up blossoming into a full-fledged friendship. Among a number of other topics — some related to "Star Wars," some not — the two further discussed their relationship with one another in an article published by V Magazine structured such that the two interviewed each other rather than answering questions from a third party.
At one point in their conversation, in response to a question about whether or not she prefers meeting her co-stars prior to filming, Ridley mentioned that she and Driver "became besties last year," referring to the year before the article's 2017 publication. This means that they most likely became official besties at some point during their time spent on the set of "The Last Jedi" together. She then described how she has a hard time meeting new people, but noted, "I think I'm getting better at being okay with that."
In response, Driver told her, "you always seemed very open," directly complimenting her personality once again. Throughout the entirety of the interview, Driver and Ridley maintain a playful dynamic, suggesting that their working relationship on-set might have been similar. Finally, at the very end of their conversation, Driver once again praised Ridley's skill as a performer, signing off by telling her, "I think you're brilliant." In full, then, their discussion in V Magazine showcases how the two performers speak of one another in glowing terms while keeping the atmosphere around them lighthearted all the while.