Why Dijkstra From The Witcher Season 2 Looks So Familiar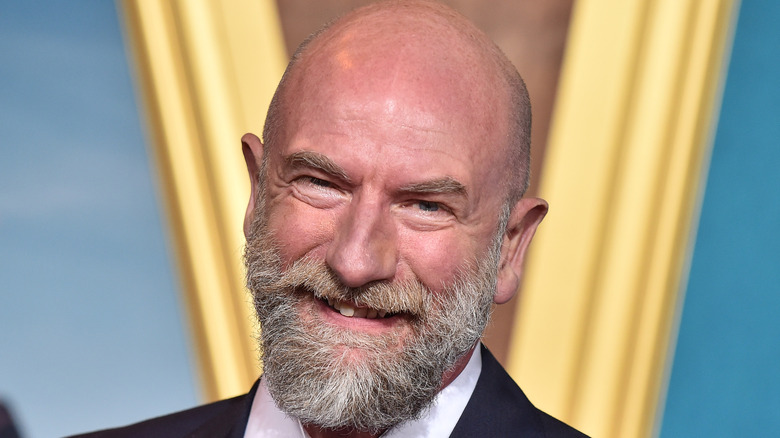 DFree/Shutterstock
Season 2 of Netflix's hit fantasy series, "The Witcher," is on its way, and with it comes some familiar faces as well as several new ones. Fans of the series have been anxiously waiting for two years now for Geralt of Rivia (Henry Cavill) to return to their TV screens, but that wait will finally come to an end when "The Witcher" Season 2 premieres on December 17. While you can expect to see some familiar protagonists, like Princess Ciri (Freya Allen) and sorceress Yennefer (Anya Chalotra), in the show's sophomore season as well, many new characters also appear in "The Witcher" Season 2.
One such character is the Redanian spymaster, Sigismund Dijkstra, played by Scottish actor Graham McTavish. Due to his imposing stature and brightly colored clothing, Dijkstra is probably not what viewers expect a spy to look like in "The Witcher." Fortunately, his impressive intelligence helps him get what he wants, and he no doubt has his own reasons for working with Cavill's Geralt.
To his credit, McTavish certainly stands out from the crowd, thanks largely to his impressive height, bald head, and burly grey beard. His Scottish accent also makes his voice easily distinguishable, and in addition to his on-camera work, he has built an impressive career for himself as a voice actor (via IMDb).
With over 100 acting credits to his name, you'll likely recognize the actor when he appears in "The Witcher" Season 2 — especially if you're a fantasy or comic book fan.
Graham McTavish achieved breakout success with his role in Rambo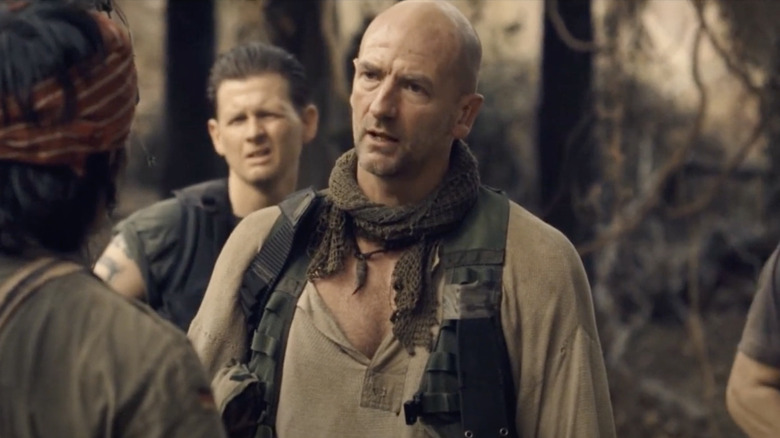 Lionsgate
Before Graham McTavish became a recognizable screen actor, he scored a number of small TV and voice actor parts in Britain. Indeed, it wasn't until he starred alongside Sylvester Stallone in 2008's  "Rambo" that McTavish began to achieve global success as an actor.
In "Rambo," the actor plays Lewis, a former member of the British SAS and the leader of a mercenary group tasked with rescuing missionaries from Burmese soldiers in Thailand. Lewis and his mercenaries are captured during their rescue attempt, but thanks to Rambo and his bow and arrow, they narrowly escape and are able to complete their rescue mission.
Interestingly enough, McTavish would go on to also star in another renowned, Stallone-led film in 2015. The film in question, "Creed," sees Stallone reprising his role as Rocky Balboa when the character agrees to mentor the up-and-coming Adonis Johnson (Michael B. Jordan). For his part, McTavish plays Tommy Holiday, boxing champion Ricky Conlan's (Tony Bellow) trainer. McTavish's Holiday is the one who convinces Ricky to fight Adonis before he is forced to serve prison time. 
Thanks to his roles in both "Rambo" and "Creed," McTavish has had the chance to appear on-screen opposite Sylvester Stallone's two most well-known characters.
Graham McTavish played a dwarf in The Hobbit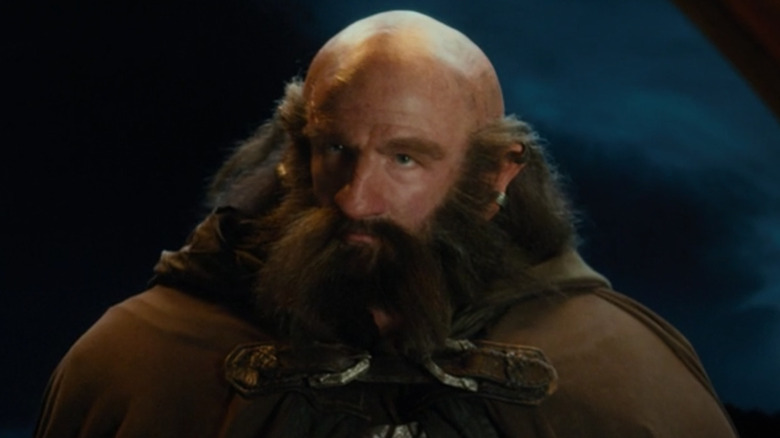 Warner Bros. Pictures
Fantasy fans are sure to recognize Graham McTavish for his work opposite Martin Freeman in the "Hobbit" film trilogy. McTavish is introduced in "The Hobbit: An Unexpected Journey" as Dwalin, one of the many dwarves in the film who hope to retake their mountain home from a villainous dragon named Smaug (Benedict Cumberbatch).
As the first dwarf to come knocking on Bilbo's door, Dwalin stands out from the rest of his fellow dwarves. With his shiny, bald head and bushy beard, he's easily recognizable and seems to be one of the older, more experienced members of the group led by Thorin Oakenshield (Richard Armitage).
Throughout the "Hobbit" trilogy's three films, Dwalin heads into several battles with his dual axes strapped to his back, and McTavish actually had a say in naming the character's two weapons. In a press event for "An Unexpected Journey," McTavish revealed (via CinemaBlend) how he was inspired by a famous British author when he was thinking about what to call Dwalin's axes. "I remember that Emily Bronte had two dogs, hounds, called Grasper and Keeper, and I'd never forgotten that," McTavish said. "I thought that they would be great names for Dwalin's axes. That he grasps your soul with one axe and keeps it with the other."
Graham McTavish was a war chieftain in Outlander
Graham McTavish plays a pivotal role in the fan-favorite Starz series, "Outlander." Although he only appeared as a recurring cast member in the drama's first two seasons, his performance as Dougal MacKenzie was memorable, to say the least. Dougal is the warlord of Clan MacKenzie, while his brother, Colum (Gary Lewis), serves as the laird of Castle Leoch and its surrounding lands.
Dougal is a fearsome leader who commands respect as soon as he enters a room. Unlike his brother, Dougal is also a fervent supporter of the Jacobite movement and will do anything for the cause, including showing off his nephew Jaime's (Sam Heughan) battle scars.
Dougal ultimately meets his end in the "Outlander" Season 2 finale after he overhears Claire (Caitriona Balfe) and Jaime plotting to kill the Jacobite prince in an effort to stop the deadly Battle of Culloden. However, while his character was killed, McTavish's time on "Outlander" wasn't over. The actor returned in Season 5 as Buck MacKenzie, the son of Dougal and Geillis Duncan (Lotte Verbeek). Buck's presence on "Outlander" was fairly limited, but there's always the chance that he (and, therefore, McTavish) could return to play a much larger role in the show's future seasons.
He starred as a killing machine in Preacher
The roles Graham McTavish tends to pick usually exude some kind of badass energy. Given his dominating screen presence and age, it's not a surprise that McTavish's characters typically end up being experienced warriors or fighters, and that's true of his character in the AMC series, "Preacher." 
Based on the comics of the same name, the show follows Jesse Custer (Dominic Cooper), a preacher with a supernatural power, who enlists the help of a vampire and his gun-slinging ex-girlfriend in his search for God. McTavish's character, the Saint of Killers, is a key antagonist in "Preacher." 
The character has a bloody history and even became known as the "Butcher of Gettysburg" for the obscene amount of kills he accrued over the course of the Civil War. When his wife and daughter became deathly sick, however, he went off to find life-saving medicine, only to be hindered by a preacher he had fought against in the war. 
The Saint of Killers was forced to walk all the way home after the preacher killed his horse, but discovered when he returned that he was too late to save his family. Desiring vengeance, he went back to the preacher with plans to kill the man. In doing so, he found himself damned to Hell and forced to relive the deaths of his family forever. McTavish's performance as the character is suitably savage, tortured, and undeniably memorable.
Graham McTavish played the first king of Atlantis in Aquaman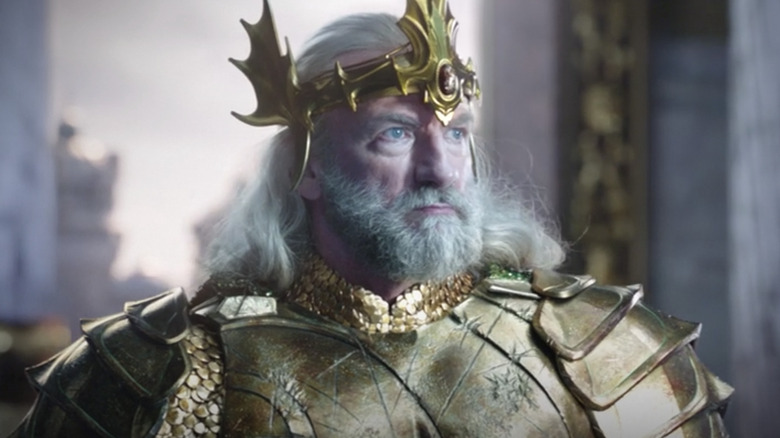 Warner Bros. Pictures
Nowadays, it seems like the superhero genre has a role for every actor, and Graham McTavish is no exception to that rule. Indeed, one of McTavish's most recent projects saw the Scottish actor venturing into the DCEU.
In 2018's "Aquaman," McTavish plays King Atlan, the first king of Atlantis, who brought all of the world's underwater people together to form one cohesive civilization. With the creation of the magical Trident of Atlan, the king also ensured prosperity for his people. When Darkseid first came to Earth, Atlan even teamed up with the Amazons and humans in a bid to stop the evil tyrant's invasion. Unfortunately, Atlan ultimately met his end after a failed experiment with the trident forced him to go into exile, which led to his eventual death. Before he died, however, he created a message that would one day lead his descendant to his trident.
Looking at his past work, it's clear that McTavish has a knack for playing memorable television and film characters. Now, thanks to his roles in "The Witcher" and HBO's upcoming "Game of Thrones" prequel series, "House of the Dragon," it seems fair to say that McTavish's list of screen credits is only going to get even more impressive in the coming years than it already is.