The Hilarious Reason Steven Spielberg Had A Bullhorn On Jurassic Park's Sets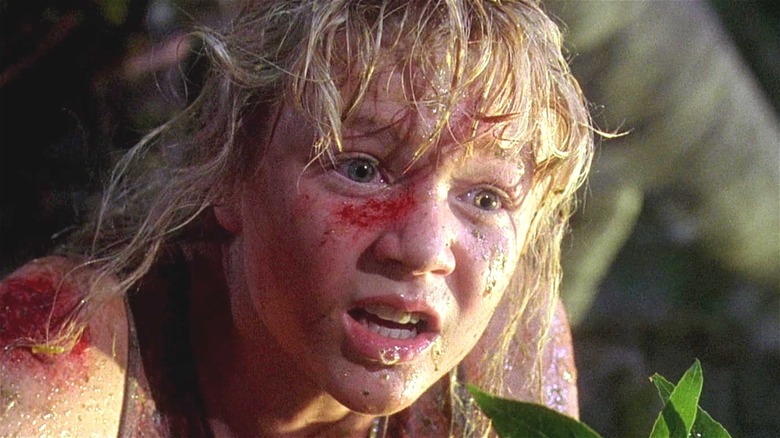 Universal Pictures
When "Jurassic Park" first hit theaters in 1993, it was like nothing the world had seen before. Based on the novel by Michael Crichton, the film answered a question that many of us have wondered before — what if dinosaurs were still around? The answer turned out to be one everyone was interested in, as "Jurassic Park" was the first film ever to top $800 million at the box office worldwide (via Forbes).
The Steven Spielberg-directed film was groundbreaking with its incredible special effects, ones that hold up even today, nearly 30 years later. However, as many actors know, especially now, acting against a green screen and CGI footage is certainly challenging. It takes significant talent to be able to respond to a terrifying dinosaur you can't even see. Luckily for Laura Dern, Jeff Goldblum, Sam Neill, and the rest of the "Jurassic Park" cast, Spielberg had a trick up his sleeve to make it a little bit easier for them.
Spielberg used his bullhorn to make dinosaurs seem more real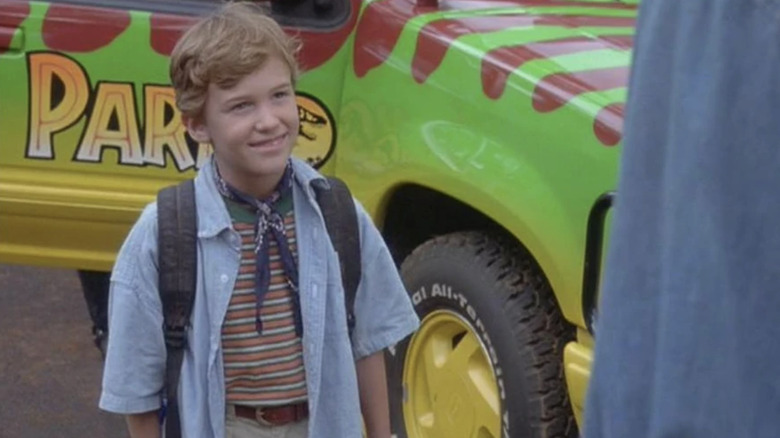 Universal Pictures
In 2013, Entertainment Weekly took a look back at "Jurassic Park" in the form of an oral history, featuring the recollections of Steven Spielberg and many others involved in the film. Joseph Mazzello was just nine years old when he starred in the classic movie. As an adult, he reflects on his time on set and shares how disappointed he was as a boy to not see any real dinosaurs. He recalls one scene in the film featuring a ferocious T. Rex, but that was far from what Mazzello really saw while filming. "What I got to look at was this wooden stick with a dinosaur head drawn at the top of it, that I think I, as a 9-year-old, could have drawn," the actor remembers. 
Spielberg used his trusty bullhorn to encourage young Mazzello, who says the director screamed into the bullhorn, "Okay, now he's eating him Joe. He's eating him now. You're looking at him. He's eating him." The director did a little more than add directions, though. As Sam Neill hilariously recalls, "Steven was holding a bullhorn and roaring in a not very convincing way. It's difficult enough acting to a tennis ball, but it's even harder when you're trying not to laugh." The director's methods for encouraging his actors may have been a little unusual, but it worked. "Jurassic Park" is one of the most famous films of all time, and much of that is thanks to the enormous directorial talent of Spielberg himself.