Tim McGraw Reveals The Most Challenging Thing About Filming Yellowstone's 1883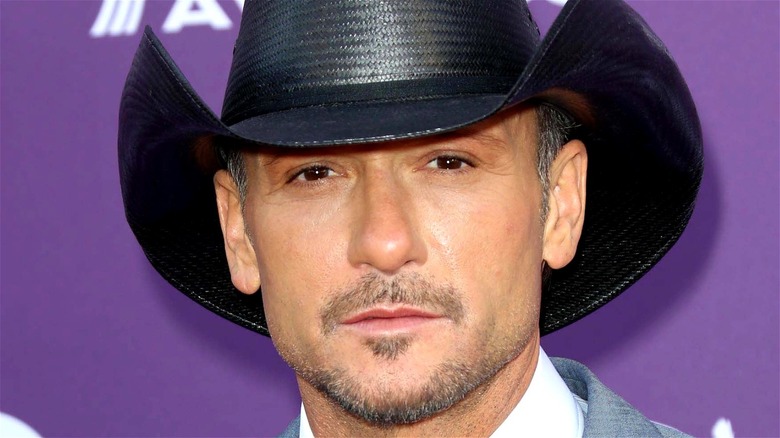 S. Bukley/Shutterstock
Fans of "Yellowstone" are understandably excited about the show's upcoming prequel series, "1883," which premieres on Paramount+ on December 19. The show is intended to serve as a kind of origin story for the same Dutton dynasty that's at the center of "Yellowstone," and will focus on the journey to Montana that was made by James (Tim McGraw) and Margaret Dutton (Faith Hill), the grandparents of John Dutton (Kevin Costner). In addition to McGraw and Hill, the show's cast also features Sam Elliott, Billy Bob Thornton, Isabel May, LaMonica Garrett, Marc Rissmann, and several others.
Obviously, it makes sense that a show set in the Old West — specifically, the year 1883 — might make for an even grittier and harsher viewing experience than "Yellowstone." However, it turns out that was also the case while filming the series. Indeed, in a recent interview about "1883," McGraw revealed what the hardest part was about shooting the show, and why it was a necessary inconvenience if the series' crew were going to believably capture its time period and setting.
The 1883 cast faced some real challenges during filming
In an interview with USA Today, Tim McGraw and Faith Hill discussed "1883," and revealed the single thing they found the most difficult about filming the show. "The elements were the most challenging thing," McGraw said. "It was either super hot or super cold. But it's also another character in the show — the vistas, the scenery. Being in the elements on horseback and doing the things we've been able to do has been special."
"We have been in some extreme heat, girl. And then the layers and layers of clothing. And then going to Montana with the freezing cold and the wind was insane. And then coming back to the panhandle of Texas and dealing with the same type of wind as Montana. Sometimes we had to pause for safety reasons. It's not glamorous at all," Hill added.
Of course, it's easy to see why shooting a Western TV series would force its stars to truly tangle with the elements, so it's no surprise that some extreme weather conditions turned out to be the most challenging aspect of the "1883" production. Fortunately, viewers will soon get to see for themselves what the end result is of all the hard work that was put into "1883" by Hill, McGraw, and everyone else involved in the series.