1883's LaMonica Garrett Confirms What We Suspected All Along About Sam Elliott's On-Set Behavior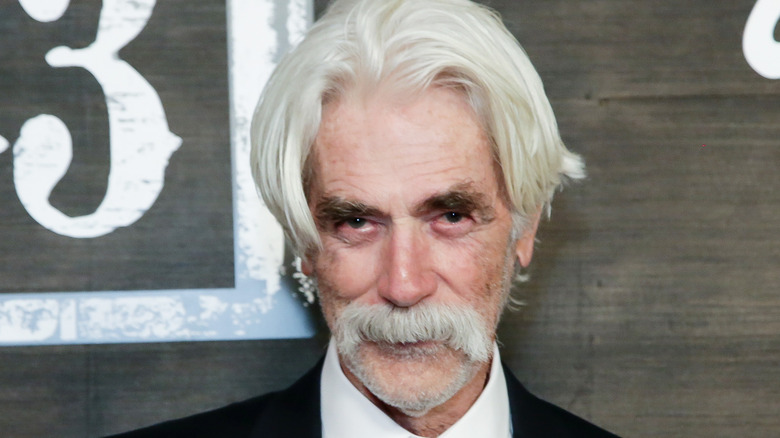 Greg Doherty
As Paramount Network's wildly popular series "Yellowstone" continues to gain momentum and crush it in the ratings, sister streaming service Paramount+ is set to premiere a prequel, "1883," on December 19.
Boasting an impressive cast — including Sam Elliott, Tim McGraw, Faith Hill, Isabel May, and LaMonica Garrett — "1883" is the origin story of "Yellowstone," including how the Dutton family acquired the largest cattle ranch in the United States. It's a tale that follows the 19th-century Duttons as they travel west on a wagon train through harsh environmental conditions, encountering hostile enemies at every turn. 
Fans of the original "Yellowstone" series have been clamoring for more screen time in the 1800s ever since the Season 4 premiere of "Yellowstone" featured a brief glimpse of James Dutton (Tim McGraw) negotiating with a tribe of Native Americans. While plenty of country music fans are probably excited to learn more about the patriarch and the matriarch of the Dutton family as portrayed by McGraw and Hill, the two county music stars are far from the only recognizable faces in the upcoming series.
Leading the pack is Elliott as hardened cowboy Shea Brennan, who never rides without his trusted partner, Thomas (Garrett). The two have formed a strong bond, both onscreen and off. What's it really like working alongside a living legend like Elliott? During a recent roundtable interview that included Looper, Garrett confirmed what we suspected all along about the seasoned "1883" star.
Sam Elliott is 'inspiring' to watch on the set of 1883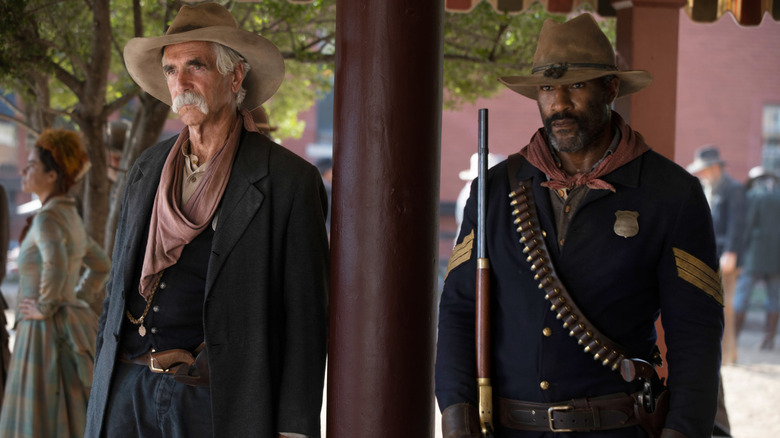 Emerson Miller/Paramount+
"Sam's a great dude," admits Garrett of his "1883" co-star. "He embraced me from the first time that we met, and he calms the nerves of everyone that he comes in contact with."
Garrett points to Elliott's "steadiness and work ethic" as part of what makes "1883" must-see-TV. "He's the first one there, and the last one to leave," says Garrett, who has previously appeared on "Sons of Anarchy," "Designated Survivor," and as Mar Novu/Monitor and Anti-Monitor in the CW's Arrowverse. "He's inspiring to watch. He's a great person and a great actor."
Even fellow actors like Garrett get starstruck on set sometimes by just being in the presence of Elliott, who has previously starred in such Westerns as "The Quick and the Dead," "Tombstone," and "Justified," among others.
"Sometimes I have to remember that we are working together because I get caught up in watching him while I'm in a scene with him," admits Garrett. "Like, there is a scene coming up in episode three of '1883' where he gun-butts one of the immigrants. I had the next line, and there was some action that was about to happen, and I caught myself looking at him like, 'Wow, that's how Virgil gun-butted Ike in 'Tombstone.'" It was the same motion, and I was like, 'Snap back into reality! It's time to work right now.' So, it's been amazing working with Sam."
And what does Elliott think of Garrett?
Sam Elliott 'loves working with' LaMonica Garrett
Everything seems to indicate that Garrett's strong feelings of admiration for Elliott are entirely mutual. In a recent interview, Elliott also praises his co-star and on-screen partner. In fact, Elliott has only good things to say about the process of developing the bond between the two characters. "It feels totally natural to me," Elliott says, referring to his and Garrett's characters as "brothers in arms." 
The "Road House" star also notes that he thinks Thomas and Shea's close friendship could have potentially been more difficult to sell, given the racial politics of the time period in which the series is set. "It speaks volumes about both of these characters that are traveling with him. A guy from a totally different race in a period of time when you would think that, 'I don't know about that. I'm not sure I believe that,'" Elliott says. "But that relationship ... LaMonica's one of my favorite elements of this entire thing."
When asked about the working relationship between the two actors, Elliott says he thinks Garrett's performance is serving the character well.
"When I get with LaMonica and I look at those eyes and I look at that mass that is underneath that hat of his and listen to that voice, he's rock solid." Elliot says. "He's always rock solid in every bit of this stuff. I just love working with the man."
"1883" will debut its premiere episode on The Paramount Network and Paramount+ on December 19. After the first episode is released, however, Paramount+ will become the exclusive home of "1883."