Cumberbatch's Outfit At The No Way Home Premiere Caused A Stir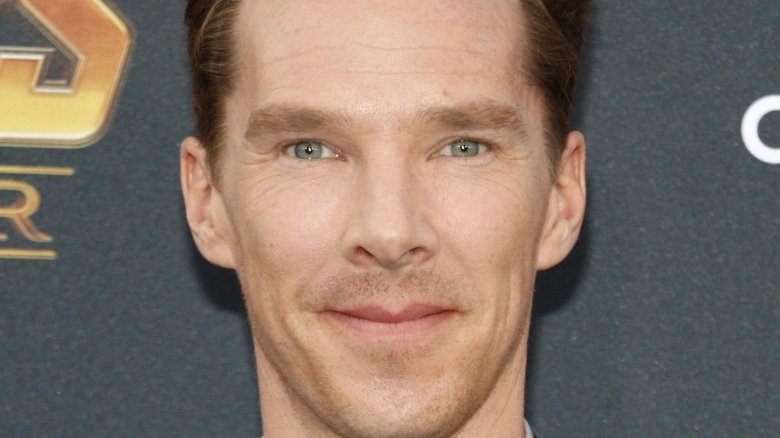 Tinseltown/Shutterstock
The cast of "Spider-Man: No Way Home" was out in full force on Monday, December 13, for the movie's premiere in Los Angeles, and as usual, all eyes were on Tom Holland and Zendaya (via People). But there was also another "No Way Home" star who was managing to turn heads on social media, though, for very different reasons.
Doctor Strange actor Benedict Cumberbatch surprisingly became the talk of Twitter Monday night, following his stroll down the "No Way Home" red carpet. Cumberbatch's Master of the Mystic Arts is set to embark on a multiversal journey with Holland's Peter Parker in the upcoming MCU film, which is set to debut in theaters on December 17. 
Coming off the death of Tony Stark (Robert Downey Jr.), Cumberbatch's Strange is set to serve as a new on-screen mentor of sorts to Holland's Parker in "No Way Home." With that in mind, it seems only right that he start dressing like Downey Jr.'s fallen Avenger. At least, when Cumberbatch showed up on Monday to the L.A. premiere of "No Way Home," the "Infinity War" and "Endgame" star was sporting a different, but all-too-familiar look that had many fans feeling a little — you guessed it — strange. We know we've seen this style of glasses at some point in the past, but can you recognize where you've seen them in the history of the Marvel Cinematic Universe before?
Marvel fans roasted Benedict Cumberbatch for dressing like Tony Stark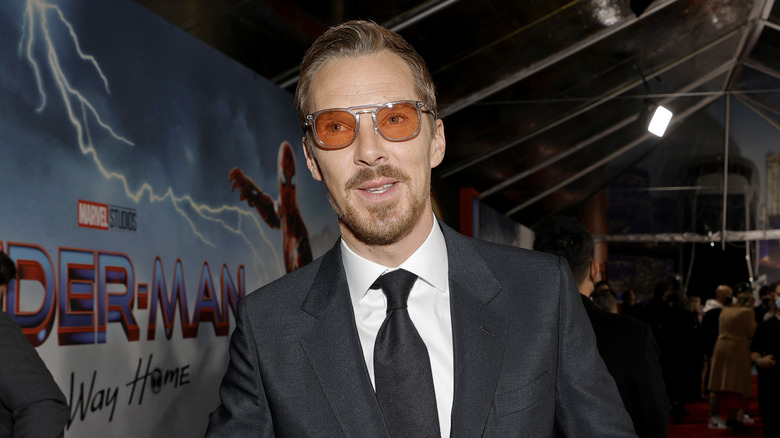 Amy Sussman/Getty Images
For the "Spider-Man: No Way Home" premiere, Benedict Cumberbatch decided to don a stylish black suit and some orange-tinted shades that looked like they'd been pulled straight out of Tony Stark's closet. Indeed, Cumberbatch's thick glasses are a different color, but they also undeniably look a great deal like the set of spectacles worn by Iron Man in the last two "Avengers" film. Those glasses were eventually inherited by Peter Parker in "Spider-Man: Far From Home," but Cumberbatch would seem to have gotten his hands on a slightly different set.
Marvel fans, predictably, took to social media to share their reactions to the "No Way Home" star's Tony Stark-esque look. 
"I know they said Strange would act as the 'Iron Man' of this next chapter in the MCU, but he looks like he's doing Tony Stark cosplay," joked Twitter user @CAP10AMERICA. "Like I'm sorry are you dr. strange or tony stark lmao identity crisis," added @galaxycadet, while @Amadeuscmon tweeted, "Everyone just wants to rock that RDJ look." 
A video posted online by Marvel shows Cumberbatch fielding questions from reporters and looking suave at the "No Way Home" premiere. While many people poked fun at his look too, some fans really liked it. For instance, @Cheekierbobcat wrote, "Man, Cumberbatch is really rocking that Tony Stark look," and @TWalkerVA similarly tweeted, "Stephen 'drip' Strange." 
Tony Stark's glasses are more important than most, but Cumberbatch's glasses serve an even greater purpose
In "Spider-Man: No Way Home," Stark's glasses take on the biggest plot importance of any set of glasses in film since the 2004 release of "National Treasure," in which Benjamin Franklin's glasses help reveal the secret location of a centuries' old treasure worth millions of dollars. 
Peter is initially happy to have something to remember his fallen mentor by, but is also completely ignorant of the power of the glasses. The glasses are inhabited by an A.I. known as E.D.I.T.H., which grants him complete control over the various weapons systems of Stark Industries. In an amusing scene on a bus, Peter discreetly uses the glasses in an attempt to hack a classmate's cell phone to delete a picture of himself. However, in the process of testing out the glasses, Peter nearly winds up killing everyone on the bus. Thankfully, his "Spidey Sense" (or as Aunt May (Maria Tomei) calls it, "Peter Tingle") alerts him to the danger and he is able to avert the crisis with none of his classmates any the wiser. Later, the glasses become even more important when Peter unwittingly hands them over to one of his greatest enemies. 
However, Cumberbatch's sunglasses probably have an even more important, real-life application. "I'm not trying to be Bono," Cumberbatch jokingly told NME in a recent interview. "I have [eye problems] in my family. So you can't be too careful." Though Cumberbatch sported a blue-tinted pair of sunglasses during his interview with NME, we have to wonder if his Tony Stark-ish glasses are a second prescription that he found especially appropriate for the night, given Strange's new role in the MCU as a mentor to Peter.
"Spider-Man: No Way Home" was released in theaters throughout the United States on Friday, December 17.