Here's Where You Can Watch Every Christmas-Themed Episode Of The Office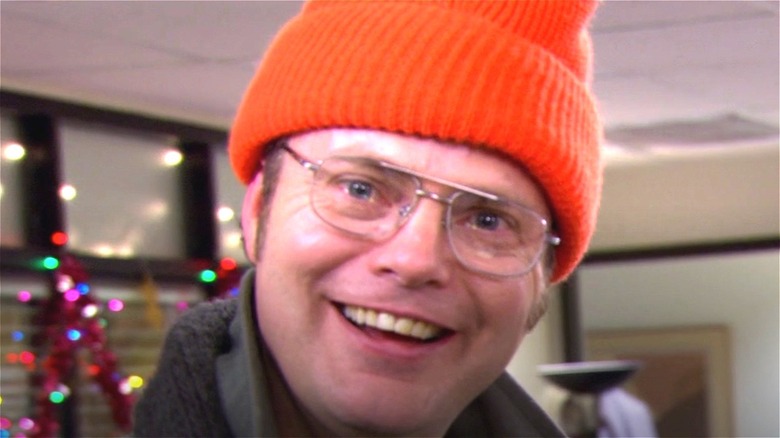 NBC/Peacock
The American version of "The Office" still holds up as one of the best sitcoms of the 21st century so far (via The New York Times). The show's signature blend of mockumentary-style cringe-humor combined with an underlying sweetness makes the show well worth multiple viewings – even if some individual episodes might be too cringey to watch more than once.
"The Office" was also known for its many holiday-themed episodes. Over its 9 seasons, some of the best of its 201 episodes were the ones centered around the holiday season. Something about the festive holiday season always brought out the worst in the Dunder-Mifflin Scranton gang. With the holidays coming up, it's a perfect time for a holiday-themed "Office" playlist.
The first-ever Christmas episode, Season 2's "Christmas Party," featured everything from Dwight (Rainn Wilson) in elf ears to a bitter game of Yankee Swap over an iPad. The follow-up, Season 3's two-parter "A Benihana Christmas," was even better, with Dwight, Jim (John Krasinski), and Andy (Ed Helms) cheering up Michael (Steve Carrell) after a breakup by getting him day-drunk at a hibachi restaurant. The rest of the list is full of gems, like "Moroccan Christmas," "Secret Santa," "Classy Christmas," "Christmas Wishes," and "Dwight Christmas." 
If you're feeling like a Christmas-themed rewatch of "The Office," here's all the info you need.
The playlist for your Christmas-themed cringe, Office-style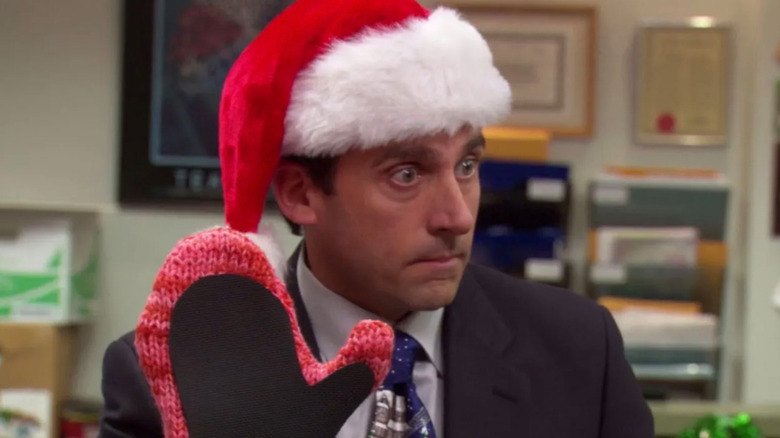 NBC
Since the American version of "The Office" left Netflix on January 1, 2021 (via Decider), the only streaming platform where it's available with a subscription is Peacock, NBC's own streaming platform. As of December 2021, the first five seasons of "The Office" can be viewed for free on Peacock with ads, if you sign up for an account. With a Peacock Plus or Premium Plus account, you'll get access to all 201 episodes. 
Otherwise, you can purchase either individual episodes or entire seasons on a variety of streaming platform. As of December 2021, single episodes of "The Office" are available for $1.99 on Amazon Prime, Vudu, YouTube, Apple TV, and Google Play.
However you watch, these are Christmas episodes you'll need to get your binge going: 
"Christmas Party" – Season 2, episode 10
"A Benihana Christmas" – Season 3, episodes 11 and 12
"Moroccan Christmas" – Season 5, episode 11
"Secret Santa" – Season 6, episode 13
"Classy Christmas" – Season 7, episodes 11 and 12
Christmas Wishes" – Season 8, episode 10
"Dwight Christmas" – Season 9, episode 9