Steve Carell's Best TV And Movie Roles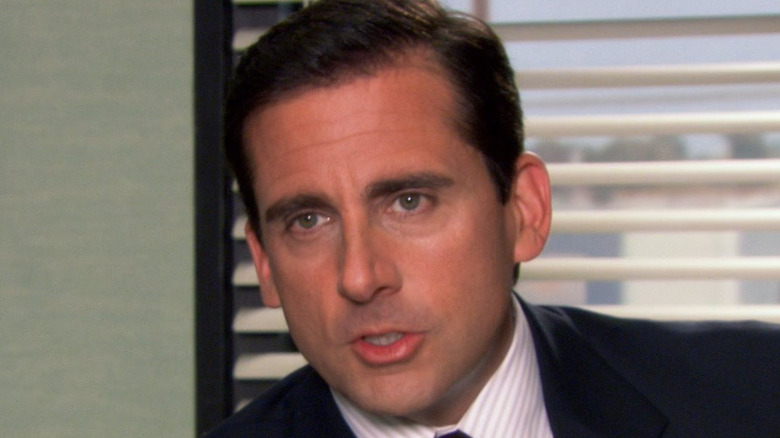 NBC
Steve Carell became known as a comedic genius in the mid-2000s, entertaining us with hilarious and insanely funny performances for years. He perfected an awkward type of humor that stood out and turned a sitcom into one of the most popular, beloved, and celebrated TV shows of all time. For a decade, he was typecast for his excellent comedic abilities. Yet his talent went way beyond just being the embarrassing, funny guy character in movies and television shows.
When it came to serious, dramatic roles, Carell proved on almost every occasion that he's capable of delivering sensitive and delicate performances with a wide range. It has taken him a while to get out of the comedic bubble Hollywood put him in, yet the recognition clearly speak for itself. In 2015, he was nominated for an Academy Award for best performance in a leading role, and in 2020, he was nominated for an Emmy as an Outstanding Lead Actor in a drama series. While he never entirely abandoned his comedy roots, he began to play more complex and nuanced characters in the last decade or so with great success.
The following list includes his greatest roles on the small and big screen in his fruitful acting career.
Michael Scott (The Office)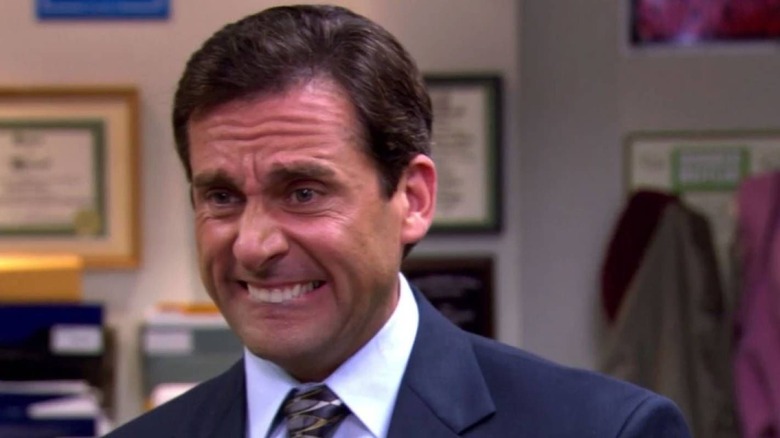 NBC
These days, it's perfectly accurate to say that Michael Scott is a pop culture icon. But make no mistake, there's no Michael Scott without Steve Carell. The regional manager of paper company Dunder Mifflin's Scranton Branch is Carell's most recognizable role. During the  nine-year-long run of "The Office," Carell played the lead for seven years. His departure is still considered to be one of the main reasons for the big quality drop that occurred in the eight season of the series — proving that he's undoubtedly an irreplaceable performer.
The show — which is based on Ricky Gervais' British series of the same name — is a workplace mockumentary. It's shot without an audience or a laugh track to resemble the look of an actual documentary. This setup, tone, and style proved to be an apt environment for Carell to shape his immensely cringey humor to perfection.
Michael Scott is an insufferable and painfully ignorant character with a big heart. He always says the worst and most offensive things possible, yet somehow, Carell manages to keep him strangely likable despite his tremendous need for affection. Without his delicate, hilarious, and heartfelt portrayal, "The Office" wouldn't be called one of the 100 greatest television shows of all time.
Evan Baxter (Bruce Almighty)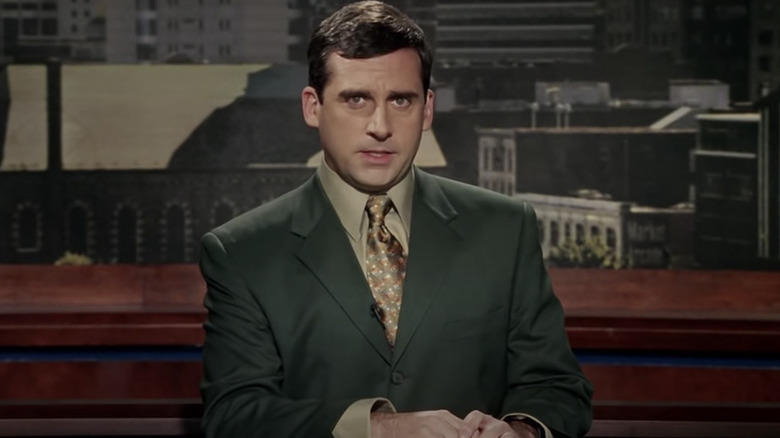 Universal Pictures
In Tom Shadyac's 2003 comedy, "Bruce Almighty," Steve Carell plays a news anchorman named Evan, the rival to Jim Carrey's titular character. In a movie where Carrey literally gets to play God, you better make sure to bring your best.
Although Carell doesn't have much screen time, he delivers some totally hysterical and memorable moments. Who could forget about the outrageously funny scene where he's reading the news and starts talking total gibberish like "The prime minister of Sweden visited Washington today and my tiny little nipples went to France"? His performance as a smug anchorman who gets ridiculed before the television crew is hilarious. It's not easy to stand toe-to-toe with Carrey's comedic genius, but he gets as close to it as possible. His talents clearly elevated the film, which became a huge box office success and grossed $85.9 million on its opening weekend and later made over $484 million worldwide.
Trent (The Way Way Back)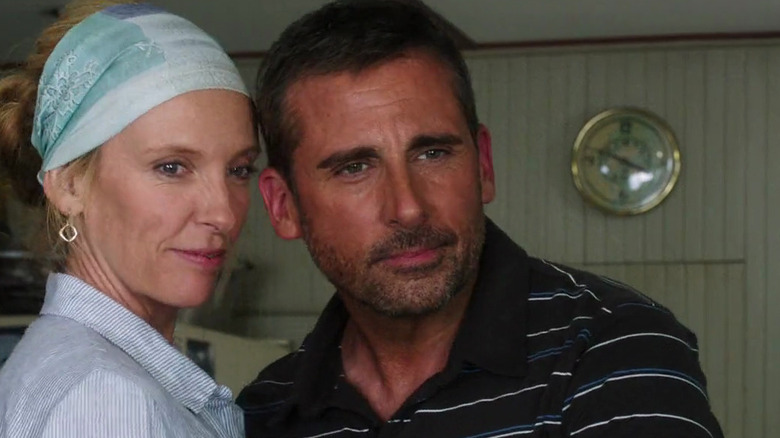 Fox Searchlight Pictures
2013's dramedy, "The Way Way Back," features one of those few examples where Carell plays a malicious and completely unlikable character. The film is about a shy 14-year-old kid, Duncan (Liam James), who goes on a summer vacation with his mother (Toni Collette), her boyfriend Trent (Steve Carell), and her boyfriend's daughter (Zoe Levin).
Undoubtedly, Trent is the villain of the story — as much as someone can be one in a lighthearted coming-of-age feature. He's arrogant, overbearing, and takes every chance he gets to humiliate Duncan. Despite Carell's generally innocent look, he comes off here as intimidating and unnerving. He plays Trent as someone who'd been bullied as a child, and now, as an adult, he turned into the bully himself. He uses his authority over Duncan and his daughter to exercise his power, which makes him feel like the alpha in the house. But when it comes to being a man and standing up against an adult, Trent retreats almost immediately — showing that he's nothing but a coward, really.
Trent is not a positive character in the slightest. But Carell nails it with spot-on execution, proving that he can tap into a darker side. 
David Sheff (Beautiful Boy)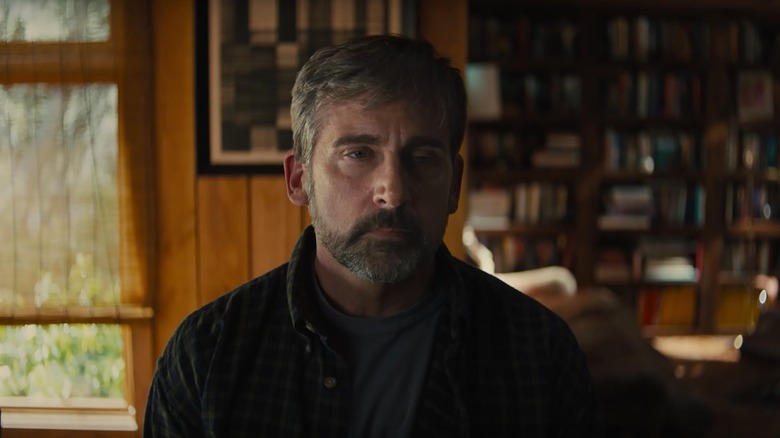 Amazon Studios
In Amazon Studios' 2018 drama, "Beautiful Boy," Steve Carell delivers his most poignant and heartbreaking performance. He plays the father of a young man, Nic (Timothée Chalamet), who struggles with severe drug addiction. Based on the memoirs of David and Nic Sheff, the movie portrays the lows of Nic's battle with drugs and how his dad tries to help and save him from the worst of it. Felix van Groeningen's film isn't an easy watch.
Carell's often restrained, soft, and calm delivery isn't what we are used to seeing from him. Even during his loudest moments and ugliest fights with his attention-seeking son, he never gets emotionally tumultuous. In fact, some of the best scenes are ones where he barely has any lines. He lets his eyes and facial expressions convey his overflowing emotions — and his fear, worry, helplessness, and desperation seep through his every pore.
Timothée Chalamet was nominated for numerous awards for his role in "Beautiful Boy." However, Carell's performance deserved just as much recognition, if not more. Regardless, the depiction of David Sheff is easily in the top five of his best roles.
Uncle Frank (Little Miss Sunshine)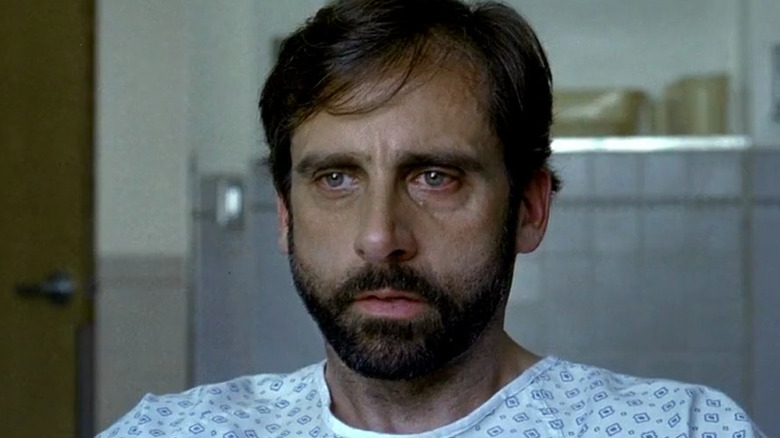 Fox Searchlight Pictures
Fox Searchlight Pictures' 2006 feature, "Little Miss Sunshine," was one of the best dark comedies of that year. Jonathan Dayton and Valerie Faris' movie is about a dysfunctional family taking their young daughter across the country to get her into the finals of a beauty pageant contest.
Carell plays Uncle Frank — a scholar of Proust and the black sheep of the family — who attempts suicide due to a love affair he's had with one of his students. His excellent deadpan delivery fits right in, yet his dramatic skills also emphasize and address his character's mental health issues. He's witty when the script requires it but is also the considerate uncle, showing support to his family when they need it the most. There's a scene towards the end when Frank becomes a sort of inspiration to his nephew, Dwayne (Paul Dano). That sequence is a prime moment for Carell, in which he combines humor with a delicate emotional delivery. He shows us that he is a multitalented actor capable of walking a fine line between funny and profound at any time.
Alongside the rest of the cast, his performance was highly praised by critics and audiences for a reason. It's no surprise the film turned out to be a huge box office triumph — earning $101 million worldwide and winning two Academy Awards. What's more, the movie only got better with age, and it remains a heartwarming and entertaining tragicomedy that can make us feel a little brighter even on our darkest days.
Mark Hogancamp (Welcome to Marwen)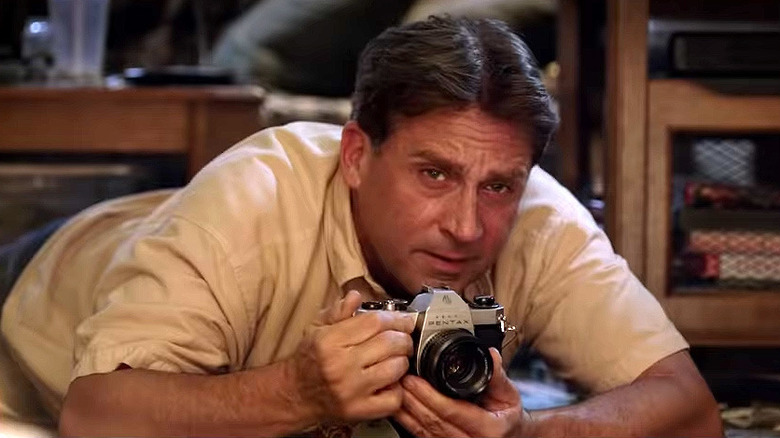 Universal Pictures
Robert Zemeckis's "Welcome to Marwen" bombed hard at the box office in 2018. Most critics dragged it through the mud, and it wasn't particularly favorable among audiences either. Yet, it's still on this list for a reason. The film follows the true story of Mark Hogancamp (Steve Carell), who suffers from PTSD and memory loss after being physically assaulted by a group of white supremacists. To cope with such trauma, Hogancamp built a miniature town in his own garden, where he reimagined the atrocities of war with dolls and action figures.
While the movie failed to do justice for Hogancamp's incredible real-life story, Carell delivered a nuanced portrayal. His Hogancamp in the film is clearly damaged, traumatized, and lost in the world. But in his imagination, he's funny, empathetic, and most importantly, in control of everything. Carell's vulnerable representation of Hogancamp adds a certain depth to the tragic events — even in places where the screenplay and the animations fail to do so. For these reasons, if for nothing else, this role deserves to be mentioned among his best performances.
Andy (The 40-Year-Old Virgin)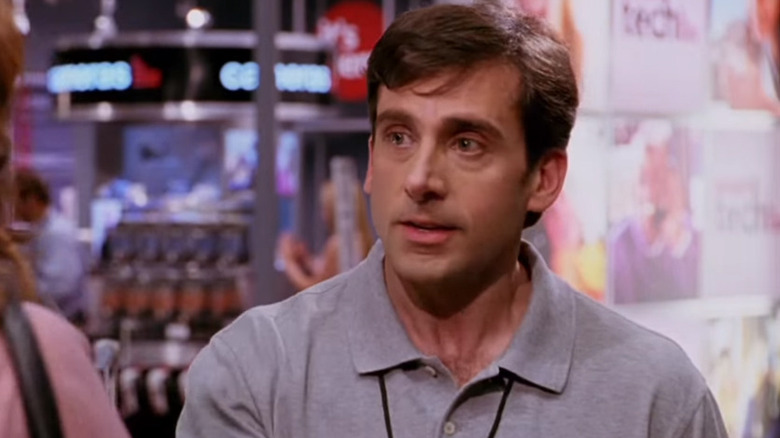 Universal Pictures
"The 40-Year-Old Virgin," the first feature directed by Judd Apatow, was made for men by men. Despite its many romantic subplots, his movie is more about friendship among men than finding true love. The premise is simple yet effective: Andy (Steve Carell) is a 40-year-old man working at an electronics store. He's got a big secret — he never had sex before. When three male colleagues of his learn this information during a poker game, they become determined to help Andy lose his virginity. This act of help turns into a sort of mission for them, which eventually unites the four, and they develop a genuine bond.
Apatow told Yahoo! that he decided to cast Carell after watching 2004's "Anchorman: The Legend of Ron Burgundy." The two even wrote the screenplay together. Along with his performance as Michael Scott in "The Office," Andy has become one of Carell's defining roles over the years. It's easy to see why: While he portrays the character as a shy and socially awkward middle-aged man, he also opens up about his insecurities and fears towards women. He makes Andy relatable and hilarious as he navigates through the deep waters of dating, hooking up, and eventually, a relationship.
It's no wonder "The 40-Year-Old Virgin" blew up the box office — it grossed $177 million worldwide — and was considered one of the best comedies of 2005. It hit the right notes with a stellar cast and a well-crafted script.
Brick Tamland (Anchorman: The Legend of Ron Burgundy)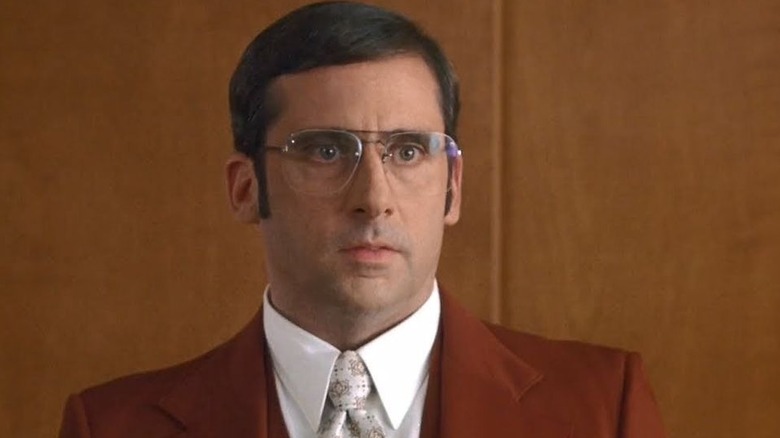 Dreamworks Pictures
Adam McKay's directorial debut, "Anchorman: The Legend of Ron Burgundy," is often mentioned as one of the best comedies of the 21st century. Among its many appealing parts — an all-star cast, witty script, and a smooth direction — the strongest one is its absolute bonkers humor. It's hard to find another comedy in the mid-2000s as widely quotable as "Anchorman." And a lot of those quotes come straight from the craziest person in the film, the weatherman Brick Tamland (Steve Carell).
Brick perhaps is the most over-the-top character Carell has ever played. He's criminally dumb, non-sense, and outrageously awkward at the same time. Sometimes he just loves things that he sees — a carpet, desk, and especially, a lamp (!) — and says them out loud. In small doses, he's a lovable goofball who has a tremendous fondness for his friend anchorman, Ron Burgundy (Will Ferrell). Thanks to Carell's comedic charisma, the character became one of those pop culture figures we can never forget. Undoubtedly, it's one of his most amusing roles ever.
Bobby Riggs (Battle of the Sexes)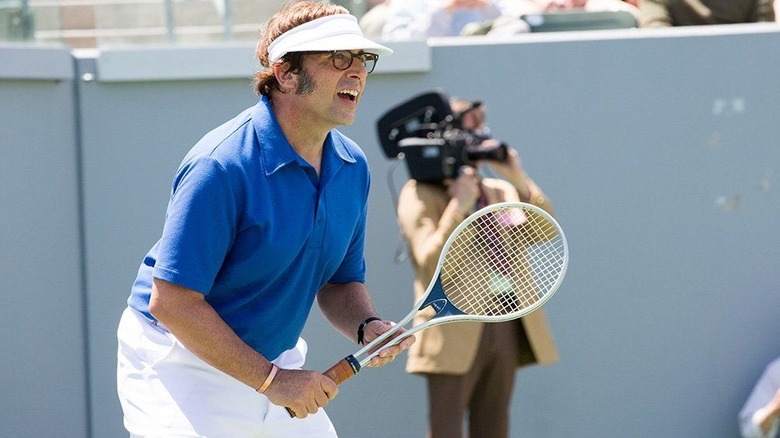 Fox Searchlight Pictures
2017's dramedy, "Battle of the Sexes," came from the same directors who brought us "Little Miss Sunshine" eleven years earlier. However, this time the success didn't follow as before. The movie flopped at the box office — it made $18 million on a $25 million budget. Nevertheless, the film pleased most critics, and the reception from viewers has been rather positive as well. The main reason for this is the two lead performances by Emma Stone and Steve Carell — who both received a Golden Globe nomination for playing the parts.
The movie takes place in the 70s and tells the true story of the then-World number one female tennis player Billie Jean King and former champion Bobby Riggs. Riggs is a male-chauvinist whose marriage is declining due to his struggle with gambling addiction. To solve his issues, he comes up with an idea to challenge King in a tennis match. After Riggs defeats former World number one Margaret Court, King agrees to play him, and the match's outcome changes the future of women's tennis forever.
Carell portrays Riggs as an insufferable egoistical jerk who looks down on women in and out of the court. Once again, his acting expertise proves that he can deliver a layered performance, representing an unlikeable and contemptuous figure like Riggs.
Larry 'Doc' Shepherd (Last Flag Flying)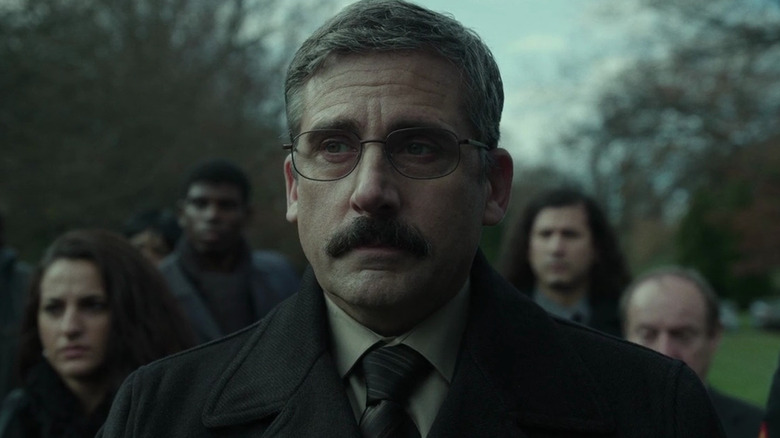 Amazon Studios
Outside "Beautiful Boy," Carell delivers his quietest and most emotional performance in Richard Linklater's 2017 drama, "Last Flag Flying." He plays a former Marine who tracks down two of his friends who served with him in Vietnam. Once they're all together, Larry reveals that his son has previously joined the corps and was recently killed in Iraq. He asks Sal (Bryan Cranston) and Richard (Laurence Fishburne) to accompany him to collect his son's body and take him to his scheduled burial.
As Larry, Carell employs a simple yet earnest and honorable approach to play the character. His emotions are written all over his face — he can't hide how devastated he feels by this heart-wrenching loss. Being aware of his own vulnerability, he never tries to toughen it out by himself. Thus he seeks the company of two men who once shared a close bond and camaraderie with him.
As Carell revealed in a Coming Soon featurette about his character, "these other two guys [Sal and Richard], these buddies of his, are Marines. He was sort of the little brother, but they kind of took him under their wing." He also added, "Their history and the war, and all of these tragic, traumatic events they went through are really a backdrop to show the interdependencies between them." Considering such a cast, a legendary director, and a strong script, it's no wonder why Larry 'Doc' Shepherd became one of his best performances.
John E. du Pont (Foxcatcher)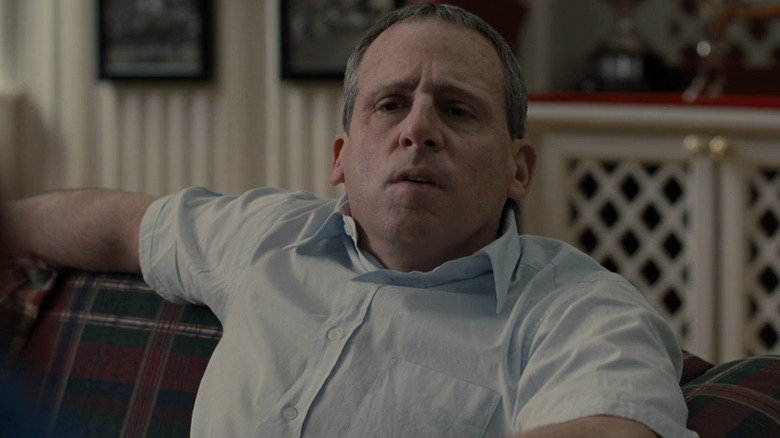 Sony Pictures Classics
Bennett Miller's 2014 drama, "Foxcatcher," is loosely based on the events that occurred in the late 80s surrounding the philanthropist, wrestling enthusiast, and convicted murderer John E. du Pont. The movie depicts the stormy relationships between du Pont (Steve Carell) and two Olympic gold medalist wrestlers and brothers, Mark (Channing Tatum) and David Schultz (Mark Ruffalo).
Arguably, this is the most ambitious and transformative role Carell had ever taken on in his career. In the film, he wears a prosthetic nose and heavy makeup to resemble the real-life du Pont. But that's nothing compared to the eerie vibe and the frightening atmosphere he's able to create while playing him. He comes off as a cold lunatic — overbearing and intensely intimidating. His portrayal captures a delusional and deeply traumatized man, one who was eventually diagnosed with paranoid schizophrenia.
Carell's efforts resulted in an Academy Award and Golden Globe nomination for Best Performance by an Actor in a Leading role. Critic Tom McCarthy of The Hollywood Reporter said that this performance was an absolute career-changing dramatic turn for Carell — which is hard to argue against.
Mitch Kessler (The Morning Show)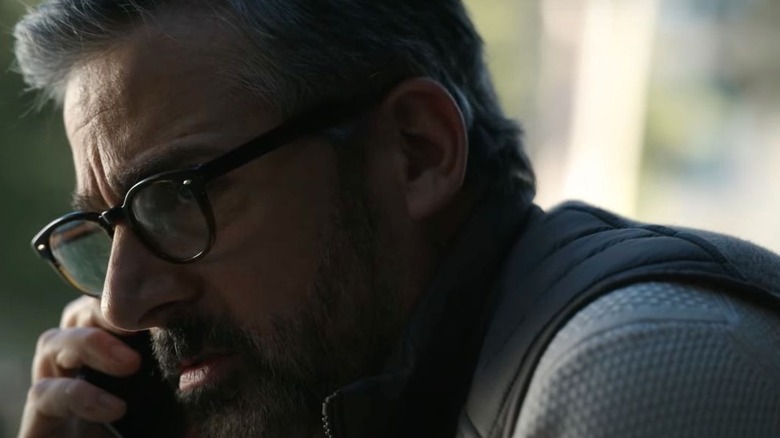 AppleTV+
Steve Carell also stars in AppleTV+'s drama, "The Morning Show." The show — inspired by Brian Stelter's non-fiction book, "Top of the Morning: Inside the Cutthroat World of Morning TV" — is about a widely popular morning news program and the crew behind it. Carell stars as Mitch Kessler, one of the star anchors, who gets fired due to sexual misconduct allegations. The series provides a thorough look behind the scenes and portrays a patriarchal hierarchy in a major television company and its many mistreatments.
His role is an essential part of the story, which aims to deconstruct and analyze the Me Too movement from an insider perspective. Kessler is a privileged celebrity who abuses his powers over the female staff and gets away with it for too long. He's full of smiles and jokes in front of the camera, yet behind the scenes, he's a masterful manipulator with a personal life that slowly falls apart because of his selfish actions.
Carell perfectly conveys the character's absolute power, and he delivers a performance that impresses and disgusts viewers at the same time. He makes Kessler feel human — despite the horrendous things he committed against women. It's a complex and crucial role in how fame corrupts and exploits the people in the media. In 2020, Carell was nominated for a Primetime Emmy Award as an Outstanding Lead Actor in a Drama Series for the role.