A Surprising Character Return On Blue Bloods Might Mean Romance For Frank Reagan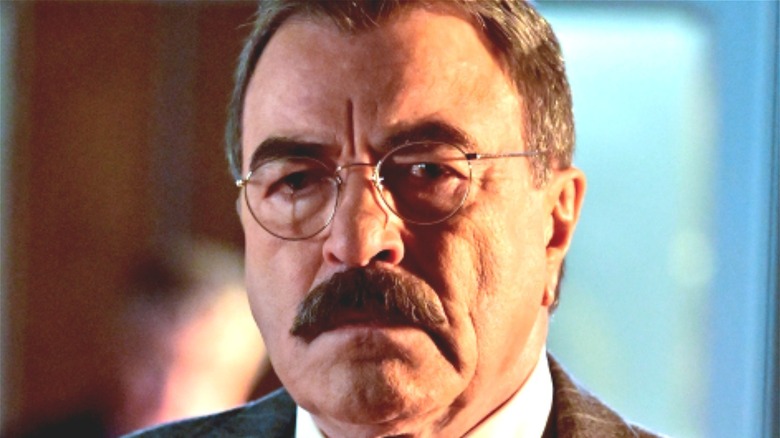 CBS
On "Blue Bloods," Reagan family patriarch Frank (Tom Selleck) famously doesn't have much of a personal life, always putting his job as NYPD Commissioner and his role as a father first. The last time Frank was involved with anyone was when he was married to his wife and the mother of his four children, Mary Margaret. She died in 2005, before the "Blue Bloods" timeline takes place.
Naturally, Frank's single status leads to speculation among the fans that he might eventually move on from Mary Margaret's death and start dating someone new. Several candidates for Frank's love interest have emerged over the show's run. There's Grace Edwards (Lori Loughlin), who appeared in the Season 7 premiere – she's the widow of a police officer killed in the line of duty, who wanted Frank to discourage her son from joining the force. Another candidate is Kelly Peterson (Bebe Neuwirth), the NYPD's inspector general who gets under Frank's skin.
For his part, Tom Selleck has been asked repeatedly about whether he thinks Frank should have a new love interest, and he's not interested. In Grace's case, Frank would never date the wife of a fallen friend. More generally, Selleck sees Frank as a "lone man," an archetype in crime and detective fiction who's fated to always be, well, alone (via Outsider).
Despite what Selleck thinks, some "Blue Blood" fans are going to wish that Frank would get with someone new already, (for the record, so do Frank's kids). One recurring character in particular tends to inspire these discussions. Since she just popped up on the show, that's led fans to wonder if she and Frank might get together. 
Frank Reagan and Sloane Thompson have undeniable chemistry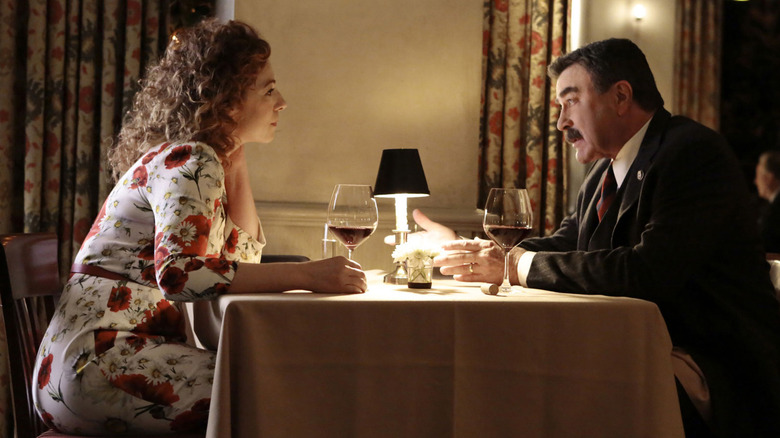 CBS
It's Sloane Thompson (Alex Kingston), former commander of the City of London Police. She just appeared on Season 12 episode 9, which is titled "Firewall" and aired on December 10, 2021.
Frank and Sloane have some history together. Sloane first appeared in the 17th episode of Season 6, "Friends in Need," which aired in 2016. In that episode, Sloane traveled to New York City to study the NYPD's tactics. The two clearly had some level of attraction for each other, but Frank bristled when Sloane tried to get too close to him.
In "Firewall," the shoe was on the other foot. This time around, the NYPD brought in Sloane to assist with a cyber crime investigation, and Frank dug into her past and the reason why she left the London PD. She caught him, and he had to apologize.
Now that Frank's and Sloane's cards are all on the table, it's possible that some kind of romance might blossom. On the other hand, it's difficult to imagine the career-focused Frank making room in his life for a new lover, especially one who lives across the Atlantic. Still, anything can happen, and a love interest for Frank would make a lot of fans happy.