The CSI Mistake That Fans Couldn't Help But Spot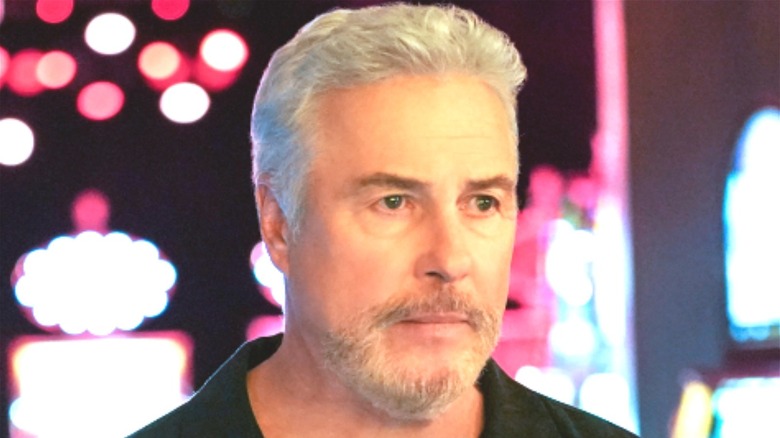 Sonja Flemming/CBS
The CBS drama "CSI: Crime Scene Investigation" is one of the most successful and acclaimed police procedurals of the 21st century. Originally airing between 2000 and 2015, the show currently boasts an 81% audience score on Rotten Tomatoes and it won 6 Emmys during its original run (via the Television Academy).
"CSI" followed a team of crime-scene investigators as they solved complex cases, apprehended lawbreakers, and fought for justice. Combining character-driven drama with sophisticated procedural elements, the show found a winning formula — and one that the franchise has continued to replicate in its various spinoffs, novelizations, and video games.
The latest televised incarnation of the franchise, "CSI: Vegas," began airing in October 2021 and is giving fans a direct sequel to the original series. William Petersen and Jorja Fox reprise their roles as Gil Grissom and Sara Sidle, much to the delight of long-term fans. However, while many people want to see more "CSI: Vegas" down the line, some eagle-eyed viewers weren't impressed with a glaring mistake in one episode of the revival series.
Some fans think CSI: Vegas needs to double check its spelling
The fifth episode of "CSI: Vegas," titled "Let the Chips Fall," saw the team identify a questionable person named Gary Hayworth (Josh Bitton) as one of the suspects in the case of the week, which involved a cargo plane and a lot of dead bodies. Hayworth's rap sheet included everything from petty larceny to shoplifting, so you can understand why he was on their radar. That being said, the actual biggest crime on his record was bad spelling.
Reddit user u/Wickedlycleaver took to the site and shared a snap of Hayworth's criminal record, which included "identitiy theft" and "recieving stolen property." The Redditor also recommended that CBS should hire someone to perform spellchecking duties on "CSI: Vegas," causing other forum users to show their support for the cause.
It turns out that the original poster wasn't the only person to notice the mistake. "Lmao I noticed 'recieving' when I first watched the episode but 'identitiy' too?? I shouldn't even be surprised at this point, just deeply disappointed," wrote a user by the name of u/Astute_potato.
However, some people defended the error. A user called u/AutumunalSunshine — who presumably has experience working with law enforcement — claimed that the bad spelling is true to life. "I've got to be real with you; this is better than the spelling I used to see regularly in police reports," they wrote. "Don't get me started on their punctuation."