The Character Break That Made It Into An Episode Of Seinfeld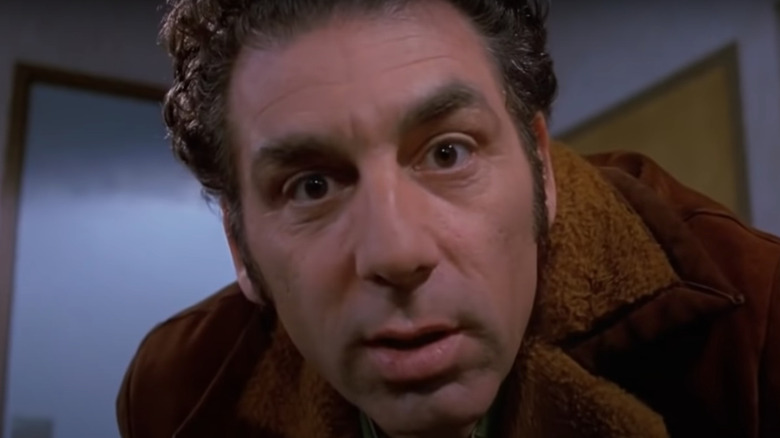 NBC
"Seinfeld" is one of the most revered sitcoms of all time. The series ran from 1989 to 1998 and aired 180 episodes. It was nominated for countless awards, including over 60 Emmys. The series is considered the second-best written show on television, according to the Writer's Guild of America (who put "The Sopranos" at the top of their list). Its influence has continued, now airing on Netflix after leaving Hulu earlier this year. "Seinfeld" has provided fans with several iconic moments, including Jerry Seinfeld trying to figure out his girlfriend's name, George Costanza's (Jason Alexander) catchy answering machine, Elaine Benes' (Julia Louis-Dreyfus) Christmas card to George, and Cosmo Kramer's (Michael Richards) story of how he stopped a bus hijacker.
There's no surprise that "Seinfeld" has many bloopers. The most famous ones were shown on the two-part "The Clip Show" episodes which aired just before the series finale. While these will live on forever in the clip show while others still thrive on YouTube, one "Seinfeld" blooper made its way into the final cut of an episode.
The Parking Garage episode has a blooper that made the cut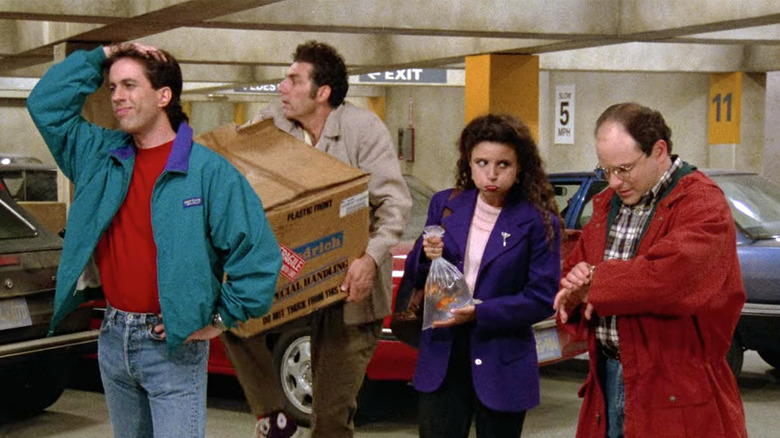 NBC
There are many iconic episodes of "Seinfeld," but according to Variety, "The Parking Garage" is the fifth-best episode of the entire series and lands in the third season. As the title suggests, the episode takes place in a parking structure of a department store after the gang has finished shopping. Unfortunately, they cannot find their car, and despite Elaine's attempts for help, they are forced to search fruitlessly. At the end of the episode, they find their space, but their troubles are not over; Kramer puts his keys in, but the ignition doesn't turn over, leaving them stranded.
There is something hilarious about the fact that their bad luck only continues, but it turns out it was not supposed to end like this. On "Inside Look," the cast and crew spoke about the episode. Larry David reveals that, in the script, the car was supposed to start, and they would drive off. When Michael Richards tries and fails several times, the other actors bow their heads and try to hide their laughter — which is possible to see if you look closely. Furthermore, in an act of improvisation, Richards gets out of the car, looks out to the horizon, and then gets back in. This causes more hysterics as the scene fades to black. "It was perfect," Richards comments. "We all felt like the show was blessed."