The Real Reason Sally Spectra Won't Be Returning To The Bold And The Beautiful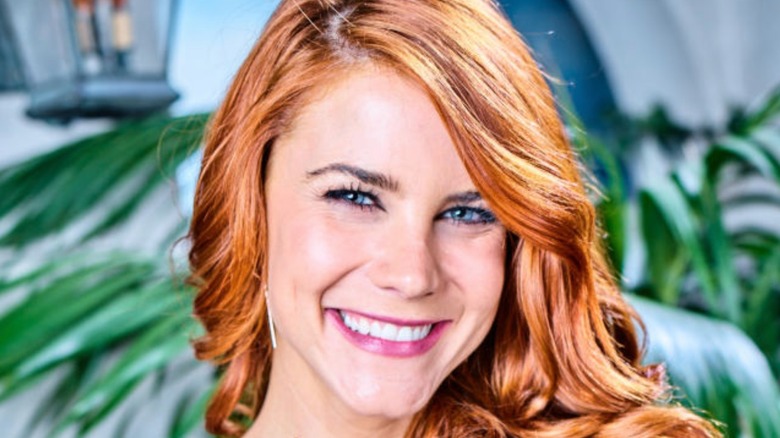 Sean Smith/Bell-Phillip TV/CBS
Back in August 2020, the character Sally Spectra left "The Bold and the Beautiful." Actress Courtney Hope had portrayed Sally since 2017, introducing a new character with a legacy. Her great-aunt, also Sally Spectra (the late Darlene Conley), had been part of the soap's Los Angeles landscape from 1986-2006 (via Soaps in Depth) and inspired the younger Sally to restart the Spectra Fashions business. As with most people in the soap opera world, her time on the show has been quite tumultuous. The drama she was involved in included engaging in a food fight, stealing Forrester Creations' designs, getting trapped inside a building that was being demolished, and trying to relaunch her business several times.
Of course, the most recent storyline was Sally's most devastating. A confrontation regarding her relationship with Wyatt (Darin Brooks) led to certain worrisome symptoms. She goes to get tests at the hospital, where she finds out she doesn't have long to live. Eventually, viewers discover that Sally is faking the whole thing just to get Wyatt back. Wyatt decides he won't press charges against Sally for kidnapping Flo (Katrina Bowden), who had discovered the lie but does ask Sally to leave them alone. And she does, exiting the soap immediately after.
But is it possible the actress might return to "The Bold and the Beautiful" one day? The answer is that — well, in the soaps world, you never know. But Sally seems to be up to her old tricks in her current situation, so you should probably not expect a permanent return anytime soon.
Sally Spectra made her return on The Young and the Restless
When Courtney Hope left the show, she said goodbye to fans on Instagram. "An abrupt ending to a monumental journey. The last three years have been amazing, and though I do not know what the future holds this chapter of Sally has sadly come to an end," she wrote. "Some things are out of our control, and I thank the fans for your support through it all!" In an Instagram Story (per Soaps.com), she expressed surprise that she'd been let go, although she remained upbeat. Hope added, "I was shocked like everyone else, but I cannot wait to see what's next."
But following her exit, Hope wasn't entirely done with the feisty redhead yet — Sally wasn't off the air for even five months. Hope went on to play Sally Spectra on "The Young and the Restless," starting in November that same year. She continues her misdeeds in Genoa City, Wisconsin, to this day. In fact, in December of last year, Sally Spectra was voted best new character on "Y&R" by Twitter fan account@GenoaCityDaily.
Hope has expressed a desire to work with her old castmates again
In June, a crossover between the two CBS soaps brought Sally back into the orbit of "The Bold and the Beautiful" again (via SoapDirt) when she met up with Eric Forrester (John McCook) in Los Angeles as part of her plan to displace Summer Newman (Hunter King). This has fans and media outlets speculating that a return might be possible — and definitely seems something that fans would welcome.
It sounds like Courtney Hope, who expressed surprise at being asked to return as Sally in the other soap, is willing as well. When asked by TV Insider about crossover possibilities right after she started on "Y&R," she said, "There are so many great opportunities for stories. Sally's past is still a big part of her. There are things she wants to hang onto and she also wants to grow. I love everyone over at 'B&B.' I'd love to work with them again — here or there, wherever it is. There's a lot of redemption that can happen. It'd be nice to see Sally be on more solid footing and then have her see people from her past again so she can say to them, 'Hey, I made it!'"
While there was some talk that Sally would be leaving her new digs with the loss of her job in August, the character's villainous schemes remain a big part of the "Y&R" storylines. Given grueling soap opera schedules, jumping back and forth isn't really a possibility, especially if Hope is under a contract that specifies a time frame for her current gig. But you never know — Sally has a firm standing in both worlds now, and the one thing you can be sure of with soaps is that change is a constant.