The Phyllis And Sally Theory That Changes Everything On The Young And The Restless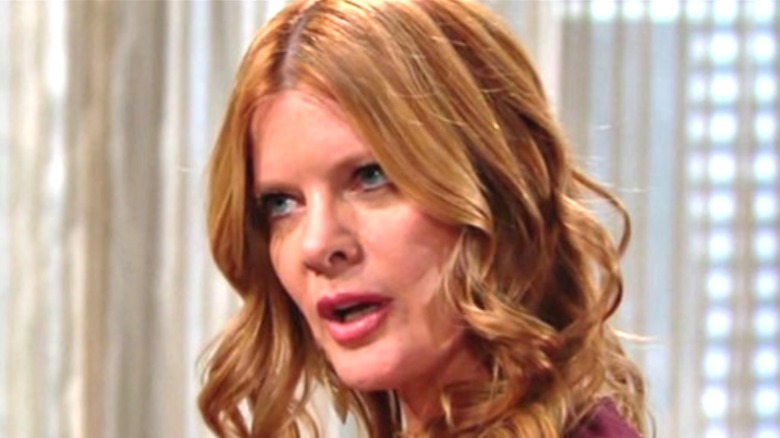 CBS
This article contains spoilers for recent storylines from "The Young and the Restless."
On CBS' "The Young and the Restless," an ongoing rivalry between veteran villainess Phyllis Summers (Michelle Stafford) and fashionista upstart Sally Spectra (Courtney Hope) has recently reached a fever pitch. Sally had a hand in temporarily separating Phyllis' daughter, Summer Newman (Hunter King) from her fiancé Kyle Abbott (Michael Mealor). Sally's machinations ultimately sent Summer running to Italy after breaking up with Kyle. Sally snagged Summer's job in the wake of her departure and Phyllis smelled a rat; she used her tech know-how and her past as one of the preeminent evildoers in Genoa City to figure out what Sally had wrought. Sally was subsequently fired and Summer and Kyle resumed their relationship overseas. 
The two women have hated each other ever since, even as Sally has tried to make a name for herself by dating fellow town outcast Adam Newman (Mark Grossman). But there might be more than just pure spite and anger that bind these two vixens together. There's a theory floating around among "Y&R" fans that have them wondering if these two divas have more in common than their fiery tempers and hair.
Could these two redheads be related?
The comments on a clip of a Sally/Phyllis brawl that was posted to the Official "Young and the Restless" YouTube page on September 2 featured lots of speculation that Sally and Phyllis might be — gulp! — biologically related.
"Just WAIT until they realize they're related to each other. I can hardly wait for that revelation to come out. At some future point, I imagine they'll look back on that incident and laugh about it," wrote YouTuber Saffire Channing. "Phyllis is going to be kicking herself in the butt when & if she finds out Sally's her daughter!" agreed Veronica Powers. They're among the fans who believe that Sally and Phyllis might be mother and daughter due to their bad-girl ways, matching attitudes, and red hair.
We've already met Sally's grandma Shirley (Patrika Darbo) and her sister Coco (Courtney Grosbeck), and know that she was named after her great-aunt, who was played by the late Darlene Conley on "The Bold and the Beautiful." However, we have never met Sally's mother or heard of her father. In fact, neither "Y&R" nor "B&B" have told us anything at all about Shirley's children. With that much narrative leeway, it's possible to take Sally's past in any direction the show's head writers desire.  Perhaps Shirley lied to Sally about her background and took her in as a baby after Phyllis gave her up; it's also possible that Sally was raised by her father and Phyllis abandoned her at birth — hey, she's done worse.
At the moment, it's nothing but fun speculation — but a twist that would certainly add a little spice to the women's ongoing war.